Women of War
Chaos. Atrocities. Rape. Murder. Swanee Hunt '72 didn't expect to encounter these when she became ambassador to Austria in 1993. But when war broke out next door in the Balkans, Hunt stepped in. The women, especially, touched her soul, so she recorded their stories. She watched while they fought their battles and struggled to rebuild their lives and homes. From this, Hunt's newest book, This Was Not Our War: Bosnian Women Reclaiming the Peace was born.

Interview by Saedra Pinkerton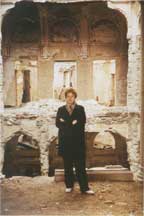 Q: In hearing these women's stories, how hard was it, personally, to delve into their pain?
A: It was tremendously difficult. Before I ever started asking questions, I would tell them that I knew it would be painful. But they found it to be healing because we did not stop with the story of victimization. When I showed Esmuda the outline for the book -- that it started with the atrocities and then moved to reasons for the war and the powerful place that these women had in rebuilding their country -- she was overcome with emotion. It was the first time she had been able to see the big picture, a road map, of where she had been and how far she had come. Experiences like that made it all worthwhile for me.
Q: How did you gain the confidence of these women? Was the language barrier
significant?
A: Much of it was simply woman-to-woman. I talked about my family. I had a loved one who was fighting depression at the time, and I spoke of her clinging to life. Some of the women -- five of the 26 -- spoke English. One spoke German and we communicated that way. But I used translators for the majority of the interviews. I also videotaped the women so I could go back later and capture the sighs, the raised eyebrows.
Q: I can't help but wonder how your experiences in Bosnia affected your own family at the time.
A: My children [living in Austria] were 5 and 10 years old (my oldest son was in his late 20s and living in Denver). An especially poignant moment came when I returned home from a trip to Bosnia just in time to have dinner with my children. (My husband was away conducting.) Afterward, I said to them, "I asked you about your school and your day, but you didn't ask me about the trip. Why is that?" And my daughter said, "Mom, we're tired of competing with refugees." Wise words. Of course, how could she compete?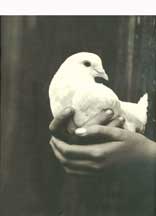 Q: How did you select the 26 women for the book?
A: I wanted a true cross-section. That's why I included a 12-year-old, a college student, older women, women who are politicians, who run relief organizations. Wives and mothers. They are from all parts of Bosnia and varied economic backgrounds. That is what makes it all the more significant when 26 of the 26 say the war was not the inevitable result of ethnic hatred.
Q: At one point in the book, you talk about the importance of including women from the beginning in the new government, referring to it as "now or never." Do you feel the same about women in Iraq?
A: Definitely. Once the elections are complete, the new Iraqi assembly will write its constitution. Women's rights will be written in or they won't. So it is absolutely critical that women have representation now. Largely in my capacity as chair of Inclusive Security: Women Waging Peace (www.womenwagingpeace.net), I've done interviews with women from 35 conflicts around the world. In addition to being leaders, women also have their fingers on the pulse of the community. They understand dynamics differently than men. If we Americans had brought large numbers of women into Iraq policy making, they would have known where conflict was brewing and where insurgents were hiding. Unfortunately, we're not smart enough to do that. Just after the "shock and awe" phase ended, I talked to the Pentagon leader in charge. He said to me, "We've got to get the place secure first, and then we'll deal with women's issues." It took an hour, but he finally said that he understood that they were not going to get the place secure without the help of women. But I didn't see that translate into action on the ground.
Q: In the book, you say the basic building blocks of reconciliation are getting the truth out, establishing justice rather than revenge and humanizing the enemy. How do you see these applied in the world?
A: One of the women, Kadai, who suffered so much in besieged Srebrenica, came with me to Belgrade, the capital of Serbia, to present the book. Belgrade is about 100 miles away from where her unarmed son and husband were killed by Serbs in a massacre of 8,000. The terrible atrocities had taken place so close by, for three and one half years. But Kadai said, "What happened to me, I wouldn't want to have happen to any of you. I'm not here to be hateful, or to hurt you, but I want you to know what happened." She saw the tears streaming down the faces of the audience. The next morning as we were saying our goodbyes, she said to me, "I don't have fancy words like you do. But I want to tell you that I think now we can live together given what I saw last night."
Q: You were in touch with President Clinton as he dealt with Bosnia. How did he and others react to your active role, and what criticism did you face?
A: The criticism was from lower-level officials in the State Department. President Clinton encouraged me to do what I could. When I would write a letter to him, he would initial and pass it around among the decision makers. I was like ears to the ground for him, although I didn't know that until afterward. I kept writing him with blind faith. I couldn't sit by. It was extremely frustrating to wait so long for intervention. But he was getting very different messages from the Defense Department and CIA. Washington was divided at the time. It was the opposite of what happened with Iraq, in terms of which department was advocating intervention.
Q: Speaking of the Bush administration, how are your ties with our current government?
A: My connection is strong, which is gratifying. We were able to get several Iraqi women leaders to see the president. Secretary Rice is aware of the work we are doing and very supportive. My office in Washington, D.C., brings in 60 to 70 women per year and sets up meetings with U.S., U.N. or World Bank officials. We're like a broker, a conduit for them. Otherwise, they wouldn't have the opportunity to be heard. Also, when they go back to Colombia or Sri Lanka, they can say they met with the heads of U.S. government. It's very empowering for them.
Q: What do you hope to accomplish through the book?
A: My book is not about victims. Yes, there are victims, but it is about much, much more. These are women who, despite all of their pain, have become leaders. There was a stunning moment when I asked the Bosnian prime minister what would have happened if half the people in the decision-making room had been women. He said there would have been no war because, and these are his exact words, "Mothers think a very long time before they send their children out to kill other people's children."
Q: You are teaching a new class at Harvard?
A: It's called The Choreography of Social Movements. In addition to learning about the history of various movements, the students will design a social movement they would be willing to lead. My hope is to turn out 60 new Martin Luther King Jr.s!
Q: What message do you have for fellow alumni?
A: There is no problem so big that you can't affect it. Pick a problem -- stop war, save the ozone, make families safe -- pick a problem and find some way to make a difference.
Q: I would guess that your life and career turned out differently than you imagined when you arrived as an undergrad at TCU.
A: [laughs] I was a philosophy major. My mother wondered why I would major in philosophy. She suggested music instead. I asked her, "Why would I major in music?" She said I could play the piano for Sunday school. I said I'd study philosophy because it would teach me how to think. When young people come to me, worried about their career path,
I tell them, "Just follow your dreams. The career will come eventually."
Swanee Hunt '72 is the founder of Inclusive Security: Women Waging Peace, a global policy-oriented initiative working to integrate women into peace processes. She served as U.S. Ambassador to Austria from 1993 to 1997, is director of the Women and Public Policy Program at the Kennedy School at Harvard and is a syndicated columnist for Scripps Howard.
Comment at tcumagazine@tcu.edu.