Notables

Quirky cartoonists conquer crud
Little did Chris Cash '90 and Dean Weaver '89 know when they graduated that they would someday give life to a local superhero.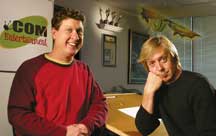 Four years ago the two designed Captain Crud and the Cruddies, an educational cartoon that is today being used by Fort Worth's Environmental Management Department. The program introduces the superhero and his enemies to elementary school students, teaching them about recycling, conservation and safe disposal of household chemicals.
Dot Kent of the city's environmental management department said the TCU alumni helped create one of the department's most successful environmental education programs. Cities throughout North Central Texas use the characters to teach about safety in the environment.
Cash said the project was a fun surprise for he and Weaver, who own Dallas-based .Com entertainment inc, which specializes primarily in Web site development. (www.comentertainment.com)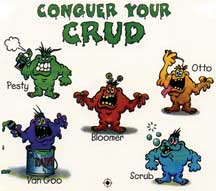 "We added to the characters personalities, auditioned actors and gave them life," he said. "We also did a focus group with second- through fifth-graders that helped us understand the best ways to finalize the script."
The latest addition to the superhero team is the Buddies, who help the Captain spread the word on recycling. The Captain, Buddies and Cruddies can all be seen occasionally on the local cable channel in Fort Worth, as well as on videotape from the Fort Worth Public Library.
Creating database solutions for medium-size companies puts food on the table, but Cash and Weaver occasionally pitch animated characters for corporate training and sales products. Cash says they'd jump at the chance to be full-time animators. "We both have a desire to do animated properties, but there's not a huge market for that unless you're doing Mickey Mouse or Pokemon," Cash said.

Clowning around -- opera style
Opera is fun and games for Toni Crowder '93 (MM), but it wasn't always that way.
A few years back the soprano was not-so-successfully chasing an operatic career, where talented performers far outnumbered the available roles. So she created a role for herself - as Tessitura the one-and-only Opera Clown.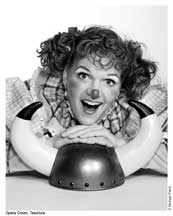 Toni went to clown school, wrote a script and even learned to be a ventriloquist. Now Tessi and her trusty sidekick - a southern-talkin' puppet horse called Wagner - are spreading the love of opera to audiences young and old. ("Tessitura" is a musical term that refers to the range of notes in a song, and Richard Wagner was a German composer known for romantic operas.)
Tessitura is a popular one-clown show that keeps schools, libraries, festivals and other venues alive with the sound of opera music. With her script set to recitatives from various Mozart operas and using themes from dozens of operas, Tessi delivers a little opera education while immersing the audience into a lot of opera fun wrapped around lively clown antics, puppetry and lavish costumes.
And since the opera clown show is up and running smoothly, Toni is again pursuing main stage roles. She will present a workshop on how to make money performing and Tessi will perform her show at the May 2005 International Classical Singer Convention in New York City. She also appeared at the May 2005 DC DIVAS concert, but she performed opera arias as Toni the soprano not Tessi the opera clown. "I won't have on horns or a clown suit or anything," she quipped.

Smooth sailing
Rebecca Beeth Lowe's '88 singing career is cruising at high speeds - and on the high seas. Though musical theatre is her background, Lowe found the grind of auditioning for regional productions grueling. "When I discovered another aspect of acting and singing with cruise ships, and the ability to earn a good living for extended periods of time, I jumped at the chance," she said.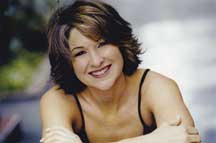 Lowe landed contracts with Princess Cruises and Norwegian Cruise Lines before spending a year with Silversea Cruise lines. She was the lead singer in the ship's musical review shows, as well as performed her concert cabaret while hopping across such hotspots as Scandinavia, Russia, Great Britain, Greenland, the eastern coast of the U.S., the Caribbean, the Chilean Fjords, Spain, Italy, Monte Carlo, Turkey and the Ukraine.
Setting her sights on becoming a soloist, in July Lowe put together a promo package including video of her show and a demo she produced on her laptop. A week later she got the call from renowned agent Barry Ball. Now she's a "featured guest entertainer" on six-star luxury liners, with recent work including Radisson Seven Seas.
The new gig means fewer auditions and more time for other projects. In February Lowe was in Poland mixing a CD of Broadway and country tunes, performing a live show and shopping for future venues. Lowe knew some of the studio musicians from her Silversea days. "They are wonderful people -- the Polish -- and there was such desire, dedication and heart put into the music. It was so refreshing to be involved in a project with a close-knit group who all had the same goal -- make great music."

Remember the Alamo ... movie?
As curator and historian at the Alamo, Richard Bruce Winders (PhD '94) is charged with blending commemoration with education to create a meaningful interpretation of this sacred Texas site. But behind the scenes of "The Alamo" movie, the Alamo's own historian got to watch someone else's interpretation come to life.
"I was in the initial meeting with a group of historians that met with Ron Howard and his folks. I had previously given them a tour when they came to the Alamo," said Winders, noting that he provided assistance to the different film departments in "an unofficial" capacity.
Winders had worked on films before -- as an extra in IMAX's "Price of Freedom" and as a quality background artist on other works -- but this project gave him a different perspective. "I wasn't actually a part of the creative team but I knew most of them and got to see how they worked. It reinforced my opinion that movie making is a form of art and that the public should not expect - or be disappointed -- when liberties are taken with facts. The director is telling a story from his or her viewpoint -- it's that simple."
Also working on the movie project was fellow Frog Stephen L. Hardin '89 (PhD).

Putting the 'pal' in principal
Jim F. Chadwell '91 (MEd '93) is at the top of his class. Principal at Northwest High School in Justin, Chadwell was named Texas High School Principal of the Year by the Texas Association of Secondary School Principals (TASSP) in October and now advances to the national competition. National finalists are named in August.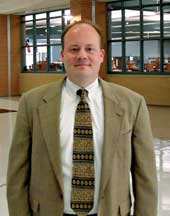 Chadwell was nominated anonymously for the regional competition, which he won last June. To his surprise, the panel found that Chadwell best exemplified the key criteria for the award -- collaborative leadership, personalization and curriculum.
"I was completely blown away by this recognition," Chadwell said. "I realize that I would not have the opportunities that I have without the great team of people with which I work."
NHS was recognized as a National Blue Ribbon School in 2001, a Lighthouse School of Distinction in 2004 and an exemplary campus in the past. "As principal, I am most proud of creating a facilitative leadership model, in which there are many leaders working around central goals," Chadwell said. "Our school's motto is 'Every Student. Every Class. Every Day.' I truly believe this."
Chadwell began at Northwest in 1993 as a psychology/sociology teacher and soccer coach. Later he began teaching German and even went on a Fulbright scholarship exchange to Germany. Soon after, he was named assistant principal, and this is his sixth year as principal.