1939: The King of Swing and the Horned Frog Queens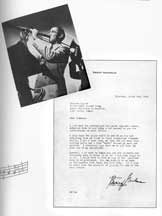 Just how did a swing-themed TCU yearbook find its way to the New York home of music legend Benny Goodman more than 70 years ago?
Goodman was the final judge of the female class favorites for the 1938-39 school year. Sixteen women were elected by class vote, and eight of them were eliminated at the Cinderella Ball in December.
Goodman was sent photos of the remaining candidates and asked to select the woman he thought most beautiful in each class.
Incidentally, 1939 was also the year blockbuster films Gone With the Wind and The Wizard of Oz both vied for Academy Awards, so it isn't surprising that many of the candidates' hair styles were reminiscent of movie stars Vivien Leigh and Judy Garland.