More in Riff Ram
A comeback complete | First Person ... Lance Broadway | Spring roundup |

A winner with class
Among new buildings and BCS dreams, what was the legacy of departing Athletics Director Eric Hyman? A top-flight team.

By Brian Estridge

His fingerprints are there. You may not be able to see them right away or maybe never really noticed them, but if you look closely, there is no mistaking them.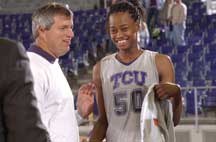 The most obvious place to see the fingerprints of Eric Hyman's legacy as TCU's Athletics Director is in the facility improvements that have taken place over the last eight years. You can certainly see them all over the Justin Center, the Schollmeier basketball practice facility, the Lowdon track & field complex, the Garvey-Rosenthal soccer stadium and the Lupton baseball stadium; those fingerprints are easy to spot.
It's the fingerprints you don't see at first glance that will leave a more lasting impact.
Without a doubt, the improvements to the brick and mortar have made the student-athlete's experience at TCU more rewarding. There is no question that the important investment in the various athletic facilities has had a significant hand in the success that TCU has experienced of late, but as I see it, that will not be Eric's legacy. And I think if you look a little harder for his fingerprints you would agree.
As I sat down with him in late April to begin working on this piece, I wanted his opinion on what he thought his legacy would be. Not surprisingly, he declined to say. I have had the privilege of working for him for the past nine years at two universities, and not once during that time have I heard him say, "I did this, or I accomplished that." No, with Eric, it's all about "Team" and that conversation in his office brought his legacy to light for me.
His legacy is in the team he built.
I remember those first staff meetings when some would snicker at the thought of naming a "Teammate of the Month." But after a while, as more and more associates bought in to his way of thinking, you could sense a feeling of renewed pride. Eric would be the first to tell you that the change in the mindset of those associated with TCU Athletics didn't come without some hiccups along the way or bumps in the road.
But because the department's foundation was built on solid principles, because he put in the effort to establish the infrastructure necessary to weather the bad days, because he held those around him accountable and because he used the mission statement as his compass, his team was going to succeed.
The team was all about building relationships, both internally among the staff and externally among the fans and supporters. With this new goal-oriented vision came success and with success came pride. He told me he knew that things were on the right track when he saw the faces of longtime TCU employees who had suffered through the lean times. When things began to turn in a positive direction, he could see their pride begin to swell.
That was all he needed to know that his plan for the revitalization of TCU athletics was working.
This team that he had put in place was more than just about winning on the field -- it was about focusing on the young people and on their development. The results speak for themselves: conference championships, all-Americans, and national exposure -- all proof that teamwork paid off. But as Eric reminds us, "Success has a thousand fathers, failure is an orphan." He takes greater pride in how we made it through the tough times. When Dennis Franchione left the doomsday crowd was in full force. When C-USA split folks thought we had run out of options. But we battled our way back each and every time, thanks in large part to the leadership that Eric provided.
Because of what we stand for and the way we now operate, TCU Athletics is better equipped to handle any adversity that may come its way. That's the "Team" that has Eric's fingerprints all over it and ultimately will be his legacy.
Brian Estridge is the Director of Broadcasting for TCU Athletics. Contact him at b.estridge@tcu.edu.