Sociology | Modern Dance | Nutrition | English | Music | Women & Gender |
Extended Education | Business | Nursing | Kudos & Research Notes

The intelligent pantry
The proper use of herbs and spices can make even tasteless food palate pleasing.
By Allison Fisher Speer '91
Connie Gutterson '86 has stricken the word "healthy" from her food vocabulary. Instead, the celebrated author of The Sonoma Diet describes the foods we sometimes associate with bland taste as being "nutrient rich."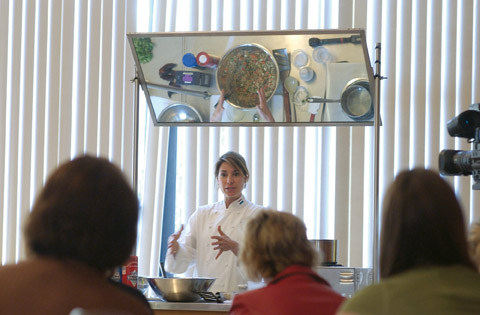 On campus in February as the nutritional sciences Green Chair Professor, the effervescent chef, author and lecturer discussed flavor development and insisted that what inspires the palate today is more than sweet and salt. Rather, flavorful additions like grilled vegetables, sun-dried tomatoes, infused oils and vinegars, and herbs such as smoked paprika (which is strong enough to clear your sinuses) can add such flavor to foods, you'll forget they're healthy. Um, make that nutrient rich.
During one class, Gutterson noted that roasting and toasting are great ways to release flavors. For quinoa, which is a rice-like grain, she quickly toasted the grains to kill the bitterness and make them fluffy for cooking. She also revived dried herbs by tossing them in a pan with a tiny bit of oil. Then she took a Serrano chili -- one of the hottest you can find -- picked it up bare-fingered, removed the seeds and tossed it into the pan just long enough to make it pliable. Then she added bits of the toasted chili to the fruit salsa she was making. The colorful combination of pineapple, jicama, orange, red onions, cilantro and chili, was surprisingly delightful.
Although the demonstration was directed toward nutrition students, Gutterson made everyone in the room believe they could prepare healthy meals by stocking a "smart" pantry -- one filled with complementary spices from many world cuisines.
"This way, you aren't running to the grocery store every time you need to cook," she said.
For example, to add Moroccan flavors to a dish or an entire meal, stock items such as mint, raisins, capers, cloves, cinnamon, garlic, onions and chickpeas. Prefer Italian? Always have oregano, almonds, ricotta cheese, sage, sausages, extra virgin olive oil and cannelloni beans on hand.
For information: www.sonomadiet.com.
Comment about this story at tcumagazine@tcu.edu

Tried and True Tips
- "Salt to taste" refers to adding salt until the other flavors in the dish are enhanced -- not to the saltiness itself.
- There is a difference in finesse herbs (mint, basil, dill and parsley) and resinous herbs (rosemary, oregano, thyme). The former are fine and should be added at the end of cooking a dish, or their flavors will get lost. With the latter, add them at the beginning of the cooking process, so their flavor won't overpower the other ingredients.
- When starting a cooking base, add the onions first, then the garlic. Otherwise, the garlic burns, and you'll have to start all over.
- Don't just say yummy, say umami! Meaning "deliciousness," in Japanese, this word is used to describe powerful savory flavors. Natural umami flavors come from dark chocolate, olives, broccoli, soy sauce and almonds.
- In spice land, the three C's are cumin, coriander and cardamom. Combined, these flavors always add pizzazz to a dish.
- When storing fresh herbs, keep them upright in a glass with the stems in water in the refrigerator. They'll last up to two weeks.

Fruit Salsa
This tangy, juicy, crispy, lightly spicy compote is a great topper over grilled meats.
Yields about 3 1⁄2 cups
1 1⁄2 cups chopped pineapple
1 cup chopped jicama
1 cup orange segments
1⁄4 cup red onions
1 tsp. Serrano chile, chopped
1 tbsp. fresh cilantro, chopped
A squeeze of lime
Combine all ingredients. Mix well.