Sociology | Modern Dance | Nutrition | English | Music | Women & Gender |
Extended Education | Business | Nursing | Kudos & Research Notes

Heavenly hosts
For the past six years harp instructor Laura Logan taught only one or two students at TCU. This year, she hit the jackpot with four.
By Allison Fisher Speer '91
For the first time, the School of Music has a harp ensemble, composed of female freshmen scholarship students -- three harp majors and one studying broadcast journalism. The group made its campus debut at a Britain Society luncheon in the fall and has a second performance set for April.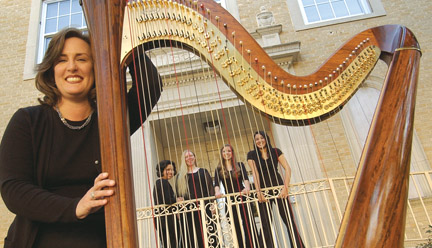 For harp student Shanna Griffith, playing with fellow strummers spices up the strings. "It's a lot of fun to interact and make music with other harpists," she said.
Griffith was introduced to the instrument in fourth grade following five years of piano lessons. She also played with the Greater Fort Worth Youth Orchestra under the direction of German Gutierrez, string division chair and TCU Symphony conductor. He gave her the motivation to continue playing harp at the college level.
Under the direction of Logan, who is also the principal harpist for the Richardson Symphony, Griffith and the other three students work on various kinds of music for their repertoire, as well as play with the orchestra and band. The department has one concert grand Salvi pedal harp, crafted of a maple body and spruce soundboard, and each ensemble member has her own 80-plus-pound set of "strings" that she hauls to and from performances.
Seven pedals at the base control the sharps and flats, making the harp a fully chromatic instrument. Listening and watching these musicians move their fingers across the instrument's taut strings is, well, heavenly.
For Logan, several years of promoting TCU's music department have finally paid off.
"They [ensemble members] are all students who have been playing the harp since they were very young, and they're very serious musicians and serious about continuing music careers after college," she said.
To book the group, call 817.257.7602.

Comment about this story at tcumagazine@tcu.edu

Magic fingers
Looking for terms to describe the beautiful sounds made by harp strings? Here you go.
Glissando (also called the more fanciful aeolian flux), probably the most recognizable and unique harp sound, is produced by gliding the fingers up and down along the strings.
Pres de la table Playing very close to the soundboard for a guitar-like effect.
Etouffe To muffle the vibration of the strings.
Falling Hail Effect Glissando applied with the back of the fingernails.