Sociology | Modern Dance | Nutrition | English | Music | Women & Gender |
Extended Education | Business | Nursing | Kudos & Research Notes

Periodic(al) thoughts
Just what did those Victorians read?
By Rachel Stowe Master '91
When Linda Hughes, the Addie Levy Professor of Literature, began working on her Victorian poetry book project, she began by researching borrowers' records at the Portico Library in Manchester, England, and the London Library -- both private libraries patronized by professionals, writers and intellectuals.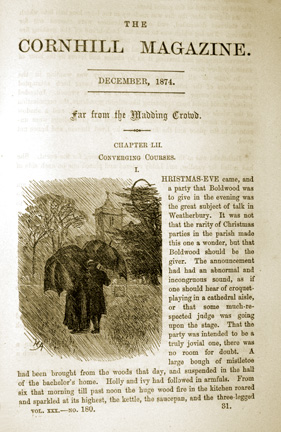 "The two libraries had different significances. The one in Manchester gave me a good indication of how often patrons checked out periodicals as well as books," Hughes said, noting that periodicals were a mass medium in those days. These antecedents to current magazines such as The New Yorker, Harper's or Atlantic Monthly, published substantive literary works (fiction, poetry, essays) as well as commentary on politics and social reform. Works by major authors like Thomas Hardy and George Eliot appeared along with news, travel features and essays.
Records at the London Library were especially interesting because of its membership, which included Charles Darwin, Charles Dickens and John Stuart Mill.
Hughes' findings were somewhat surprising: fewer poetry volumes checked out than she hoped, more biography and periodicals than she expected.
Some 10 percent of daily borrowings at the Portico involved were poems and periodicals, with less than that at the London Library, "though current poetry was regularly checked out," she noted.
"The works of Tennyson and the Brownings were favored at both institutions, but so were Byron, the comic poetry of Thomas Hood and Ingoldsby Legends by the Rev. Richard H. Barham."
Fiction dominated borrowings at both libraries, but members were also avid readers of travel books, biography and history.
"Popular novels at Manchester in 1850 included Dickens' David Copperfield, Brontë's Jane Eyre and Shirley, Catherine Gore's Castles in the Air, Samuel Warren's legal novel 10,000 a Year and Emma Robinson's 'romantic chronicle' of Joan of Arc, Maid of Orleans," Hughes said.
At the London Library -- where women could also borrow books as members -- a notable number of borrowings entailed un-translated foreign language titles. Both Darwin and Mill borrowed the novels of George Sand (a.k.a. Aurore Dupin), "who was considered rather risqué at the time," Hughes said.
"Darwin's wide-ranging reading in the early 1840s, after publishing his journal of his voyage on the Beagle, included the German theologian Schleiermacher, Montalembert's history of St. Elizabeth and a history of the Dukes of Burgundy (both in French), and Dumas' dramas," she said.
Among scientific authors, he borrowed John Herschel's Outlines of Astronomy and chemist Humphry Davy's collected works, as well as travel books on Australia, New Zealand and Madagascar.
Dickens' borrowing records exist only for 1841, when he borrowed travel books about Ceylon, Ethiopia and Cooke's voyages, as well as Maria Edgeworth novels. Mill, who wrote treatises on political economy and logic, borrowed Jane Austen novels.
To read more of Hughes' work, visit www.endeavors.tcu.edu.
Contact Hughes at l.hughes@tcu.edu.
Comment about this story at tcumagazine@tcu.edu.