Journalism | Brite Divinity School | Upward Bound | Advertising |
History | Business | Art | Kudos & Research Notes

News junket
Broadcast news senior lands a prestigious fellowship.
Senior Rashi Vats went to Buckingham Palace last semester, but not as a tourist -- the broadcast journalism major was helping CBS London film the news as an intern at CBS, a position she landed while studying at TCU's London Centre.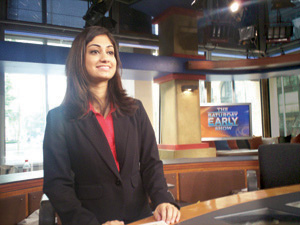 Donald Jackson, director of the London Internship Program who recommends interns for CBS or NBC News London, said Vats is one of the school's top "major news" interns.
"She's by far the best we have had at CBS," Jackson said. "She impressed everyone in London by her professionalism and her willingness to treat the internship as a full-time job."
While in London, Vats applied for a prestigious summer fellowship offered by the International Radio and Television Society Foundation (IRTS) based in New York City. Open to juniors, seniors and graduate students, the expense-paid fellowship draws over 500 applicants nationwide. Vats was one of only 25 selected.
"I still can't believe I'm here," Vats said in June from her lodgings at NYU, after an exhausting first week of orientation. She and other fellows spent 12-hour days meeting industry professionals like CBS CEO Tom Kane, and attending panel discussions with principals from MTV, HBO and CNBC.
For the next eight weeks, the fellows worked at their respective jobs at VH1, Warner Brothers, PBS and other media outlets. Vats was in the newsroom at CBS New York, assisting with research, logging feed and tape, going out on shoots, and helping with interviews and broadcasts.
She'd love to continue with CBS New York after graduation. Her dream may come true: most fellows are offered jobs at the end of their term. "I'll have to work hard this year to keep the connections I've made here this summer," said Vats.
Hard work doesn't seem to be a problem for her. IRTS director of academic programs Kathy Crawford was impressed with Vats' "diligence and wonderful attitude" at both "CBS Evening News" and "The Early Show."
Vats credits Bob Schieffer '59 as her biggest influence. "Our school of journalism is named after him, and he's a real presence at TCU. He's just such an inspiring person. And yet he's so human. He makes you think that a life like his is possible for mere mortals."
Comment about this story at tcumagazine@tcu.edu