Journalism | Brite Divinity School | Upward Bound | Advertising |
History | Business | Art | Kudos & Research Notes

Upward Bound
With 4,000 success stories in hand, TCU's Upward Bound continues to get teens ready for college.
Being the first in your family to go to college can be daunting. That's why Paschal High School senior Efren Salinas spent six-weeks this summer living on TCU's campus as part of the year-round Upward Bound program.

"We play games, go to classes, learn some of the things we're going to learn next year in school -- things that prepare us for college," said Salinas, who plans to study civil engineering at the University of Texas at Arlington after graduation.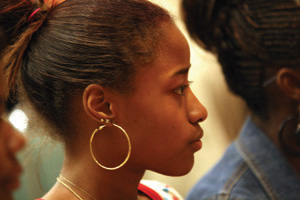 Funded by the U.S. Department of Education, Upward Bound is a college-prep program for low-income and potential first-generation college students. In addition to increasing success in secondary education, the program aims at getting many of these same students to complete post-graduate degrees.

One of eight programs in the federal TRIO program, Upward Bound includes after-school, weekend and summer academic classes and activities on college campus to help prepare high school students for higher education. The TCU program began in 1970, and serves 110 students from six Fort Worth high schools each year. About 4,000 students have completed the program at TCU.
If it wasn't for Upward, Salinas said he "would have a hard time" going to college.
"It has been a great experience for me," he said. "I'm more sociable. I didn't used to come out of the box. And I'm doing better in school too."
"He is more active and involved," agreed Kiesha Shelton Harvey '00, Upward Bound coordinator/counselor. "He's actually one of the class officers."
In addition to student success stories like Salinas, Harvey also knows firsthand the benefit of the program. She is an Upward alum.
"It exposed me to college and made it an attainable goal," she said, noting the program helps with college admissions, scholarship applications and academics.
Though she acknowledges she probably would have started college, Harvey doesn't know that she would have finished -- even at the bachelor's level -- without Upward. She is now at the dissertation phase of her doctoral degree in higher education administration at the University of North Texas.
"It was like a family on campus. Everyone is pushing for you. There are all kinds of services, like free tutoring. There are people helping you get through each year, each semester and, sometimes, each week. It taught me to set my standards higher," she said.
"That's what keeps me here: knowing that it helped me and knowing that every day I come to work, I'm helping another student -- like myself or not like myself -- to keep moving forward and realizing their college potential."
For information: www.ed.gov/programs/trioupbound
Comment about this story at tcumagazine@tcu.edu
Contact Harvey at k.harvey@tcu.edu