Environmental Science | Nutrition | Extended Education | Nursing |
RTVF | Liberal Arts | Education | Object lesson | Briefs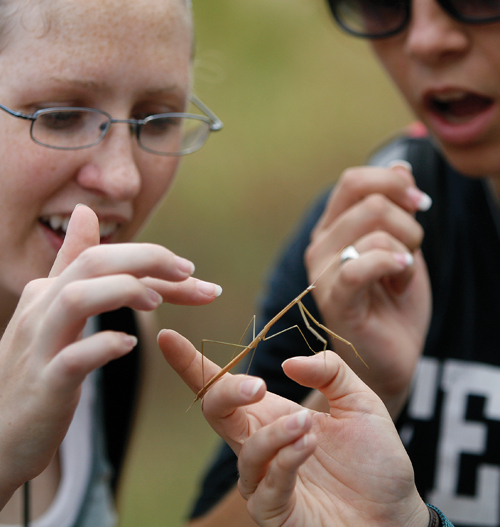 Field Work

TCU helps educators teach science from the outside in.

By Kathryn Hopper
This summer 34 Fort Worth area teachers sharpened their science skills in a classroom full of spiders, snakes and a few armadillos.
They were part of a year-long professional development experience dubbed the Environmental Academy designed to get science teachers to take their classrooms outside to stimulate a love of natural science.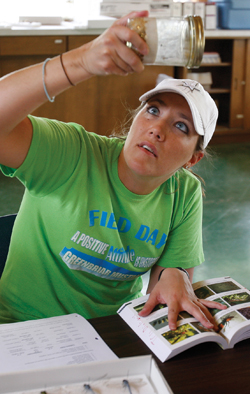 Developed by TCU's Andrews Institute of Mathematics Science & Technology Education, the academy utilized the Fort Worth Independent School District's 228-acre Outdoor Learning Center located on the shores of Eagle Mountain Lake as a hands-on, outdoor classroom.
"Their approach is to actually get us outside and let us learn through personal experience, which is exactly what we want our kids to do," said Henry Ashford, who teaches sixth grade at Rosemont Middle School in Fort Worth.
Teachers were charged with collecting and identifying insects, observing animal habitats from anthills to beehives and conducting biology scavenger hunts aided by GPS navigation devices.
Kelly Feille, also a Rosemont sixth-grade teacher, said putting kids literally in the field provides a welcome change for today's students, whose worlds are dominated by digital pursuits.
"Students aren't aware of the environmental diversity in their own back yard," she said. "Hopefully getting them outside will increase that awareness."
As part of the program, TCU also donated new science equipment and learning materials designed to aid hands-on activities such as collecting and categorizing insects and building classroom habitats.
"We're hoping to inspire the schools and their students to build their own collections," said Mark Bloom, associate professor of education, who gave teachers a primer on pinning insects onto exhibit boards.
The Andrews Institute was established as a collaborative venture between the College of Education and the College of Science and Engineering to provide innovative education methods for science, math and technology.
Molly Weinburgh, director of the Andrews Institute, said participants in this summer's Outdoor Academy started out in classrooms, but quickly moved into outdoor settings such as the Fort Worth Botanic Garden.
"We asked them "Is a garden nature? Sure it's outside, but here's a concrete pond and here's a non-native plant," she said. "We let them debate it just like they would do in their own classrooms,"
Teachers in the program will continue meeting once a month through the current school year to trade ideas and share success stories.
"We're really emphasizing what you can do on your own playground, or even by that tree growing through the pavement on your school sidewalk and still cover the TEKS (Texas Essential Knowledge & Skills tests)." Bloom said. "You can still use a chalkboard, but take your chalkboard outside."

Comment about this story at tcumagazine@tcu.edu