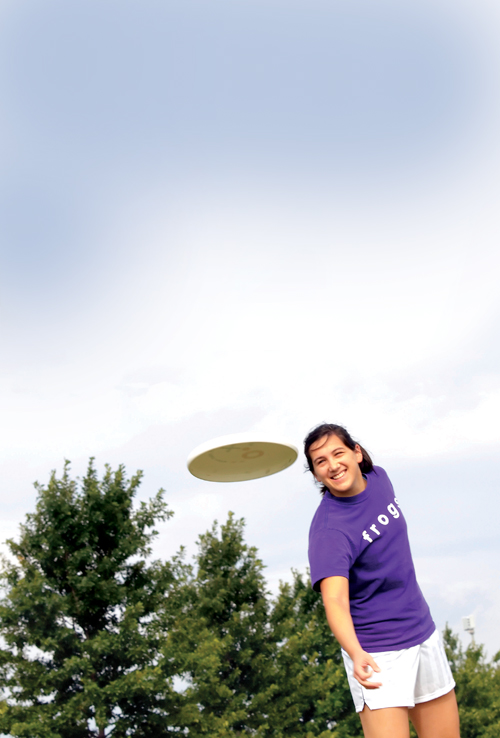 Join the club
Every student can enjoy the thrill of victory through club sports.

By Cathy Frisinger
It was a perfect 70-degree day and the stands at the intramural fields at TCU were nearly filled with students and parents, some drinking concoctions from hurricane glasses, some chatting animatedly among themselves, but most paying close attention to the game as TCU faced off against SMU.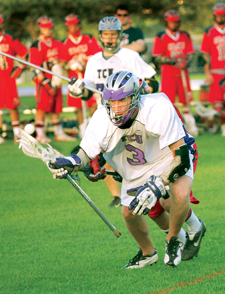 No, it wasn't a football game. Or baseball game.
It was men's lacrosse, one of 17 club sports officially sponsored by TCU, including polo, competitive paintball, wakeboarding, women's lacrosse and ultimate Frisbee. Some 250 TCU students join the teams for social interaction, exercise and the thrill of competition, and for the honor of representing their school against other universities.
Jessica Gamwell, co-captain of the 2007-2008 ultimate Frisbee team, had never heard of competitive Frisbee until she attended the Activities Fair as a TCU freshman. The sport combines the skills of basketball, soccer and, of course, Frisbee, with two teams competing to get the Frisbee into the other team's end zone. The fall team is co-ed and - pay attention girls - there are about twice as many men as women on the team. In the spring, the club splits into men's and women's teams.
The Frisbee teams participate in three or four inter-university tournaments a semester. "It's hard for us to compete against UT and A&M because they actually have try-outs. We just accept anyone who wants to play," says Gamwell. Measured in terms of fun, though, every game is a success.
And school size doesn't always mean a TCU club sport team is outplayed.
The 2007-2008 polo team, with just four women (three players and one alternate), won the central region title and went on to nationals in Lexington, Ky., in early April, where they placed second. TCU's K.C. Beal was one of four women selected MVP.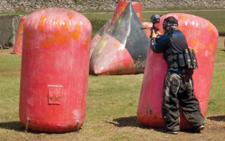 "It's given me some great friends," says senior polo player Grace Lee. "We go out there and work the horses, we feed them and exercise them and play them. Playing together is such a blast."
The lacrosse teams (mens' and womens') attract the largest numbers of participants, many of whom played on club teams in high school or even earlier, and the level of play is generally high.
The men's lacrosse team has been raising the bar on competition recently. Last year, they moved up to Division I play for the first time. They beat four teams, and lost to two other teams (one of them that game with SMU) by just one point, ending up with a 4-8 record, which isn't bad for their rookie year in the top division. The team gained more members than they lost this fall, and expects to come on strong this season.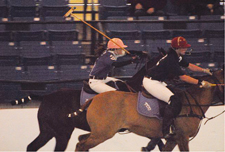 But winning isn't the sole focus for club sports.
"Lacrosse figures a lot in my social life," says 2007-2008 captain Codie Kreutzer. "Team bonding is a big experience. Before a game we have a pasta dinner and everyone comes. We eat pasta, watch TV, talk about lacrosse, hang out."
Women's lacrosse player Francie Harvey says the amount of commitment demanded by a club sport is perfect for her. "Intramurals are just about other TCU students. This makes it an actual competition. You're out there representing your school."
One of the sports takes a different sort of commitment from students: Getting soaked at every practice is a given for the members of the 2-year-old TCU wakeboarding team (which practices at Sasser Wakeboard School in east Fort Worth), crossing wakes, jumping ramps, wiping out. Shane Miller, a junior, built the team up by word of mouth.
There are 11 wakeboarders - make that 10 wakeboarders and one wakeskater (wakeskating is done barefoot and it's harder) - on the team. The team participated in their first tournament in April, placing fifth overall out of nine schools. Not bad for a first competition.
"This is my team," says Miller. "They're really mean."
For information: www.campusrec.tcu.edu


Recreational Team Sports

Baseball
Gymnastics
Ice hockey
In-line hockey
Men's lacrosse
Men's soccer
Men's volleyball
Paintball
Polo
Rugby
Tae Kwon Do
Tennis
Ultimate Frisbee
Wakeboarding
Women's Lacrosse
Women's Volleyball
Wrestling

Comment at tcumagazine@tcu.edu.