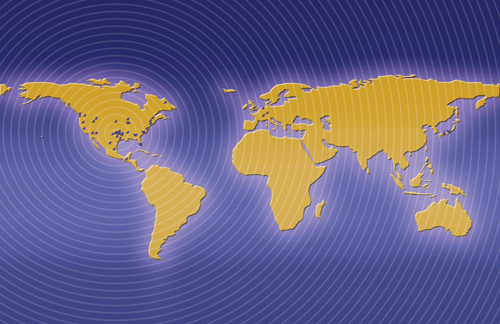 Sound advice
When the Horned Frogs hit the turf, fans around the world are listening in.

By Nancy Bartosek
You'd think being on the air during football games would be enough to keep the Voice of the Frogs, Brian Estridge, and color analyst John Denton '85, busy. But for the past four years, the two have juggled an onslaught of e-mails and text messages arriving during the broadcasts on the TCU/ISP Sports Network.
They didn't know what to expect when they started the practice in 2004 and were delighted to hear from fans listening in from both the stands below and around the world. They get up to several hundred messages each game.
"Mostly they just write to say "Go Frogs" and let us know they are listening, but some want us to tell the coaches what they are doing wrong," Denton says with a chuckle.
"It's really a lot of fun to get messages from someone who's in Russia or Japan and know they are enjoying the game and rooting for the Frogs from such distances at all hours of the day," says Denton. "We really enjoy that part of our job."
Listen to the games on ESPN 103.3 FM /KTCU-FM 88.7 or at www.gofrogs.com.
Write to Brian and John at radiocrew@tcu.edu or instant message tcuradio.

Listening in Bozeman, Montana, tonight.
Ken Bunting, Montana
We badly need a defensive turnover. RIGHT NOW.
Ken Bunting, Seattle
Things are great for most in Lincoln, but my household is in Frog heaven!!!
Derek (Happy Husker), Nebraska
?Hey, Denton. How about a shout out to a former TCU basketball player out here in California.
Tom Mortimer, Palo Alto
Listening here in Kapaa, Hawaii
Patrick Meyer, Hawaii
Segrato (sounds like tomato) family is listening to you. Couldn't make it to the Fort for the game because we have a 15-month-old who's now in bed.
Glen Segrato, Lewisville, Texas
I've already paced about a mile on the carpet in my bedroom. I know TCU can do this. BLITZ BLITZ BLITZ!!!
Matt the Frog, Haltom City, Texas
Brian, Listening in Tequisquiapan (tay-keys-key-ah-pin), Queretaro (cuh-rate-tahrow) . . . or if you want to wimp out again . . . "The Central Highlands" . . . at mi casa.
Bob Rayel, Mexico
The BEST radio team in America!
Ray & Nancy Chafin, Guatemala
Go Frogs!
"Frog Abroad," Guatemala City
Hi, Brian, John, Brian and Josiah. The dog, cat and I are listening to you via my laptop in the garage tonight. Appreciate the shout-out for A&M Consolidated. Go Frogs!
Neil Sperry, Dallas, Texas
Foot to leather,
Taylor, Atlanta
Sent cardiologist home . . . we'll win this one.
David Teegarden,
Bullard, Texas
Tell the band they sound great .
Laura Peralta, Florida
Give a shout out to the class of 1982 (especially the Theta chapter of Kappa Sigma).
Richard Schmidt, New Jersey
Good job guys!
Tom McLoughlin, People's Republic of Vermont
AAAAAARRRRRRRRRRGGGGGGGGGGHHHHHHHHHHHHH!!!!!!!!!!!!!!!!!
John Garland, Newfoundland
You've made being away from the States a little easier. Go Frogs!
Doug, Market Harborough, England
It's 5:14 a.m. here in Winterthur, Switzerland, and we're wearing our purple for the game.
Steve and Mindy Urion, Switzerland
Hi, again, from Dijon (nine hours ahead of y'all in SD).
Doug Dean, France
You are doing a great job. Wish the Frogs were.
Tom McAdow, The Netherlands
Hey guys, listening on KTCU in Tokyo. I listened to the Wyoming game from Manilla.
Shelley Smith, Japan
Listening on the Internet.
Scott Howell, Japan



Comment at tcumagazine@tcu.edu.