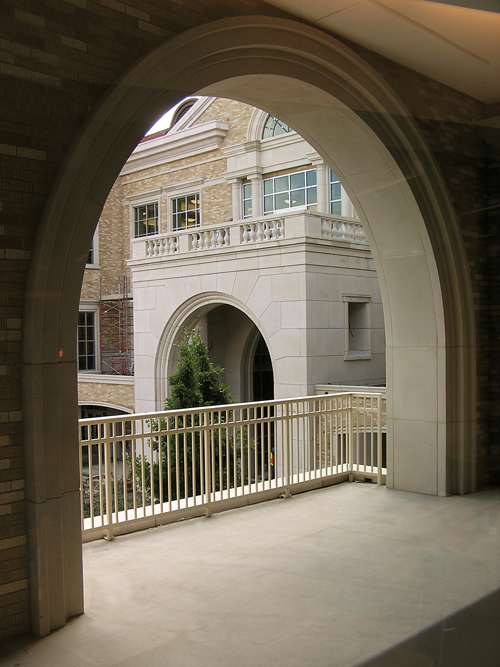 The state of our Union
The long-awaited centerpiece of the Campus Commons comes to life.

To see more photos of the union, click here.
By Rick Waters '95
Years from now, we won't understand how the university did without a place so palatial, so modern, so purposeful, so ... so perfect for TCU.
How did those Horned Frogs of old manage without LED programmable lights or electronically displayed dining menus or touch-screen kiosks to direct newcomers around campus? Where did the Student Government Association meet before the massive Chambers? Or student organization leaders get projects finished without access to dozens of team meeting rooms to brainstorm and collaborate?
To appreciate the three-story, 145,700-square-foot Brown-Lupton University Union, start at Frog Fountain. Stroll the arcaded walkways of the Campus Commons. It all comes together here. The union was expressly designed around the needs of students of the 21st century. The most-used services were brought together amid stunning architecture and­ state-of-the-art technology -- all to do one thing: inspire students to seek knowledge, create, discover, imagine, lead.
The Union is theirs. But the beauty of it is that we'll all enjoy it -- together.
Students are attracted to quality, convenience and choices, and the University Union offers all three It is a permeable structure with multiple throughways, entrances and exits. Arches are everywhere. The central corridor opens from Stadium Drive to a massive green. In between, there are lounges, a spirit shop, a sundry store, a copy shop, a TCU heritage center, a post office, a great hall for cultural events, a sports-themed restaurant and dining facilities with cuisine from around the globe.
There is plentiful room for activity, and Horned Frogs have Student Services staff on site to advise and guide them. Spaces in the Union facilitate student-professor interaction, planning and learning. An entire wing is dedicated to organizations, ranging from special interest and religious groups to fraternities and sororities, thus keeping the groups' activities centered on campus.
When it's time to eat, the Frog Pass meal card offers unlimited access to freshly prepared dishes at Market Square. With this new dining experience, developed with student input, everyone can eat as much as they choose then sit among attractive indoor and outdoor dining options, including the 1873 Sports Grill and Cafe, open until 3 a.m. on the weekends. But no takeout. It's all sit-down dining, following the campus vision of building community.
With state-of-the-art technology, the Union provides an ideal venue for an array of cultural and intellectual events. The 350-seat Great Hall Auditorium is designed for lectures, forums, theater productions, movies and other performances. A third-floor ballroom and conference center provides seating for as many as 800.
Majestically, the Union is crowned by a five-story clock tower. Together with the distinctive two-story arch, designed to be the building's signature element, the tower will most assuredly be the definitive TCU landmark of this century. The university plans to have incoming students walk to the arch during Freshmen Assembly to begin their academic careers, and then four or five years later, march from the arch to commencement exercises, taking their life of the mind to the world.
And when they come back, the heritage center will remind them of the TCU of yesteryear. Panels guide campus guests through six eras of Horned Frog history -- from the tiny 1800s prairie college in Thorp Spring to the 21st century global institution. Displays of TCU trinkets and historical items further tell the story in humorous and poignant ways.
This was our vision, and it has been realized. But new plans will emerge, undoubtedly originating from this great space, exactly the purpose for which it was designed.

Comment at tcumagazine@tcu.edu.