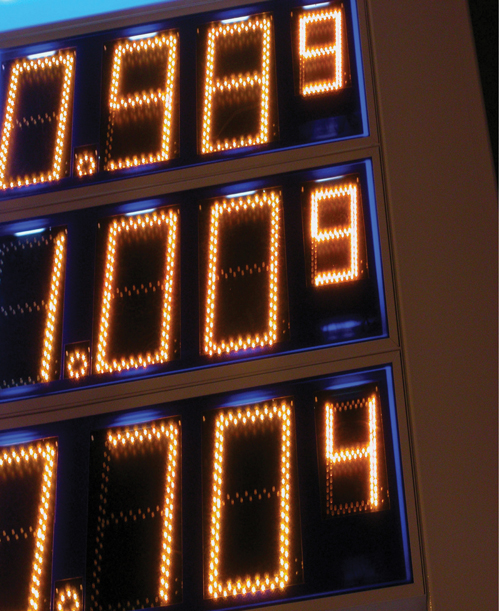 Power hungry
As the country struggles to provide the energy we need for a burgeoning population, TCU is chasing solutions.

By Nancy Bartosek
We were warned.
In 1973, oil-producing countries in the Middle East embargoed exports and prices leapt. We lowered the speed limit and developed a weak policy for energy independence, and within a few years the gas crisis was just a historic blip in our household budgets.
We should have paid a bit more attention: In 1970 the U.S.imported 24 percent of its petroleum needs.
By 1991, during the Gulf War, it nearly doubled to 42 percent.
Today? Almost 70 percent of our oil comes from other countries, some with governments that don't like us. Supplies are dwindling and population and economic explosions in countries like China and India have raised demand for fuel to unprecedented levels.
Now our economy is reeling from sudden increases at the pump, and despite a loud chorus of hand wringing and finger pointing, anyone in the know acknowledges that solutions will require changing our behavior and considerable time.
Not to mention a lot of creative innovation and forward thinking.
We have an idea.
When oil gushed from the Spindletop salt dome in East Texas in 1901, Western industry was powered chiefly by coal. Suddenly the country had an extensive supply of cheap petroleum and the door flung open for gasoline-powered cars and trucks -- which Henry Ford supplied when he opened his assembly plant in 1908. (The first automobile was built by Gottlieb Daimler in 1886.)
A century later we know oil wasn't the be-all-end-all solution we thought -- it's not only getting too expensive, it's a political minefield and is destroying our planet. And though work has progressed on other energy solutions, we are inextricably tied to oil.
How to wean ourselves from it -- especially foreign petroleum -- and still have enough energy to power our lives is the question of our age.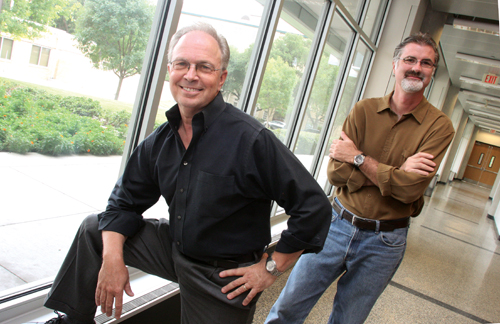 "Energy will be the biggest issue facing the next generation because it encompasses just about everything," says geology professor Ken Morgan, director of the TCU Energy Institute (EI). "It's not just about global warming and air concerns, it's about the whole consumption of energy around the planet and how to manage it in a smart way."
The angst that traditionally ripples between Big Oil and environmentalists will have to end, Morgan says. Practical solutions lie somewhere in the middle, a place he calls the tip of the funnel. "We need to work together."
In Fort Worth, that is exactly what is happening. Companies tapping natural gas in the Barnett Shale and the wind in West Texas have asked TCU to be the voice of reason, research and education as we learn the best ways to use the resources available to us.
TCU's Energy Institute, formed in 2007, brings industry, educators, students and the community to the table to find solutions. And since the Barnett is an unconventional energy play, the EI is an unconventional institute, says geologist and Provost Nowell Donovan.
"It is both cross-disciplinary and cross-collegiate, and so faculty and students are involved in the various teaching, training and research programs that have evolved," he says. "Critical to the momentum of the Institute has been the unusually close involvement of a network of capable, enthusiastic and successful energy entrepreneurs, professionals and visionaries, some of whom are alumni, some not."
Led by this active advisory board, the EI has pulled in expertise at the Neeley School of Business and professors from geology, engineering and physics, as well as the Institute for Environmental Studies (IES).
The EI's three-pronged mission of training the next generation of energy experts, researching innovative technologies and educating the community, promises to make essential connections that will benefit everyone.
"It isn't about grabbing oil or gas and ignoring the damage," Morgan says. "It's about finding new ways to get it that don't disrupt lives or hurt the planet, and looking at how to further develop our alternative sources."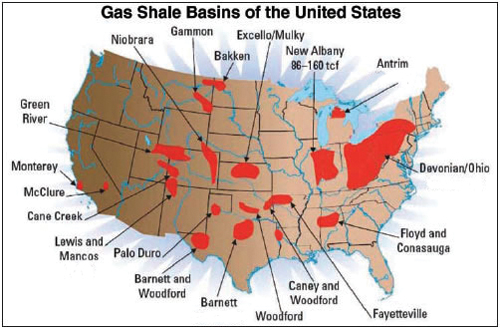 Spindletop revisited
If you live in the Metroplex, you've heard of the Barnett Shale. It sits a mile or more below 18 North Texas counties, with Fort Worth at its heart. Recent technical advances have made it possible to tap into this important source rock and extract copious amounts of natural gas, so drilling rigs are popping up in town like mushrooms after a rain.
A lot of money is involved and so there's a big fuss, both for and against this practice of urban drilling: Many are happy for the unexpected and prodigious financial gain, but others simply don't want a drilling rig across the street or new gas lines buried on their property. They worry about danger, environmental cost and property values.
Morgan understands that. Three wells have been drilled on his Burleson property; the drill pad is about 150 yards from his house. Up to 12 wells -- all from the same site -- are planned. Despite the inconvenience, he's delighted, and not because it will provide him a small income stream.
"Aren't we lucky," the gregarious professor proclaims with a wide-eyed grin. "We are sitting right on top of a huge deposit of a transition fuel that can help us reduce our dependence on oil as we move toward alternative energy sources like wind or solar."
Morgan knows it's a right-time, right-place scenario. So does EI Executive Director Ross Matthews '84 (MS), president of Sinclair Oil & Gas, who enlisted TCU alumni at Four Sevens Oil Co. to purchase leases in 2002. The team eventually sold their part in the Barnett for a significant profit.
Matthews knows how essential this shale is to the country and how important it is to have smart, educated people managing it.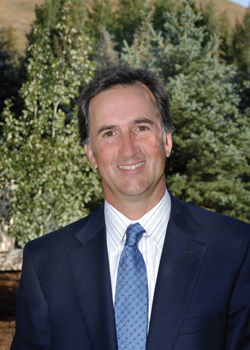 "Certainly we're in the business to make money," Matthews says, "but at my core, I think about the issue of energy resources for our country. I have an 11-year-old son and 8-year-old daughter and I try to make them understand that contributing to the energy supply is a very good thing to do."
Tapping the shale, most believe, is the sensible thing to do. Gas is the cleanest burning of the fossil fuels, and the U.S. is sitting on some of the largest known reserves in the world. In addition to the Barnett, massive deposits have been identified in more than 20 states, from Pennsylvania to Louisiana to California and Alaska.
The Barnett alone is estimated to contain 40 trillion cubic feet of natural gas, the equivalent of 6.5 billion barrels of oil we won't have to import.
But since it's sitting under millions of peoples' homes and businesses, how we get it out is more important than ever. Gone are the days when rigs were relegated to distant pastures where noise and pollution took a backseat to production.
EI board member Andree Griffin '88 (MS) oversees Barnett drilling as manager of geology for the Fort Worth Basin at XTO Energy. She grew up in Fort Worth and now lives on the west side with her husband and three kids. Safety and environmental concerns are definitely on her mind as she heads to the office each day.
"I can't do my job without thinking about how it affects the community, how it affects the other people's businesses," she says. "The Barnett magnifies the interface between community and business and everybody's personal life."
And since Tarrant County is the test case for urban gas drilling, the rest of the country is watching every move. Mistakes and smart decisions alike are lessons that will travel to other communities sitting on huge deposits.
Which means the opportunities and educational needs are vast. Good news for a university like TCU, which sits dead center over the shale and within shouting distance of the biggest wind initiative in the nation.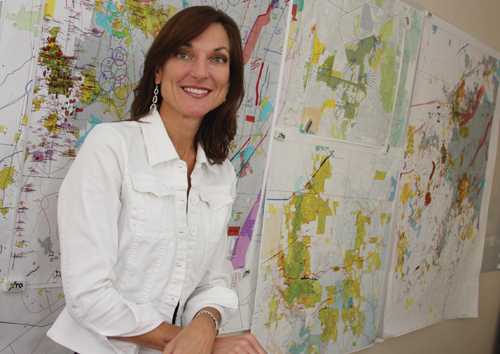 Getting resourceful
Earlier this year, TCU's Institute for Environmental Studies entered a five-year, multimillion dollar research partnership with England's Oxford University dubbed the Wind Research Initiative, The research, funded by Florida-based FPL Energy LLC, will be centered at the company's Horse Hollow Wind Energy Center, the world's largest wind farm, 20 miles southwest of Abilene.
Wind and gas might be called "kissing cousins" because when the wind wanes and the turbines lag, gas is used to ensure the grid maintains power.
Professor Mike Slattery, director of IES, points out that since our energy supply is a huge political, economic and environmental issue, it makes perfect sense for the Institutes to work together when feasible."
"All energy solutions come with an environmental price tag," he says. "But of the fossil fuels, gas is by far the best. And while wind is not a silver bullet, in Texas it's a natural marriage. And since both -- gas and wind -- are right here, I am completely comfortable working with an energy institute that is working on natural gas."
Morgan says information is needed. "If you're going to work in the energy field, you need to understand the environmental impact. And if you work on environmental issues, you must search for ways to work with the energy companies, not against them."
Preparing tomorrow's leaders
As drilling escalates in North Texas, companies are clamoring for skilled, knowledgeable workers in every phase of the business. Which is one reason members of the EI board comprise an all-star cast of leaders from every facet of the industry -- geologists, engineers, lawyers, landmen, accountants, drillers and pipeline executives.
They know that smart new talent is essential and want to help reinvigorate the educational preparation of workers. Some, like Larry Brogdon '72, a partner at Four Sevens Oil Co., and Steve Neuse, vice president of engineering at Bass Enterprises Production Co., are bringing their expertise to the classroom as adjunct professors at the Institute.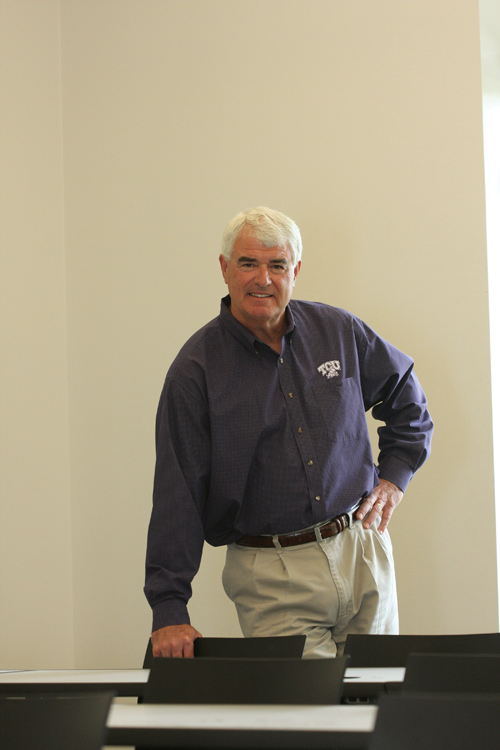 The need for new talent is especially important since during the '80s and '90s students shied from the petroleum industry. Will Brackett '98 (MBA), managing editor of the respected Powell Barnett Shale Newsletter, says those decades created what is known as the "lost generation."
"The Energy Institute is a great thing, a very necessary thing," he says. "I come from a generation where no one went into the petroleum field, and we can't tackle our energy problems without talented employees in the industry. We need to develop the ones we have and find new ones."
Which is why TCU shaped the new energy minor -- open this fall to students in any major -- around the specialized needs of the energy industry. And in the case of gas, that means taking business students to working rigs and geologists to law and real estate firms.
Matthews says a broad education is particularly important in natural gas.
"Gas drilling is like a football team," he says. "The quarterback knows what he's going to do, but the lineman has to know what the quarterback's going to do too. Everyone has to know what the others are going to do or it just doesn't work."
Geologist Griffin says the advantages of the minor will make TCU students very valuable.
"No matter what you major in, you are going to learn a lot about the land side of things, you're going to learn a lot about permitting, about city and state regulations, unitization production, fracing, reserves, environmental issues and more," she says. "And it's all going to be integrated.
"That's a huge gift to give, especially to a young geologist, because they are going to understand the whole business and be ready to step into it."
Adjunct instructor Brogdon, who created an overview course called Prospect to Production, said the integrated approach is a boon to everyone.
"I've been so impressed with the student body here -- they are such sharp kids," he said. "But there is also a real thirst in this growing industry. They want to hear from people who've been out there and done it."
So the EI has embarked on an aggressive program of community education, with initiatives such as the Neeley School's Petroleum Land Management Practices Certificate Program, which was created for the EI.
The 55-hour continuing education program has already been completed by 120 people, with dozens more registered for fall classes. John Baum, director of the Tandy Center for Executive Leadership and professor of professional practice in management, says people wanting to enter the industry and seasoned landmen alike have taken the course. Some companies have sent an entire class-full of ?students for training. Customized programs have been developed for others.
"There is a huge shortage of qualified people to do this kind of work and we're trying to do our part to supply more qualified people for the industry," he says.
The Tandy Center's next EI endeavor is a certificate program for gas industry technical leaders, which is slated to begin in the spring.
The Institute already offers informational lectures for any concerned citizen and is developing educational programs for students in K-12.
In the works is a series of presentations, lectures and debates with influential local and national leaders in the industry who are important in defining the national debate.
Joining the conversation
As the country searches for answers to these prickly issues, members of both Institutes know they can play an essential role in helping people talk openly and intelligently about our energy demands.
"The most exciting mission is the chance to be involved in, and influence, the great national conversation on energy that must take place -- a conversation that should be driven by transparency, realism and honesty," says Provost Donovan. "The first part of the conversation must involve a political reality check -- our energy problems are of a global dimension.
"A second part involves the creation of energy portfolios that reflect the realities affecting each part of this nation, our continent and indeed the world. Out of the palette of possibilities available, we must produce local strategies that maximize the energy potential for each region of the country."
Those working on energy initiatives at TCU have infinite potential to help shape those energy conversations, Morgan says. "We're seeking common-sense solutions and are asking how we can provide a safe, secure energy plan that is also the best possible scenario for the environment."
Good questions and hard science are all needed, so both Institutes will reach out to legislators and decision makers. And quietly go about the business of preparing the next generation of leaders.
"Our faculty and students are looking at everything from current energy sources and developing technologies to the economic, political and environmental impacts of all of them," Morgan says. "If you're not getting that complete package, you're not getting educated."
He knows we can't keep doing things the same old way -- our future depends on a fresh crop of innovative and responsible leaders.
"We must always be a steward of the planet because it is a global concern of all energy issues," Morgan says. "Our students will be spread out all over the industry and the globe, so we will be helping lead the education for our future leaders."
More information:
www.energyinstitute.tcu.edu
www.ensc.tcu.edu.

Comment at tcumagazine@tcu.edu.