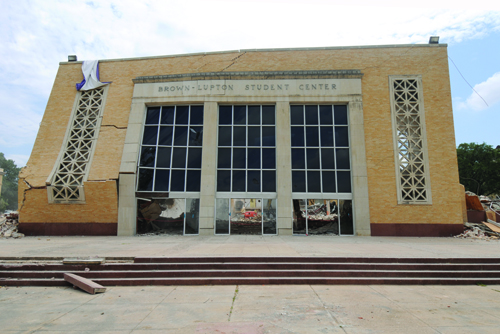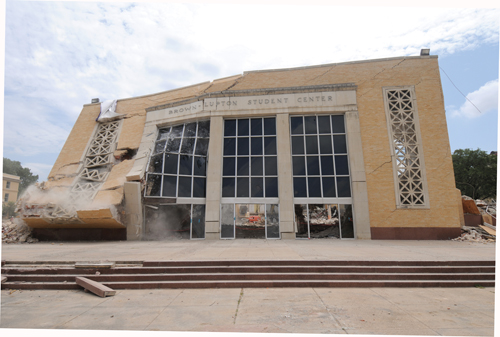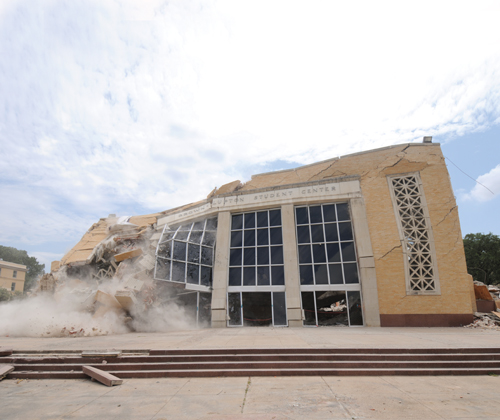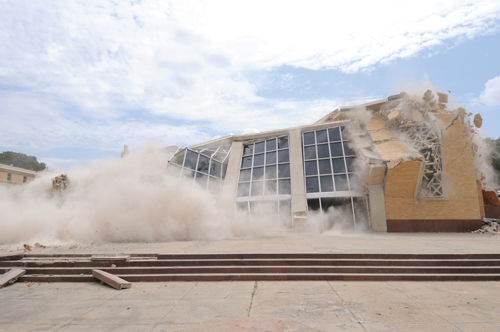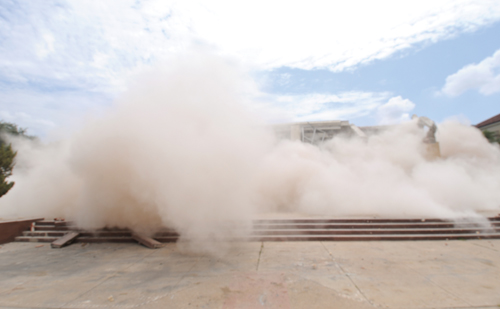 From dances to dust
It was a poignant moment for Mary Ruth Jones '58. The place she had spent countless hours as both a student and staff member was finally gone.
Jones had been in the first class of students who made the 53-year-old Brown-Lupton Student Center their de-facto ­living room – meeting friends and future spouses at dances in the ballroom and other events including Greek Rush and Howdy Week. After graduating, she later worked in Residential Services' offices in the building.
"Just to see that last wall fall and all the dust, I thought, wow," she said. "It was a special moment."
The final blow that knocked down the south wall facing Frog Fountain came just after noon on July 16. The Alma Mater played on The Robert Carr Chapel bells and they tolled the 12 o'clock hour.
A massive metal claw atop an excavator gave a final push that sent the last wall toppling over. Some 50 people gathered on the Campus Commons lawn for the photo op applauded then moved out of the way of the massive dust cloud kicked up by the demolition.
A new 74,000-square-foot building to be called Scharbauer Hall will be constructed in its place and a courtyard will be developed between it and Reed Hall. It will house the John V. Roach Honors College and AddRan College of Liberal Arts. Estimated completion is December 2009.
For a video of the final 45 seconds of the Student Center, click here.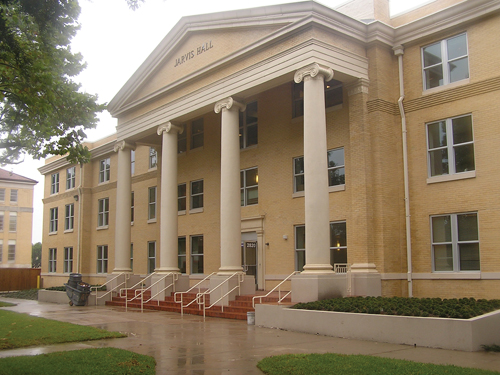 Jarvis is new home
to music, campus services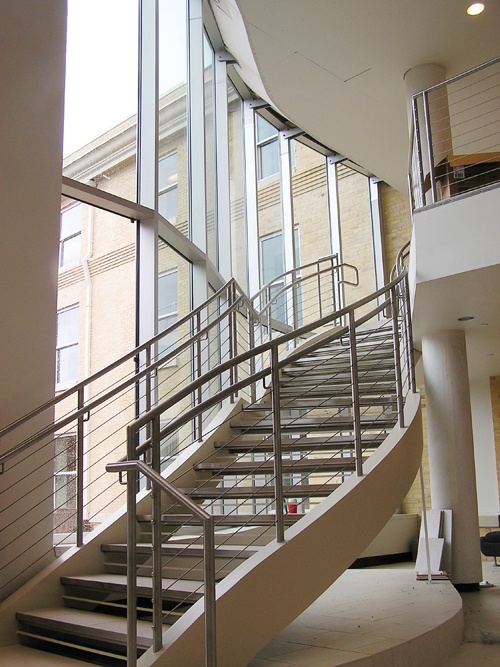 It closed in December as Jarvis Dormitory, one of TCU's original two residence halls. In August, it reopened as the new home of Religious and Spiritual Life, University Career Services, Inclusiveness and Intercultural Services, International Student Services and Community Involvement and Service Leaning, all on the first two floors. On the third floor, the School of Music now has acoustically enhanced practice rooms and office space for some of its faculty.
The building, which was built in 1910-11, was gutted, remodeled and expanded from January to August. It now features a new back entrance with retro-style porch and a balcony, which harkens back to Jarvis' original look. The entrance is now adjacent to the Campus Commons.
New elevators, restrooms and lobby space ­add a spacious feel.
"It has new electrical and mechanical systems­," says Harold Leeman, project manager. "It also has new energy-efficient windows."
Accessible entrances were improved in the renovation as well.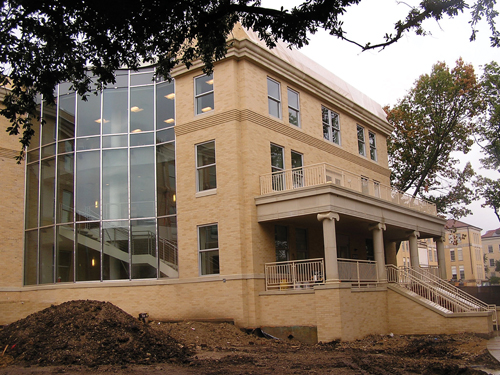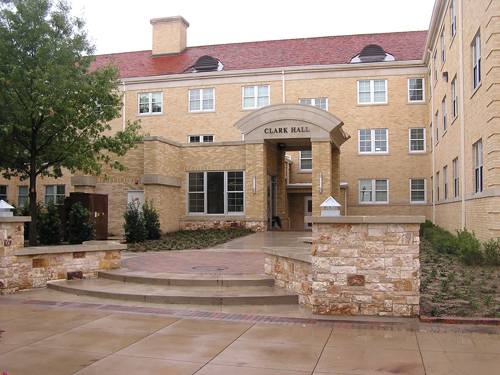 Clark reopens with fresh look
Clark Hall reopened in August after being gutted and renovated during the spring and summer terms. The building features an attractive new back entrance, stairs to the basement/laundry area in the front, a new lobby and front desk, new front door and windows throughout.
"We didn't add space. It's the same building, but it has a better presence than before," says Harold Leeman, who oversaw the project for the TCU Physical Plant.
Clark is home to about 220 men and women.
New furniture and flat-screen televisions were added in the main lobby and common areas. The lobby now has marble floors similar to those in the residence halls in the Campus Commons. A redesigned front desk is streamlined to allow for a more open lobby.
Hallways were painted plum and new doors have a mahogany look and feel. Rooms are now a mixture of sizes and types. Some include shared suite-style bathrooms.
The basement laundry facilities and gameroom were reorganized and now include new seating, flat-screen television and washers and dryers.
The renovation also improved accessible entrances.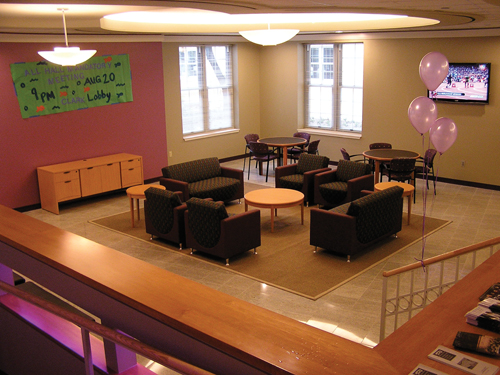 Big Crowds highlight Piano Texas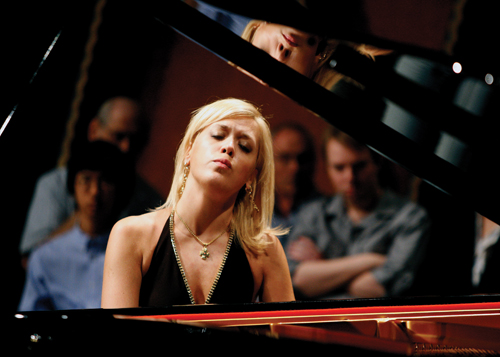 It was worth the schedule change, or so the audience seemed to believe. The solo recital performance of 2008 Piano Texas headliner Olga Kern, below, was rescheduled after a tweak to the festival schedule, but the 2001 Cliburn Competition winner did not disappoint.
To a sold-out PepsiCo Recital Hall in mid-June, Kern showed mastery of Scarlatti, Chopin and Rachmaninoff sonatas and Liszt's Hungarian Rhapsody No. 2. After two dozen chairs were put on the stage, the crowd filled into the balcony. Even legendary pianist Van Cliburn attended.
The Star-Telegram review called her performance "astute and exciting." Kern was a full participant this year, the festival's 27th, as both a recitalist and faculty member. Other distinguished guest artists included Peter Donohoe, Antti Siirala, Malcolm Bilson, Joseph Kalichstein and The Calder Quartet and Harold Martina.
The festival's local highlight was the amateurs and young artists' performances with the Fort Worth Symphony Orchestra.

Mimir celebrates 11th season
For its 11th season in July, the Mimir Chamber Music Festival showcased guest artists from the Chicago Symphony Orchestra, Cleveland Orchestra, San Diego Symphony, TCU School of Music faculty and internationally acclaimed performers, including Van Cliburn International Competition Gold Medalist José Feghali and Leeds Piano Competition winner Alessio Bax.
The two-week event offered five distinctly different chamber music performances and a variety of composers, from Bartok and Grieg to Shostakovich and Schubert.
Mimir also welcomed 18 aspiring musicians who practiced and participated in daily coaching sessions and master classes with the guest artists.
The series began with an all-Beethoven evening featuring works from the composer's late career. Another festival highlight was the performance of the original version of Mozart's piano concerto for string quartet plus piano.
The annual festival, founded in 1997 by executive director Curt Thompson, associate professor of violin at TCU, is considered a highlight of the Texas summer music scene and has received impressive recognition in the regional and national press.

$8 million to boost 3 programs
TCU announced in late May that it received a gift of $8 million from Paul and Judy Andrews of Fort Worth to benefit the Institute of Mathematics, Science & Technology Education, the Honors Program and the library.
The gift will be used as follows:
– $5 million for the Institute of Mathematics, Science & Technology Education in TCU's College of Education to help address the national problem of deficiency in mathematics and science education in K-12 schools. In recognition of the gift, the Institute has been named the Andrews Institute of Mathematics, Science & Technology Education. The largest portion of the gift will be used for scholarships in doctoral, master's and baccalaureate areas.
– $2.5 million for the TCU Honors Program by establishing the John V. Roach Honors College, which will open in the fall of 2009. It will be used for the enhancement of the living/learning community model, facility upgrades, faculty stipends and student scholarship support, including study-abroad stipends.
– $500,000 for the TCU Library for future enhancements and additional resources.

Busy fall for Schieffer
The Commission on Presidential Debates announced in August that "Face the Nation" host Bob Schieffer '59 will moderate the final presidential debate Oct. 15 at Hofstra University. This is just a part of a busy fall for the newsman. In mid-September, he is releasing his third book, Bob Schieffer's America, an anthology of 168 of his best essays.
Here's an excerpt on, of all things, debates:
DEBATING DEBATES
"When a viewer wrote in recently wondering why the candidates don't hold old-fashioned debates anymore, the kind they used to hold with a lot of back-and-forth, it piqued my curiosity about just what those early debates were like. Well, a quick check showed they were not like anything because there weren't any. Maybe because I'd forgotten my high school history, I had to be reminded that candidates didn't really campaign for president through a good part of the nineteenth century. It was thought beneath the dignity of the office. The reason we tend to forget that, perhaps, is because we've heard so much about those famous Lincoln/Douglas debates. We also have to be reminded they weren't part of a presidential campaign, Lincoln and Douglas were running for the Senate.
What did set those debates apart is that, until then, most debating took place on the floor of the House and the Senate. Politicians seldom faced off anyplace else. It turns out the first presidential debates between candidates didn't really come along until radio had been invented. Republican Tom Dewey debated Republican Harold Stassen over the airwaves. The first real debate of candidates from the major parties was that 1960 Kennedy/Nixon encounter, and there wasn't another for 17 years, until Jimmy Carter and Ronald Reagan met. Well, just because they're a new idea doesn't mean they're a bad idea. On the other hand, with the turn that modern campaigns have taken, maybe there is some merit in that nineteenth-century idea of just having a candidate stay home."

May 2008 Commencement - by the numbers
1,303
Students receiving diplomas
50th
Anniversary of the graduating class of 1958, which wore cap and gown and carried a banner
2
honorary doctorates given to John Merrill, former director of TCU's Ranch Management Program, and Sandra Brown '69, best-selling author

2,106
words in the commencement address of the Honorable Roger Williams '72, former secretary of state
16
graduates with 4.0 grade point averages
34
international graduates

Around Campus
New name for AddRan
AddRan College of Humanities and Social Sciences became AddRan College of Liberal Arts in August as the fall semester began.
Orientation faces challenges
Faced with a campus full of demolition and construction, student orientation this summer was a bit, well, disorienting. With the old Brown-Lupton Student Center demolished and the new Student Union not yet opened, orientation staffers had to find new places to prepare the university's 1,640 incoming freshmen and their families for life at TCU. Boxed lunches were brought in for some meals and the Dee J. Kelley Alumni & Visitors Center was also able to offer an alternate dining venue. Student Development Services staff were making do through the summer, officing in dorm rooms while awaiting their move to the Student Union.
New dining plans to start
Dining Services changed meal plans in August to better accommodate the 24/7 campus. Student plans include unlimited, all-you-can-eat access to new dining venue Market Square, and Frog Bucks, which can be used at select vendors off campus.
A new themed semester
TCU is urging students, faculty, staff and the community to get engaged in sustainability this fall through the university's 2008 Sustainability Theme Semester called "Think Purple, Live Green." The campus will host a series of special classes, symposia and workshops discussing how to make human economic systems last longer and have less impact on ecological systems. Following 2004's theme of "Politics and Principles" and 2007's "Rights, Responsibilities, Respect," the sustainability theme is designed to make individuals consider the role of their actions in society.
Live Green bags for sale
The shopping bags on the cover of the Summer 2008 will be available for purchase in late September in the TCU Barnes & Noble Bookstore.
Campaign update
Commitments for the $250 million Campaign for TCU now total some $176 million – or about 70 percent of the campaign goal. In fiscal '08, the University broke fund-raising records for the third consecutive year with gifts and pledges of more than $70 million, and the Annual Fund raised an all-time high of $7 million. High-priority campaign initiatives include scholarships and support for faculty and key academic programs.
TCU on YouTube, iTunes, Twitter
If you want more content about TCU, check out a special TCU section of YouTube: www.youtube.com/TCU. Viewers can watch everything TCU, from athletics clips to symposia to student-created videos. The university is using the media as another way to promote itself and inform its constituents. Currently the demolition of the Brown-Lupton Student Center has the most "views" of TCU-posted content with more than 1,700. The university is also looking into iTunes U for TCU-centric podcasting and Twitter for blogging.

Fall 2008 in photos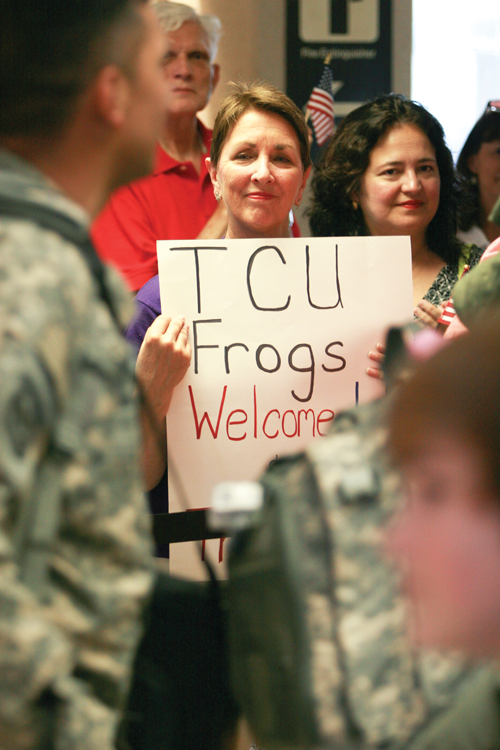 Welcome home a hero Sharon Heck Vestor '67 was one of­85 TCU alums to greet U.S. soldiers returning home from battle at DFW Airport in June at the Alumni Association's "Welcome Home a Hero" event. The Fort Worth chapter's effort earned the group the Alumni Association's Community Service Award for the second year in a row.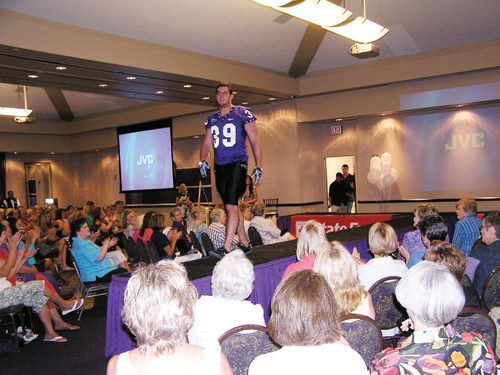 Frogs on the runway Jason Phillips of the football team showed off the team's uniform during the fashion show portion of Coach Gary Patterson's women's clinic in July. Players and coaches answered questions and gave out prizes to the 150 women in attendance.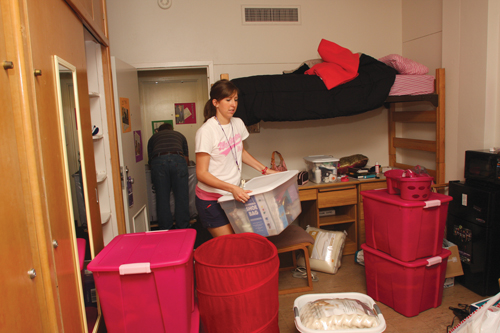 A moving experience First-year student Esther Volmer was one of more than 1,600 freshmen who swarmed campus in mid-August to move into their new digs. For a second consecutive year, scores of faculty and staff members pitched in to help unload and carry their belongings inside.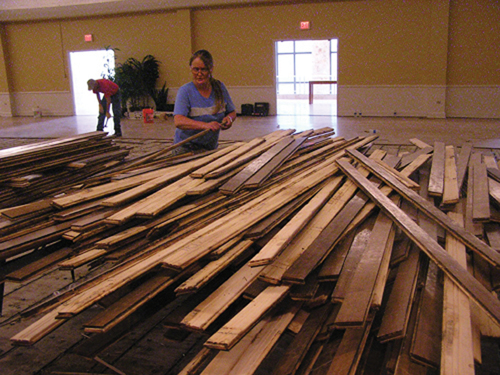 Student Center recycling Slats from the old Brown-Lupton Student Center ballroom were pulled up in late May by a group from First United Methodist Church in Azle, which is using the wood for a floor in its new community outreach center.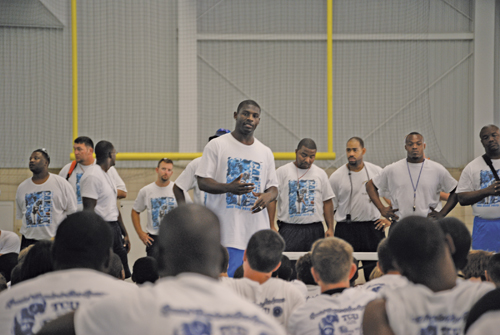 LT in the house San Diego Chargers running back LaDainian Tomlinson '05 held his annual camp at TCU in late June. In a Thursday morning speech to 163 campers, he said started the camp to give kids up-close-and-personal contact with the pros because a meeting with Emmitt Smith as a boy inspired him.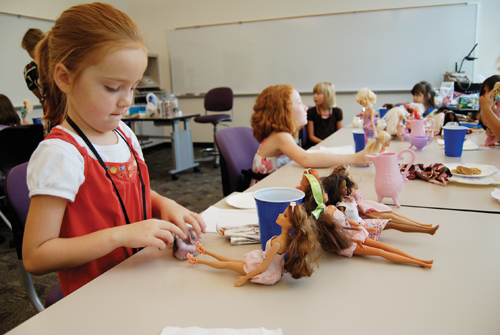 Barbie Camp Palko Hall hosted several specialty camps this summer including Summer Camp with Barbie, offered through the Office of Extended Education. Sixteen girls aged 5 to 8 learned table manners and got ­­plenty of playtime. Other options included Lego Camp and Youth Computer Camp. In all, 128 students participated.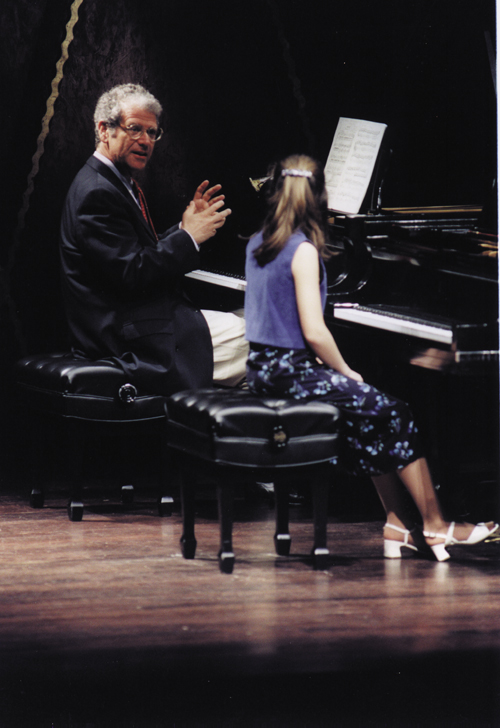 5 questions for ... Tamas Ungar
Thirty years ago, professor of piano Tamas Ungar joined the School of Music faculty. In three decades, he's helped elevate piano education at TCU, started a renowned summer festival and further cemented Fort Worth as a major hub in the piano universe.
This is your 30th year of teaching piano at TCU. What are some of the highlights for you? The students and my fellow faculty members. They are a delight to work with. The School of Music has grown so much during the time and that is because of the quality of the faculty. They're artists who love teaching. That makes TCU a very special place.
What led you to create a summer piano festival? When I came here, there was nothing in the summer. Of course, every four years, the Van Cliburn Competition brought the world's best pianists to our city to judge the performances. But when they we're not listening to the contestants, they did not have anything to do. It felt like a waste. I sensed opportunity to bring them over to TCU or bring my students to them. Lili Kraus, who was a Cliburn juror at that time, was the first to work with my students, and many others followed.
What do you enjoy most about Piano Texas? The teaching time. I enjoy working with the amateurs as much as I do the students. They are eager to learn and have such appreciation for classical music. Their concerto with the Fort Worth Symphony Orchestra is a highlight every year. We're very fortunate to have such a strong relationship with the symphony.
Most people don't realize that Piano Texas is more than concerts and performances. You've even added nonmusical events, such as sessions on practice habits and the business aspects of the classical music world. The students wanted to do more than just attend concerts. At the same time, we thought there was potential for growth and development among the students beyond performance. They can benefit from learning about travel and what is required to be a professional in classical music. We have had hand specialists meet with them about the medical implications of piano playing. We have had psychologists lecture on handling performance stress.
What is in store for future Piano Texas festivals? We need to continue to establish Piano Texas' identity. It was called the TCU/Cliburn Institute until just a few years ago. The Cliburn name is so powerful around the world. It's gold when it comes to fundraising. But the name change was an opportunity to develop our own identity and increase TCU's profile around the world.

TCU Tomes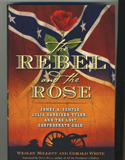 The Rebel
and the Rose
Wesley Millett and Gerald White '66
Cumberland House
For generations, speculators have searched for the legendary lost gold of the Confederacy, coins and bullion from the defeated nation's treasury that went missing in the final days of the Civil War. Now White, a retired Air Force colonel, has teamed up with Wesley Millett to pen a novel about the fate of about $86,000 in Confederatate gold, worth roughly $2 million today, in a rollicking tale that teams a fugitive Rebel soldier with former First Lady Julia Gardiner Tyler, known as the Rose of Long Island.
To purchase: www.rebelandtherose.com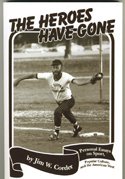 ?The Heroes Have Gone: Personal Essays on Sport, Popular Culture and the American West
?Jim W. Corder '54
Moon City Press
Corder, a beloved TCU English professor, once told his students there was no such thing as a boring subject. They reacted by challenging him to write at essay about the dullest thing they could imagine - a single Cheerio. The resulting essay, which begins the number of Cheerios in a box, about 2,600 by his count, and ends up celebrating the heroes of his youth - including Dizzy Dean and Tom Mix - is just one of the gems in this new collection of his work.
Available at major booksellers.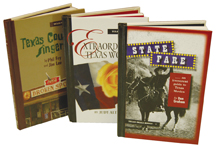 Texas Small Book series
?various authors
Priced to be easy on your pocketbook and also fit inside it, the new Texas Small Book series enlightens readers on all things Texas, from country singers to movie gunslingers. The hardback series, priced and sized more like paperbacks at $8.95 each, includes the titles Extraordinary Texas Women, Texas Country Singers, and State Fare: An Irreverent Guide to Texas Movies. Coming in the fall will be two more titles: Great Texas Chefs and Texas Football Greats: Legends of the Game.
To purchase: 1.800.826.8911.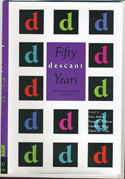 Conversation with
Dave Kuhne '97 PhD
Descant: Fifty Years
TCU Press
In 1956, Louise Cowan and Betsy Colquitt along with other members of the English Department founded the literary journal descant to recognize and publish emerging writers. Named from a line in W.B. Yeats' poem "Speech After Long Silence," descant has evolved from being a showcase for TCU writers to a wider scope highlighting well-known writers such as Joyce Carol Oates as well as lesser-known scribes such as Catherine McCraw, a speech pathologist in Oklahoma. Dave Kuhne, principal editor since 1999, spent more than six months culling through 50 years of journals to find the very best for the new collection published this year by TCU Press.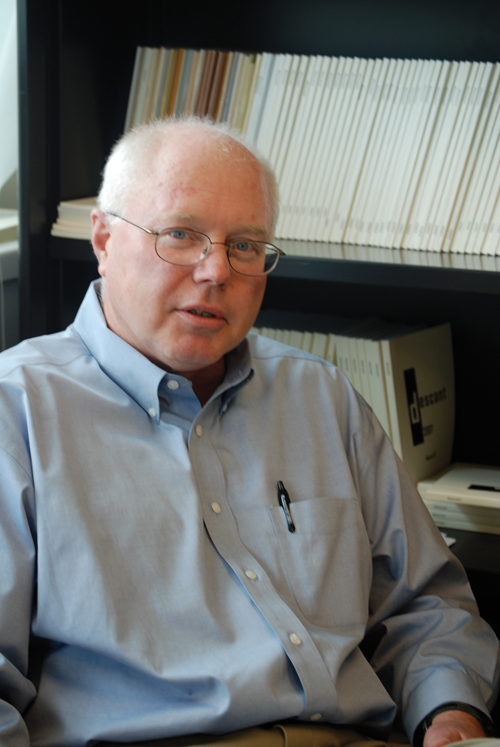 Why do an anthology now?
Very few small literary journals live to be 50 . I can only think of three or four older than descant. It seemed appropriate to celebrate that milestone with an anthology that looked back at the origins of the journal and where it has been.
In 1976, descant published an anthology of the best of the first 25 years, it wasn't a book, it was a special issue of he magazine. We thought it would be nice if we had a university press book for the first 50.
Why has descant made it while other university literary journals haven't?
A couple of reasons – the great leadership of the original editors – Cowan and Colquitt, especially Colquitt who was editor for almost 40 years and kept it alive in some skimpy times and funded it when funding was hard to get.
Also, the very fact the TCU administration has been generous enough in funding to keep it alive. Without that funding it's unlikely we would have made it. Colquitt mentions that in her memoir that opens the anthology.
How did descant evolve?
There was a connection between founding editors Colquitt and Cowan to the Vanderbilt University group known as The Fugitives (which included Robert Penn Warren and others who came to dominant literary criticism of the 20th century) that clearly paid off in terms of the organization and inspiration to get descant started. That's another reason this is a worthy project – just to explore the history of this journal.

When they started this journal in 1956, the Fugitives weren't that as famous as they are now. They weren't known at that time for establishing new criticism and the new critical movement of the '60s. There were some important writers and Cowan (who earned her doctorate at Vanderbilt) knew about them. That Vanderbilt connection was what brought Robert Penn Warren to campus. In the early days, Colquitt would invite major American writers to speak at our annual creative writing awards and both the Karl Shapiro and Robert Penn Warren essays in the anthology were actually delivered as speeches on campus as part of the creative writing awards.
When the journal first started in the mid 1950s, almost all the material was written by students and professors here at TCU. That led to more Texas writers being involved in the early years, but as you look at the table of contents for this book, you'll see that pretty quickly Colquitt was able to establish a rapport with writers from all over the country even in those early years.
There has been continued interest in Texas writing through the history of the journal, but as Colquitt mentions in her memoir, we never really intended to be a Texas journal, there was just an initial local interest in the journal that led to a lot of Texas writers publishing in it, but early on, there were emerging writers finding out about this journal. I'm thinking of writers like Charles Bukowski and Denise Levertov who published in this journal in the 50s and 60s. In the early 70s, we have people like Joyce Carol Oates in the journal. The word spread around Texas and throughout the world thanks to Colquitt's efforts.
How many submissions does descant get every year?
In the last couple of years, we've approached 4,000 poems and about 400 to 500 short stories per year – that's quite a lot. I think one reason we get a lot of submissions is because we have a generous awards system and no submission fees and no reading fees. Right now we're giving $750 in fiction awards per year and $750 in poetry awards per year including a $500 poetry prize, that's pretty good money for a poem.
How did you choose what made it into the anthology?
"I went to the library and read every one of the 50 issues and obviously I was looking for beginning writers who went on the have national careers because I thought that would reflect how the journal had, over the years, encouraged emerging writers.
I went back and read everything, of course certain names stuck out – Robert Penn Warren, Karl Shapiro, Charles Bukowski, Joyce Carol Oates. I wanted to include those works to show that from humble beginnings these folks who had published in small literary journals had gone on to national and international recognition. But I also just published stuff I thought was good. I'm sure very few people are familiar with an Arkansas poet named Edsel Ford, not named for the car, but I liked his poems so much I put them in there. Some of these people were long forgotten until I read them again."
What's your hope for the future of descant?
"It's pretty clear we've attracted national attention due to the four money awards that we give and the fact that some of our writers continue to be anthologized in things such as Best American Short stories we've also had a number of poems in the last few years nominated for Pushcart Prizes. I'm hoping we continue to gain a larger readership, a larger subscriber base and to attract outstanding manuscripts."
The book is available at bookstores or by calling 800-826-8911.
To read more of this interview, go to magazine.tcu.edu.