New Provost pulled from the ranks of TCU's best and brightest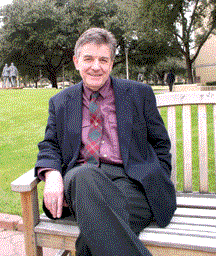 R. Nowell Donovan, department chair of geology at TCU, has been called teacher, mentor, chairman, rock hound, even Renaissance man. Now he will be known as Provost, following a national search to fill the position formerly held by William Koehler, who is retiring May 31.
In announcing the decision, Chancellor Victor Boschini said, "Dr. Donovan understands TCU's distinctive qualities better than anyone I have met since coming to campus, and he also sees just how the University can maintain those distinctions."
Boschini shared an excerpt from a letter Donovan gave to the search committee. In it, the man known for his rich Scottish brogue wrote that he sees TCU as "a place in which students acquire meaning as a complement to knowledge. If we succeed in creating such a university, then our ideal student will be an informed and creative iconoclast, possessing the skills and insights necessary to affect change where change is necessary, and yet aware of the value of our greatest traditions."
Since arriving at TCU in 1986 as holder of the Charles B. Moncrief Chair of Geology, Donovan has been active in campus committees and events, even as he distinguished himself academically by publishing more than 100 scholarly papers, book articles and abstracts, and making more than 100 presentations around the world. He is the most cited author in his specific field in the official British geological publication on the Northern Highlands of Scotland, and he has won the A. I. Leverson Award for the "Best Paper of Creative Thinking" toward New Ideas on Exploration from the American Association of Petroleum Geologists.
Donovan has played a primary role in international education and established several academic studies programs in Scotland. He was a member of the founding faculty of TCU-in-Oxford, which eventually led to the creation of the TCU London Centre. He has served as chair of the Faculty Senate and the Institutional Effectiveness Committee, as well as countless other groups. He was most recently involved in the redesign of the core curriculum and is currently co-chair of TCU's strategic planning initiative, Vision in Action: Planning TCU's Future.
Before coming to TCU, Donovan taught and conducted research at Oklahoma State University and the University of Newcastle-upon-Tyne in Newcastle, England.
EDUCATION
1952-61 King Edward VII School, Lytham St. Annes, Lancashire, England
1961-66 B.Sc. Honors (Class 2.1), University of Newcastle-upon-Tyne, Newcastle, England
1966-72 Ph.D., University of Newcastle-upon-Tyne, Newcastle, England.
Married to Jeanne Marie; two daughters: Erin Noelle and Corrie Linn
---
A Brite future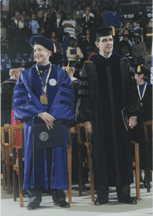 D. Newell Williams was inaugurated Jan. 22 as the eighth president of Brite Divinity School, vowing to lead the institution into a new era of growth.
In an inaugural address, titled "Heritage and Destiny," delivered during a ceremony at University Christian Church, Williams predicted a new era for Brite and announced that a major gift will finance a new professorship in Catholic studies at the school, founded 90 years ago. Although the size of the gift was not announced, Williams said in an interview that the minimum to establish a professorship is $1 million.
He also announced that Sister Carolyn Osiek, who joined Brite's faculty in the fall, will fill the Charles Fischer Catholic Professorship. Fischer is a leader in the area Catholic community.
"She is an internationally known scholar and is president-elect of the Society of Biblical Literature," Williams said of Osiek.
Although founded by the Christian Church (Disciples of Christ), Brite has Jewish, Catholic, Methodist and Baptist studies programs. The school has 280 students and 22 faculty.
"I believe that it is time to make another major step forward," said Williams, who comes to Brite from Christian Theological Seminary in Indianapolis, where he was professor of church history. He replaces Leo Perdue, who resigned but remains a professor of church history. The school has outgrown its academic building, and trustees have approved plans for a $17 million building that will be financed under a new capital campaign soon to get under way, Williams said.
Williams is a church historian whose work includes a history of his denomination, Barton Stone: A Spiritual Biography, published by Chalice Press. Also, he is co-editor of The Encyclopedia of the Stone-Campbell Movement, soon to be released by Eerdmans Publishing Co.
Williams previously served as both associate and assistant dean at Brite between 1978 and 1984.
Dr. Williams and his wife, the Rev. Susan McDougal (also an ordained Disciples of Christ minister), have three school-aged children, Mac, Coert, and Errett.
---
Holiday magic at Carnegie Hall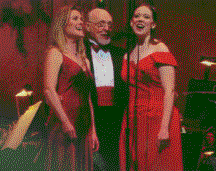 Carnegie Hall was the venue and the stars were 160 voices from TCU and University Christian Church who joined the New York Pops Orchestra for two performances of holiday music in December. Famed conductor Skitch Henderson, praised the performances, expressing his desire that the group "come back more often," said Ron Shirey, director of Choral Activities at TCU and music director at University Christian Church. Inset photo left to right: Beverly Beil Newsom '80, Shirey and Amy Pummill '96.
---
Rewarding event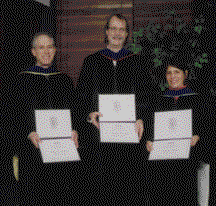 The Dean's Awards for teaching or research and creative activity, which carries a $2,500 cash prize, were awarded at winter commencement. Recipients of the 2003 Dean's Teaching Award are Andrew O. Fort, professor of religion; Terry E. Dielman; professor of decision sciences; and Babette Bohn, professor of art history. Recipients of the 2003 Dean's Research and Creativity Award are Charles Lockhart, professor of political science; Garry D. Bruton, professor of management; and Jeffery L. Coffer, professor of chemistry. Other faculty receiving recognition included Donald W. Jackson, professor of political science, who was named a Piper Professor of 2003 by the Minnie Stevens Piper Foundation; Brite Divinity School's Kenneth Cracknell, professor of theology and global studies, who received the Louise Clark Brittan Endowed Teaching Award; and Joseph R. Jeter Jr., the Granville and Erline Walker Professor of Homiletics, who received the Catherine Saylor Hill Endowed Faculty Excellence Award.
---
Fort Worth first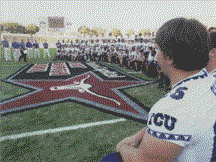 After shaking up college football by nearly crashing the BCS with an almost-perfect season, the 11-1 Frogs ended up playing Dec. 23 in the inaugural Fort Worth Bowl at Amon Carter Stadium. The high-scoring affair against No. 17 Boise State was as breath-taking as it was heart-breaking, resulting in a 34-31 loss for the Frogs. But with more than 38,000 attending and an ESPN audience tuning in, the bowl put the TCU campus and Fort Worth on the national stage once again.
---
Unexpected Frog reunions
The coming and going of military personnel in Iraq spawed several reunions as Frogs crossed paths in the desert. If you know of Horned Frogs serving in the armed forces in the Middle East, send us information or a picture and we'll share it in the magazine.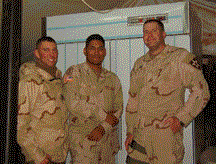 Scott Leblond '95, left, who shared his story with us in the last issue, bumped into two former Ranger Challenge team members, Rick Pardo '94 and John Van Hook '94, just after Christmas. "I am the short, dashing Cavalryman on the left, Rick is the confused looking artilleryman in the middle and John is the infantry-Striker Commander wearing the latest in Army fashion on the right," Scott wrote. "Troops are beginning to talk redeployment and want to complete the deployment with as much success as has accompanied us throughout our operations. Still focused on stabilization, and also force protection is a huge priority. Getting everyone home is key to calling the mission a success."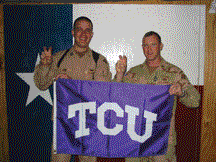 Captain William Dunn '96, on the left, and Major Ed Jones '74 enjoyed a chance meeting in Iraq recently. Dunn is the Allied Shops Platoon Leader for A Company, 404th ASB, and Jones is the Battalion XO for 404th Aviation Support Battalion.
Maj. Paul Haines '87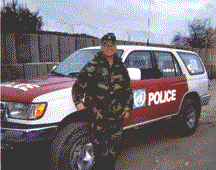 , of the Texas Army National Guard, was deployed to Kosovo as part of Kosovo Force, a peacekeeping mission, focused on providing a safe and secure environment for the Serbs and Albanians there. He hopes to return home to wife Dina Rosen Hains '88 in Houston in September.
---
Latin American Arts Festival returns
What began as a music festival on campus in 1998 is now a community-wide celebration of Hispanic heritage through creative expression. The month's events encompass all the arts -- visual, theater, dance, film and music. Some notable activities are a zarzuela performed by the TCU Opera and an outdoor fiesta with food, music and salsa dancing on April 2 at the Student Center. For a list of all the events, go to www.LatinArts.tcu.edu, or call 817-257-7143. Many of the programs are free.
---
Mini university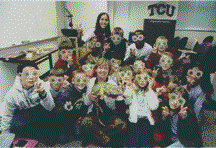 More than 650 fourth-graders arrived for fun and instruction during the School of Education's Fourth Annual Mini University in January. While the kids attended classes ranging from meteorites to magic, the 550 parents who accompanied them went to classes about college admissions and how children learn. Nearly 250 students, faculty and volunteers from TCU participated, including 67 education juniors and seniors who taught the classes.
---
Ethical Issues in College Athletics
Focusing on the well-being of student-athletes in order to maintain the integrity of intercollegiate athletics is the greatest challenge facing university presidents, athletic directors and coaches, NCAA president Myles Brand told a crowd of more than 1,500 at the Martin Delta Gamma Lectureship in Values and Ethics in February at Daniel-Meyer Coliseum.
"Sometimes winning comes in conflict with the bounds of good judgment," he said. "We must remember that college sports is not a business. It's about educating young men and women in the field and in the classroom. And that has serious ethical implications."
Joining Brand at the forum titled "Ethical Issues in College Athletics," was an A-list of college athletics leaders: Mack Brown, head football coach at the University of Texas; Andy Geiger, athletics director, Ohio State University; and Roy Kramer, former Southeastern Conference Commissioner and architect of the Bowl Championship Series.
The event was moderated by Dutch Baughman '88, executive director of Division I-A Athletic Directors' Association. Topics ranged from illegal recruiting practices to player and coach misconduct to academic fraud, all high-profile scandals in recent years.
---
Many memories
Many memories Retiring minister to the University John Butler touched thousands of lives during his 27 years of service at TCU. Many of his good deeds were chronicled in a memory book compiled by friends and co-workers for his going-away party in February. Butler, an ordained minister for the Christian Church (Disciples of Christ), first came to TCU to earn his masters of divinity degree in 1967. He returned to campus 10 years later and has been serving as its minister ever since. Among his accomplishments, Butler started TCU's community service program, Carols by Candlelight and an intern program for students interested in campus ministry. He was recognized with the Alexander Campbell Award in 2001 by the Christian Church (Disciples of Christ) for his contributions to higher education.
---
Savvy school kids
Nathaniel S. Turner V, founding member and CEO of Novotrix, LLC and president of Certificateswap.com was named TCU's 2004 Texas Youth Entrepreneur of the Year in January. Turner received a $5,000 scholarship to be used at the college of his choice. Turner is a senior at The Academy of Science and Technology at Oakridge High School in The Woodlands. Novotrix, a web design and media solutions firm, has completed work for over 75 clients, launched 50 Web sites and conducted business with companies in 22 states and six countries. Novotrix earned over $32,000 in sales for 2003 and employs three people. The five other winners, all high school students, are Matthew D. Bizer from New Braunfels; Jessica A. Froberg of Plano; Austin C. Hoffman, from Tyler; Chris Isenblitter from San Augustine, and Kyle Mann of Corinth. Each of the winners received a $1,000 scholarship to be used at the college of their choice.
---
Baseball reunion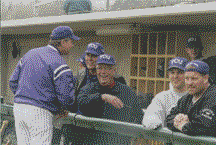 It was Frogs against Frogs in the annual alumni game in January to start the 2004 baseball season. The Varsity topped the Alumni, 6-2, behind a 3-for-3 day by freshman Shelby Ford, who drove in five of the six runs. Former all-American Royce Huffman helped pace the alums, which also included ex-player and coach Roger Williams, who managed the alums. Former assistant coach and Hall of Fame pitcher Nolan Ryan, above right, joined the team the night before at the First Pitch Banquet as keynote speaker.
---
Remembering Lili
She was known for her lively personality as much as her talent. And what a talent -- Mme. Lili Kraus was known as one of the 20th Century's greatest Mozart interpreters. To celebrate the 100th anniversary of her birth, some of her former students and Jose Feghali, her successor as professional-in-resident at TCU, performed a special program in February at PepsiCo Recital Hall. Kraus, born in Budapest in 1903, was admired for her interpretations of the Viennese school, Haydn, Beethoven, Schubert, and, above all, Mozart. She first gained critical attention for her performances of the Mozart piano and violin sonatas with Szymon Goldberg in the 1930s. During the 1966-67 New York concert season, Kraus gave an unprecedented landmark series of performances of the complete Mozart piano concertos, recorded for the Columbia Epic label. She first came to Fort Worth and to TCU in 1963 to serve on the jury of the first Van Cliburn International Piano Competition and served on every jury thereafter until 1981.
---
Turning it on
Marton Varo's 15 Cubes statue, which graces the lawn in front of the new Smith Enterpreneurial Hall, was transformed into a rainbow-hued bit of magic in December by lighting design students. Each year a major lighting project is completed by the seniors earning a minor in lighting design.
---
The global classroom
The percentage of TCU undergraduate students studying abroad is among the nation's highest, according to a ranking of the top 20 doctoral institutions whose students study abroad. Thirty-three percent of TCU undergraduates studied overseas during the 2001-02 academic year, placing the University seventh nationally in the percentage of undergraduate students studying abroad that year. The percentage is based on the total number of undergraduates studying abroad in relation to the total number of undergraduates who graduated that year. TCU also placed 13th in the rankings of total number of students who studied abroad. The rankings are listed in Open Doors 2003, the annual report on international student mobility, produced by the Institute of International Education. A total of 417 undergraduate students studied abroad in 2001-2002, an increase of 38 percent from the previous year of 302. Overall, TCU increased the total number of undergraduate and graduate students studying abroad to 469 in 2001-02 from 354 in 2000-01, an increase of 32 percent. The most popular destinations for TCU students were the United Kingdom (177), Germany (52), Spain (50), Italy (42), Mexico (38) and France (31).
---
From the mouths of little frogs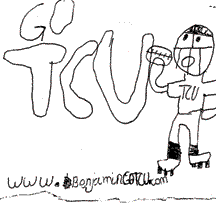 Here's proof that sports marketing works. Artist, budding web connoisseur and TCU football fan Benjamin Eaton was featured in the Star-Telegram's Quotable Kids feature in December for his artwork of a Frog football player. We asked if he'd share his creation with us. As it turns out, Benjamin, now 6, has quite a purple lineage. He's the son of current Brite student Brian Eaton '05 and grandson of Roy '50 and Jeannine Eaton '60, who submitted the story to the paper. What the paper doesn't tell you is that Benjamin quickly picked up on the TCU Fight Song after TCU beat SMU in Dallas.
---
TCU Tomes
Once Upon a Gulf Coast Summer
By Susan Oliver (Susan Thompson '83)
Broadman & Holman
The relationship between a mother and daughter is complex, but that is no secret to Josephine Greene Van Zandt and her grown daughter, Katy Ardelean. Issues bear down from Josephine's troubled and rigid childhood and the enigmatic mother who was preoccupied with her own secret disappointments. The war continues through Jo and Katy and even stretches down to Jo's daughter Samantha. But a journal discovered after Jo dies, written during the last months of her life, offers hope and redemption to Katy and opens windows to forgiveness and understanding. Thompson is co-author of two nonfiction works. This is her first novel.
East Texas Daughter
By Helen Green
TCU Press
Raised in East Texas in the 1940s, Helen Green grew up in a world separated by color. Her mother was the only one in her family to receive a college education; her father had only gotten through the fifth grade. Helen faced personal challenges as well, getting married and having her first child by age 17. While training to be a nurse, Green saw inequalities she could not ignore. The hospital itself was divided by color, not by the severity of the injury. Today, Green holds many honors in the medical field including being the first black woman admitted into a Dallas school of professional nursing and was also the first black president of the Texas Society of Healthcare Educators.
---
Briefly
Tuition rising TCU's Board of Trustees approved a $248 million budget for the 2004Ð05 academic year, one that further enhances students' academic experiences, improves student services and strengthens student scholarship and financial aid.
"A positive aspect of this budget is that it will allow us to hire 16 additional full-time faculty," said TCU Chancellor Victor J. Boschini, Jr. Other budget highlights include:
* $4.5 million to strengthen scholarship and financial aid
* $3.1 million to support academic excellence which includes hiring 16 faculty
* $2.1 million in capital funding for major improvements to on-campus parking
* Approximately three-quarters of a million to support student services Tuition for the 2004-05 academic year was set as well.
New and returning full-time students will pay a combined tuition and fee of $19,700 instead of the current rate of $17,590. Continuing students enrolled prior to March 2001 will pay $640 per hour in tuition and fees. Part-time students will pay $685 to $835 in tuition and fees per hour based upon the number of hours taken. Financial aid will be raised in proportion to the tuition increase. The increase represents an 11.9 percent adjustment over current tuition. Tuition and fees for graduate students is separate.
Vision in Action
A new committee, Vision in Action: Planning TCU's Future, has been convened to strategically plot the future of TCU by building on the foundation laid by The Commission on the Future of TCU, conducted in 1999.
Comprised of members of the TCU community and co-chaired by Leo Munson of Academic Support and Nowell Donovan, recently named as Provost, this group will tackle the following goals:
1. To build on the work of The Commission on the Future of TCU
2. To more closely align strategic planning with multi-year budgeting cycles
3. To identify short-range institutional priorities
4. To fine-tune the case for the fund-raising campaign
5. To develop a longer-range institutional world-view
6. To create an ongoing University-wide planning process For information, go to www.via.tcu.edu.
Kudos
The CEO! Club, TCU's student entrepreneurial organization, was recognized as the best overall chapter at the national CEO conference in November. More than 140 university entrepreneurship clubs were involved.
M.J. Neeley School of Business has received re-accreditation from the Association to Advance Collegiate Business Schools International (AACSB). The accreditation is for six years.
Chancellor Victor Boschini Jr. was honored by his alma mater with the Spirit of Greek BGSU Award for his long-time support of fraternities and sororities on college campuses.
Garry Bruton (Neeley School) has been selected as recipient of a Fulbright Award in the Distinguished Lecturing Category in Poland. The three-month grant will be at the Leon Kozminski Academy of Entrepreneurship and Management in Warsaw, beginning April 2005.