Fabulous fashion
What we wear speaks volumes about the times in which we live. And since our college years are often when we define ourselves, we asked you what you wore ... way back when.

We could not wear slacks on campus, so we wore skirts, dresses, hose and sometimes pumps to class. My favorite was a turquoise linen coat dress with double-breasted gold buttons. I also loved my navy pumps with the white and green stripe.
Sherry Bush Smith '68
The Woodlands
My favorite clothing memory, from my freshman year, 1974, is of flowing red and white checked "patio pants" and a matching halter top, complete with a sailor collar and jaunty navy tie. Coming from deep East Texas, I surmised that this sophisticated outfit would be perfect for rush. I was wrong. I also remember crossing "the hill" one windy afternoon and suddenly noticing that I was absolutely the last girl on campus still wearing miniskirts. Midis and gauchos had taken over campus!
Karen Frey Gray
'77 Lufkin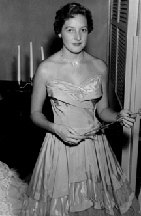 My favorite outfit ever was a bluebonnet-blue strapless formal. I wore it a few times. In this photograph, I was attending a sorority party. As I remember, we had a very good time! It was a "dreamy" dress, made of taffeta material with net. The skirt was very full and long. The bodice was fitted to the waist.
Merita Diebel '53
Abilene
The must-have was Calvin Klein jeans and whatever athletic shoe was hot, and a variety of TCU shirts purchased from the bookstore.
Kathy Smith '91 (MLA '94)
Fort Worth
I remember the maxi. Also the full swimsuit. I taught swimming as a student assistant from '45 to '49 as the only American Red Cross-qualified instructor on staff.
Ellen Johnson '49
Fort Worth
My favorite was a forest-green corduroy sport coat, a black t-shirt, Levi's (worn soft and with a leather patch), suede motorcycle boots and a tooled-leather belt. And, of course, long hair.
Russ Fuqua '76
Richardson
A navy blue suit and blue suede shoes. And a maroon knit tie! I wore them as often as possible.
William. C. Grusendorf '54
San Saba, Texas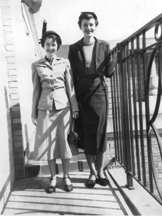 We used to dress up for the football games. This is me as head booster in 1953, and I was going to a game. I was 17. Times have really changed. Once I got "grounded" for dashing across the lounge in shorts to take a phone call downstairs. I was studying.
Marie Roberts '68
Fort Worth
When I was at TCU from 1985 to '89, paisley was popular and we often dressed up for football games. But the one word that most comes to mind is "bowhead." Bows of all shapes and incredible sizes could be found gracing (perhaps "dominating" is more accurate) the big hair of many TCU women, myself included. The bigger, the more colorful the bow, the better. Bows with beads and charms, bows with the flag of Texas, bows painted with Greek letters. The trend sparked satirical cartoons for the good part of a year in the TCU Skiff -- most of which I still have in a scrapbook!
Katie Bax Richardson '89
Great Falls, VA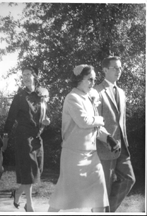 This photo from TCU Homecoming, fall 1956, shows me in my favorite attire, which I wore during my four years at TCU. It was a beige suit with a feather-like hat and, of course, gloves! (I wish I could still fit into that great suit.) We really dressed up for special occasions in the '50s, and being dressed up made any event even more special. Also in the picture are my boyfriend, Duane Sanner (who became my husband), and my best girlfriend, Jeanette Maneval Mull '59, who were also wearing their "finest."
Laura Lisle Sanner '57
Irving
Fashion for coeds in 1967 was the raincoat and Pappagallo shoes. Raincoats were used to cover up the bermuda shorts we wore (which were against the rules), and the Pappagallos were all the rage. A dress code was in force, and we had to wear skirts or dresses at all times on campus. So, in an ageless display of the flaunting of authority, we had those fabulous raincoats. I'm sorry to say, I have no pictures of any of us so attired.
Becky Holcomb McGaw '70
Sydney, Australia
My "fashion statement" of 1973 (wintertime) was a navy blue crushed-velvet hotpants outfit with a matching jacket and over-the-knee suede boots. It was 20 degrees outside, and my date and I went to an evening movie at the Ridglea Theater. I nearly froze; however, I did meet my future husband at the same movie!
Ann Roach Porhamer '73
Fort Worth Polo shirts and platform shoes were all the rage in the early '80s. We loved going to have "Frog fries" (French fries with melted cheddar cheese and ranch dip dressing. Or studying at the "pancake house") and pulling an all-night cram session.
Linda Hackworth-Shaw '84
Highland Village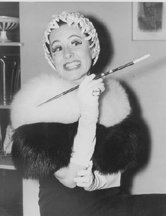 As hostess of the daily afternoon program on the Channel 5 NBC-TV affiliate, called the Ann Alden Show, and columnist for VIDEO magazine, I was closely involved with fashion during the 1950s -- the I Love Lucy era. I modeled whatever was in vogue -- fads and all -- from Beach Sheets to glamourous fur stoles, petal chapeaus, false eye lashes and stick-on beauty marks. I especially liked the fringed el toreador "At Home" pants. In this photo, I'm wearing a feather "cloche," which was sort of like a helmet. And smoking was very chic then. You could even buy pastel-colored cigarettes at Neiman's.

Ann Barham Pugh '45
Washington, D.C.
Top