For nearly a quarter century Ann Koonsman '68 has shared talents going beyond music.
By Rachel Stowe Master '91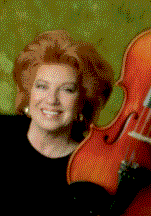 When the Fort Worth Symphony gloriously rang in the New Year, it marked the end of an era for the orchestra, plus a new beginning for Executive Director Ann Milford Koonsman '68. After 23 years at the helm, Koonsman retired Dec. 31 -- and what a way to go. The symphony offered a spectacular send-off in its "New York New Year's Eve" concert featuring internationally renowned pianist and local luminary Van Cliburn performing his signature piece -- Tchaikovsky's Concerto No. 1 -- for his longtime friend.
"New Year's Eve was such a wonderful celebration," Koonsman said. "I never in my wildest dreams could have imagined such a grand evening. How could I possibly be better honored than by having Van Cliburn perform?"
Another twist: The symphony board named the associate concert master's chair in Koonsman's honor. "That was a very carefully guarded secret," she noted. "It was a total surprise -- and I must say one that makes me very humble."
The celebratory style of Koonsman's retirement fanfare is fitting. She leaves the symphony in excellent condition, including a $10.2 million budget, a towering $23 million endowment and an ambitious 200-concert yearly schedule.
"It's sort of like being a very caring parent," she said. "There's a lot that's in great shape at the symphony. We have a state-of-the-art facility in Bass Performance Hall. Our endowment is growing, which I'm very proud of. We have a top-notch administrative staff in place. The contract of our brilliant music director, Miguel Harth-Bedoya, is secure through 2008. And we have about 18 months left in our labor agreement with the musicians union, plus a fabulous working board in place.
"So it just seems if there was ever going to be a chance for a new person to come in and get to know the organization before having to deal with major issues, this is a good time."
Maybe the timing is right, but symphony board members hate to see Koonsman leave. They say she's well-versed in both business and music -- an uncommon skill set.
"She has been the backbone of the orchestra," said board President Adele Hart, who has worked with Koonsman 15 years. "She knows the whole operation inside and out. She's a musician herself. She's passionate about music, and that shows in every aspect of her life."
Hart commends Koonsman for keeping the orchestra on solid financial footing, an area where symphonies often fail. "If you do any research on orchestras across the country, you'll find that many to most are in financial trouble. Yet this orchestra has been operating in the black for 23 years and growing artistically all the while. She [Koonsman] attracts a great group of people because of her personality and the fact that she knows what she's doing."
As Conductor Emeritus John Giordano ('60, MM '63) puts it: "She's almost too good to be true."
MUSICAL TRAINING started in third grade for the former Ann Milford, who won accolades as a youth for her performances with the violin and at the piano.
"One of the best times of my life was during summers in high school when TCU had a music camp," she said. "It was just a great shot in the arm as a young musician trying to figure out how to make a career of it. As a result, there was never a question in my mind that I was going to TCU."
At TCU, she studied piano with Keith Mixson and violin with Kenneth Schanewerk. Early in her college career she began playing violin with the symphony. She also landed a role with the original cast of the Campus Review at Six Flags, which was just opening. That's where she met her husband, Ron Koonsman, a UTA student. He was tagging along with her date who was picking her up at Six Flags.
After college, Ron's career forced several relocations, but Ann made the most of the moves. She pursued graduate studies in violin performance at the Mannes College of Music in New York City and earned a master of music degree in music performance from Texas Tech University.
She taught music in public schools and worked artistically and administratively with orchestras in Corpus Christi, San Antonio, Lubbock and Houston. And during a three-year stint back in Fort Worth, she played for the symphony again and worked as assistant manager before the family headed to Houston.
When the Fort Worth Symphony had an opening for a manager, it turned a collective eye her way. "We called Ann, and she accepted the position," Giordano said, recalling that Koonsman's husband decided it was time to make a move for his wife's career.
With Giordano the artistic chief and Koonsman heading administration, the symphony was on the right path.
"I think the Fort Worth Symphony would not have developed to the point it has were it not for our relationship," Giordano said.
"There was not an ego problem. We worked with the same goals in mind -- improving the quality of the orchestra, providing full-time employment for the musicians and having the symphony as an integral part of the community."
The rest is history: "The quality of the orchestra grew enormously, our season expanded, and we had musicians on a full-time basis."
How was Koonsman able to succeed in an industry littered with hopes denied?
"We have always taken very seriously our responsibility to meet the musicians' payroll every two weeks," she said. "And with that goes the responsibility to be conservative. I've always taken great care to not spend money we don't have. And on numerous occasions we've had to say no to certain things."
She added: "But the good news is this fiscal responsibility has allowed us to have constant, steady growth. We have been able to grow artistically each season."
"Together we had some very incredible experiences," Giordano said, pointing to acclaimed recordings and tours to Mexico, Spain and the People's Republic of China.
"Probably the most extraordinary thing was the tour to China. To pull that off was one of the most unusual feats that any orchestra has ever accomplished."
Through his work with the Van Cliburn International Piano Competition, Giordano collected contacts in Asia, while Koonsman pulled together a proposal. The Chinese government invited the symphony to tour, but when Koonsman traveled to Washington to obtain State Department sponsorship, she was politely refused.
Undaunted, she and Giordano did their own fund-raising, and the trip was on. But other stumbling blocks lay ahead. A Chinese tennis player defected to the United States, and the Reagan administration gave him asylum.
"That greatly annoyed the Chinese government, which canceled all athletic and cultural exchanges between China and the U.S.," Koonsman recalled. "This was happening while we were in the air."
But because the State Department had not sponsored the Fort Worth troupe, the Chinese government let the show proceed.
"It was an incredible tour, and I know we had a major effect on cultural relations with China," Giordano said.
Koonsman: "I think it may be because they had suffered so that they're so very fond of their classical music. They were so embracing. They treated the orchestra like international stars.
"The reception was absolutely incredible. And there is no way we could have arranged for such publicity. Because of the tension between China and the U.S., we had news crews following us constantly. We have clippings from as far away as Israel."
In addition to her continuing role as one of the orchestra's "greatest fans," Koonsman is eager to take more long trips and explore opportunities. She has enjoyed being on the TCU International Fine Arts Board of Visitors, especially helping plan the first gala for the School of Fine Arts. "And you never know, I might be talking someone into letting me audit some courses," she said.
She also looks forward to more time with family.
"Our son and daughter-in-law are expecting a third little boy in March," she said. "Children change every single day. I just don't want to miss any of it."
She's eager to play again, too, after setting the stage for so many other musicians the past two decades. "I think it will be fun. I've even had a couple of invitations to put together a chamber music group. I haven't played at all, and as musicians say, I've got to get my chops back."
Rachel Stowe Master '91 and husband Kevin '91 (MBA) live in unincorporated Tarrant County with their three sons.
To comment on this article, e-mail tcumagazine@tcu.edu
'Can You Type?'
When her husband's career brought the family back to Fort Worth the first time, Ann Koonsman was eager to put to work in the orchestra pit the skills she had sharpened while earning her master's degree. She also wanted to apply for a staff position.
But she was told that the Fort Worth Symphony Orchestra's new director, John Giordano, insisted on auditioning everyone.
Koonsman was a little surprised. After all, she had played with the symphony before and, in the time since, had elevated her abilities. Plus, she and Giordano were no strangers.
"John was at TCU when I was there as an undergraduate. Our paths crossed on numerous occasions. I was in the Fort Worth Symphony before some of these moves, and we had worked together -- he had hired me to work on some pops tours. So we were professionals who were acquainted."
Still, Koonsman agreed to the audition and took it seriously. But while she labored intently through the session, Giordano was scouring her resume. When she finished her piece, he looked up and asked, "Can you type?"
As it turns out, she could play the violin masterfully and type adeptly. She played in the violin section and served as assistant manager for about three years before the family relocated again.