New baseball coach Jim Schlossnagle has settled in for a long stay -- and a few championships -- in Fort Worth.
by Rick Waters '95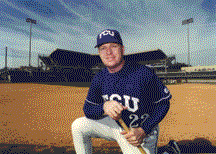 "Let me be clear about something," TCU's new baseball coach says to start his first media interview of the winter, his sky-blue eyes full of conviction. "This is not my baseball program. It's TCU's program."
For Jim Schlossnagle, this is a personal philosophy. There is no picture of him on the media guide cover. There are no "Schlossnagle Era" banners hanging at Lupton Stadium. Instead, his first six months in Fort Worth revolved around tailgate parties during football season for fans to get to know the players, and an open invitation to former Frog players and coaches to attend practice and an alumni game. While on the recruiting trail, Schlossnagle sold prospective players on Fort Worth, the year-old ballpark and a private school education, not playing for him.
"This program belongs to all the former players and coaches," he says. "My job is just to oversee it – hopefully for a long time." The Frogs are lucky to have him. Schlossnagle comes to Fort Worth as one of college baseball's rising young star coaches. While Schlossnagle is only 33, this is his 12th season as a coach, 10 of them in Division I. And everywhere he's been, programs seem to make the post-season, a feat TCU hasn't accomplished in a decade.
Most recently, his two years as head coach at UNLV produced a 74-47 record, including last season's school-record 47 wins and the program's first NCAA appearance in seven years. He also was named Mountain West Coach of the Year.
Before that, he guided Tulane to six Regional appearances and one College World Series in eight years as an assistant coach and recruiting coordinator. Before that, he served as pitching coach at Clemson in 1993, when the Tigers made the Regionals, and later saw seven of its pitchers taken in the Major League draft.
Get the picture?
But it never would have happened if not for his mentor and Elon (N.C.) College coach Rick Jones, who talked him out of his life-long dream of becoming the next Rick Reilly of Sports Illustrated.
"I was just an average pitcher at an NAIA school, and only played my freshman year," Schlossnagle admits. "I wasn't going to play pro ball and I knew it. One day, I had a conversation with Coach Jones and he told me he thought I'd make a good coach. If I started now, it could be like an internship, and I'd be that much further ahead of everyone else. The next day I changed my major and began the next season as an assistant coach. It was by far the best decision I ever made."
And now here he is at TCU, where he intends to stay for a while. "This is our third move in less than three years," he says. "My wife told me the other day, 'We're not moving. I don't care if it's the Yankees, we're still not moving.' And that's alright with me."
Actually, TCU was on Schlossnagle's mind long before the Frogs were looking for a new coach. "I was at my wife's family's home in Mesquite for Thanksgiving in 2002, and I saw in the paper that TCU was having a grand opening for the stadium," he remembers. "I didn't know anybody in Fort Worth, and I wasn't coming to meet anybody, so I felt safe coming just like any other tourist. I didn't want anybody to think I was coming after someone's job. So I took my son and put a hat on and toured the stadium just like everybody else, thinking maybe one day."
About 18 months later, it became his office.
His impressions of Lupton that day? "It was one of the top 10 or 15 college ballparks in the country then and it is now," he says. "Facilities represent commitment in my mind. When you come up Berry Street and come over the horizon and you see this stadium, it's so picturesque. You're first thought is, 'Wow. These people are serious about college baseball.' Then it was a matter of having enough success to get to a place like this."
But why TCU? "My last couple of years at Tulane, as we started to have success, I began to look around the country for schools similar to Tulane – outstanding academics, private school, in the South, in a baseball hotbed, with a commitment to baseball," he says. "There aren't many of them. TCU was certainly that."
And he's found a place that combines his professional and personal goals.
"There are few places, few times in any coach's life, regardless of the sport, where you actually find a place that is as committed as you are to winning at the highest level, and personally, you're in a place that your children can grow up with some extended family."
With wife Kami, son Jackson and daughter Kathleen Grace already feeling at home, Schlossnagle is set on accomplishing that other goal.
"Beyond my wife and family and my faith, there's nothing more important to me than seeing TCU play in the College World Series," he says. "And I work on that on a daily basis. I've said this before: I don't hunt. I don't play golf. I don't fish. I'm a pretty boring guy when it comes to hobbies. This is a lifestyle. Not a job. I wake up on a daily basis and say, 'What do I need to do today to get us closer to Omaha?'"
Seems closer than ever before.
Comment on this story at tcumagazine@tcu.edu.
---
Winter roundup
Basketball. The men made a strong push to finish the year with a .500 record in Conference USA play and clinched a spot in the C-USA Tournament, both firsts in the Coach Neil Dougherty era. Meanwhile, Coach Jeff Mittie's Lady Frogs soared to as high as No. 13 in the rankings, reached the 20-win mark for the fourth consecutive year and were set for a fourth straight trip to the NCAA Tournament.
But both programs have been waiting excitedly all winter for something else -- the opening of the Ed and Rae Schollmaier Basketball Practice Complex. The 22,000-square-foot facility will feature two practice courts, a weight room, meeting rooms and offices for both coaching staffs.
Both head coaches say the complex will assist in recruiting and show the university's growing commitment to basketball.
"With this type of building, there will always be players working out and practicing," says Dougherty, who is already calling the facility Gym 7-11 because it will be open 24 hours a day. "Recruits can see what kind of attention they will be getting at TCU."
Adds Mittie, "Having our own space will be a major benefit. Right now, both programs have to schedule practices around one another. This facility will give us optimum use of time and space."
The facility opens in April.
Swimming & Diving. It was another banner year for the H2O Frogs. The women finished up their season with the best mark in school history at 12-1. The men boasted a record of 9-2. To top off the great seasons, both teams swept the C-USA Championships, garnering the first-ever title for the women and third straight for the men. Junior Craig Chapman earned men's Swimmer of the Meet award, while head coach Richard Sybesma was chosen the meet's top coach.
Women's soccer. The Lady Frogs finished the season with a 9-8-2 record, a six game improvement from 2002. The turnaround was tied for fifth best in the country. "Obviously this shows improvement in all aspects of the program, but we feel like we've just begun," says head coach David Rubinson.
Track. The women's squad captured its first-ever track & field conference title in February at the Conference USA Indoor Championship. The women had never finished higher than third as a team in either indoor or outdoor seasons. This season, however, was marked by new school records. At the Razorback Invitational in February, Jerry Harris posted an all-time TCU best 45.52 in the 400 meters. Jackson Langat ran a 1:46.09 in the seeded section of the 800 meters, also a new standard for the Frogs. The quartet of Larissa Bakasa, Donita Harmon, Deborah Jones and Marquita Davis lowered a school record the squad set earlier in the season in the 4x400 meter relay with a time of 3:39.56. Mary Kinyanjui set a new TCU mark in the 3,000 meters with a time of 9:39.09.
Tennis. Already considered one of the premier college tennis facilities in the nation, the Bayard H. Friedman Tennis Center dedicated a new team building in January. Located west of the indoor tennis courts, the 4,000-square-foot building includes varsity locker rooms for both programs, a lounge area, an athletic training room, office space and equipment storage areas. The team and coach give it rave reviews. "With the addition of this building, we have the best tennis facility in the country," says men's coach Joey Rivé, who, with with women's coach Dave Borelli, presented the Friedman family with a framed plaque of TCU Tennis Difference Makers. "As a recruiting tool, it only adds to the already rich tradition we've established. It also provides a wonderful place for our current squad members to build team unity."


Top