Articles:
Our Mission

Making a DIFFA-rence
This class assignment had fashion design students needling for a cause.
By Todd Clower '04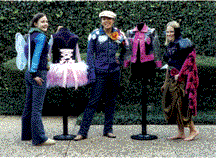 Levi's jean jackets and chic runway apparel aren't usually used in the same sentence. But the five jackets dreamed up by a group of design, merchandising and textile students this year certainly fit well into the world of fashion extravaganza.
The vividly colorful and delightfully imaginative jackets were sewn to benefit Design Industries Foundation Fights AIDS (DIFFA), a national organization that has raised $31 million since 1984 to provide funding to hundreds of AIDS organizations nationwide.
Polly Starr, professor of design, merchandising and textiles, said the class was excited to participate in the event.
"TCU has always had a philanthropic spirit towards organizations," Starr said.
Starr's class of 14 females was split into five groups, and each designed a distinctive jacket for the Dallas chapter of DIFFA with this year's theme of "Evolution." DIFFA Dallas has granted over $1.7 million to local AIDS programs since 1988 through its Dallas Collection fund-raising event. The student-designed jackets were up for bids at the March 13 auction, starting at $500 each.
Fiona Tolunay, a junior fashion merchandising major, said the best part of the project is the wealth of creativity among the team members. She said there are no limits or restrictions to her team's jacket design.
"Our jacket represents the evolution of a garden by incorporating clouds, rain, a rainbow, green vines and embellished flowers," said Morgan Moe, a sophomore fashion merchandising major, and Toulenay's teammate.
Ashley Terhall, a junior fashion merchandising major, volunteered at the Dallas DIFFA event last spring. Some of the premium jackets (many designed by celebrities) were auctioned off for as much as $15,000, she said.
Ashley Bigbee, a sophomore fashion merchandising major, said her favorite part of the project is knowing that her group's jacket will be modeled on the runway, and could fetch a large auction price.
Bigbee's group dyed the jean jacket pink, ripped it apart, and incorporated a clear shower curtain into the design, she said. The collaborative effort was really sort of a joke, until the whole thing came together, especially the colorful butterfly adorning the back, Bigbee said.
Even though the class gets hands-on experience in the fashion merchandising world, the true rewards come from the benefits the jacket will provide to those suffering from AIDS, Starr said.
"These girls really have an opportunity of a lifetime to give back to the community while exercising their creativity," Starr said.
Top