Splash Page | First Person | Women's Hoops | Men's Hoops | Soccer | Volleyball | Brian Estridge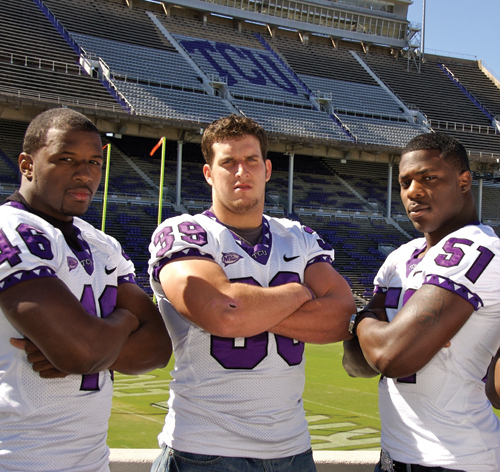 They're three of a kind
In the Frog's 4-2-5 defense, there is only room for two linebackers on the field.
But senior David Hawthorne and juniors Jason Phillips and Robert Henson, anchors of that rugged demolition crew, know one thing: To be successful, they need each other.

By Mark Wright '07 (MS)
What makes you so effective as a linebacking unit? Hawthorne: We all play for each other as a unit. We look out for each other and take care of each other on and off the field. We kind of grew up together. You know, I was a sophomore and they were freshmen when we started playing together. And over the years we've gained more chemistry. Henson: We're not selfish. That's one thing I can say. We're not selfish. We'll gladly put our body on the line to help the team and do our assignments. We let the rest take care of itself. Phillips: We're an older group of guys. Hawthorne's been here for five; Henson and I have been here for four. All three of us are good athletes. We have the capability of making big plays. It's those two combinations together.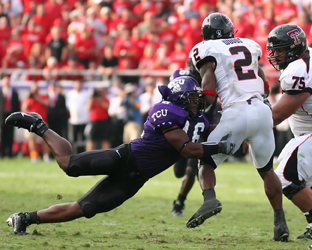 Compare each another. Who's the best tackler? The biggest hitter? The best athlete? Phillips: I really can't compare us all. I know athletically Henson might be one of the better ones. Hawthorne's probably the best hitter as far as just knocking people out. He knows what he's doing. Hawthorne: Phillips is a real tough football player. There's not a lot of guys who are smart like him and tough at the same time. He brings a lot of energy. He's really explosive when it comes to contact. He's smart, too, so he puts himself in position to make plays. I think Henson brings a lot of energy and if you're ever feeling down you can always look to Henson to be up and give you motivation. Henson: Hawthorne is definitely the biggest hitter on the team. If he gets to you, you pretty much roll up in a ball or something. Hawthorne's more of a silent assassin. He sits there in the corner with his towel over his head. He's focusing on the game. Phillips gets pretty intense right before we go out. But the minute we get off the bus, I'm talking.
Alright, David, are you really the biggest hitter? Hawthorne: I guess you could say I really don't care about my body the most. I leave it on the line a lot. I make a lot of big hits just because I play like that, you know, with an aggressive style of play. But both of them play with that same style.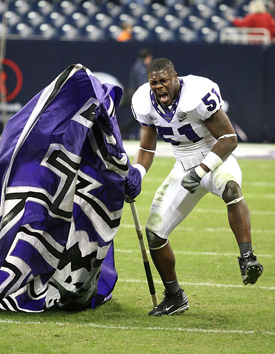 Jason and David both say you, Robert, are the one who gets everybody pumped up on game day. Is that true? Henson: I think that goes more to the DBs. They're pretty much the hype guys on the team. When everybody's feeling down, it's either Brian Bonner or David Roach. Or even David Hawthorne sometimes. Or it's just the seniors period.
When the offense is struggling, do you put extra pressure on yourselves to force turnovers or score defensive touchdowns? Phillips: It's not so much that we just put pressure on ourselves. We just know if they're having trouble or if something's going on over there, we have to make stops and help them get better field position. Henson: When the offense is struggling — I'm going to kind of go away from what Jason's saying — we do kind of put pressure on ourselves and we challenge each other: Who's going to make a play? If we get the ball in our hands, our mentality is to score. Hawthorne: We feel like if we have seven points, we should win the game.
Do you pay attention to your statistics? Do you compete to see who can make the most sacks, the most interceptions? Phillips: We race each other. Henson and Hawthorne and I always want to be the top tackler. We go for sacks and stuff. But as far as being selfish on the field and not doing what we're supposed to, we don't do that. We just let our assignments take care of themselves. If I make the play, great. If my teammate makes the play, even better. Henson: We complement each other so well. We don't even focus on it. Hawthorne: I've had a couple good breaks here and there. It's nothing I haven't done before. I just try not to focus on it and continue to play well. At the end of the season, you can tally up the stats to see what your overall production was. As long as we're doing good as a team, I'm happy.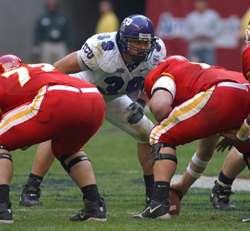 What kind of relationship do you have on the field? Hawthorne: We have a lot of trust for each other. That's apparent out there. When I'm in with Henson or whether I'm in with Jason, I feel like they're going to do their job and I guess they depend on me to do my job. I'm like a teacher to the younger guys, the upcoming linebackers. And if players like JPhil or Henson have questions, they look for me to have an answer. Phillips: Once an offensive coordinator sees Henson making eight or nine plays on that side, he's going to come back to my side. It's my chance to make plays. We just kind of feed off each other. Henson will make a play. It gets me excited.
How about when you're not playing football? Phillips: Hawthorne and Henson and I are real good friends off the field. We hang out a lot and we're always messing with each other down in the locker room or in meetings and stuff. It's a lot of fun. It's made playing a lot easier, too.
Is it hard being a defensive player on team that's coached by a defensive-oriented coach like Gary Patterson? Henson: That back seven has Coach P on them every play, I've got to say they've got the hardest job, especially calling pass coverages and stuff. But with us it's calling the front and then looking at your responsibilities, recognizing the formation, then getting your coverage. So it's pretty much even. Hawthorne: You can say it would be tougher, but he's just a coach that likes perfection. We figure if we buy into the system and listen to him, overall he's going to make us better players. He already has. He's already made me a better player and I'm pretty sure a lot of other players would say the same. But since he has a defensive mindset, he is over on the defensive side a lot more than he's on the offensive side. The offense doesn't really get to feel his full wrath.
There's really a fourth guy in the linebacker mix, with the emergence of Darryl Washington. What does he bring to the group? Henson: It's been fun watching Darryl play because we know when we graduate, get our degrees, he's going to be the face. He's going to be the future.
NOTE: The TCU Magazine is working to recover some bonus material to this interview that was lost due to a server crash.



Comment at tcumagazine@tcu.edu