Splash Page | First Person | Women's Hoops | Men's Hoops | Soccer | Volleyball | Brian Estridge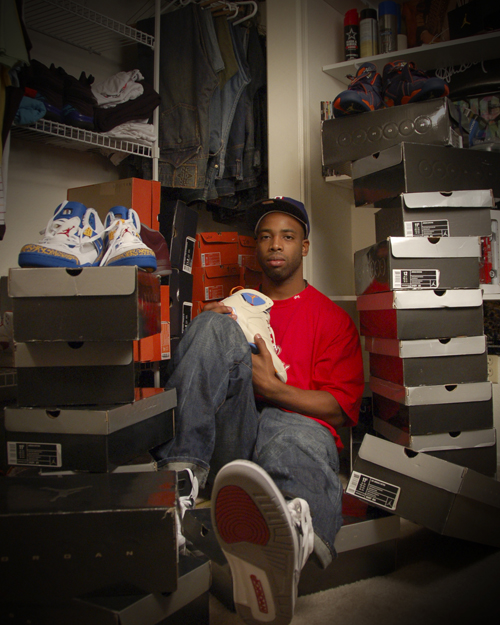 Getting his kicks
Finally healthy, guard Brent Hackett is laced up for a successful senior season.

By Rick Waters '95
Senior shooting guard Brent Hackett is a self-professed "shoehead." That's what you call a guy who owns more basketball sneakers than the rest of his team (coaches, too) combined.
"It's more than 300 pair," he admits. "Definitely more than I have matching clothes to go with them."
Calling them sneakers sounds old-fashioned, and this collection is anything but.
Air Force Ones. Air Dunks. Air Zoom BBs. Air Assaults. They sound more like aircraft or movie titles than footwear. But the shoe culture is equally sophisticated with release dates and model numbers, and Hackett can recite both from memory.
"He's our resident expert. All the players ask his advice on what to buy and where to find the best deals," says coach Neil Dougherty.
The Frogs will rely on their senior captain on the floor as well. Last year, he led the team with 66 three-pointers and was second with a 11.2 scoring average, despite lingering injuries to both shoulders and his left knee, which have sporadically robbed him of effectiveness.
"It started his freshmen year and has never let up, until this year. He's finally healthy," Dougherty said. "But the team respects his toughness and his leadership. I hope he stays healthy because he deserves it."
To change his fortune and get a fresh start, Hackett is switching jersey numbers from 2 to 12, his high school digits. He's already got the green light to shoot as much as he wants.
"It's a basketball player's dream," his coach says. "I've told him that as long as he's defending and playing hard, he can have as many good shots as he wants. He's our No. 1 scoring option."
Hackett says his shoulders are ready for the load, but he likes the depth and balance of this year's squad.
"We have more bodies this season, really athletic guys. So we're going to be able to run and push tempo, which is how we want to play," he said. "And we're all healthy, not just me."
Hackett also likes that Dougherty has switched him back exclusively to shooting guard.
"I feel more confident because I know that I can be aggressive and focus on doing one thing well — shooting the ball."
He thinks the Frogs can reach the 20-win plateau for the first time since 2004-05, his freshman season.
"I might have to buy a special pair if we do that. I have some in mind. Maybe a couple."





Comment at tcumagazine@tcu.edu
Hackett on:
.. being a top scorer throughout his career:
"That's just something that I've been fortunate to receive. My first two years I took the role of being the point guard and was thrown into the role of being a scorer. I really just enjoy being a team player."
.. the proudest moment of his whole career:
"The most recent win we had at home against New Mexico when we came back from being down by 18 points. It was a great team effort, and we all just had a lot of fun playing out there."
.. the biggest leadership challenge as captain for the team:
"I have to stay patient with the younger guys on the team. I have to put myself in their shoes because I was there once too. I have been here for four years so I know a lot of things going on, but I know it's going to take time for them to catch up just like it did for me."
.. the feeling behind playing a non-conference game versus a conference game:
"We prepare the same for every game, but there's more intensity in a conference game because it's like family. We all want to be on top, and we all compete to be the best."
.. this year's team chemistry:
"Our chemistry is really good. You just saw us in the gym joking and wrestling with one another, that's a typical day for us. We are all just having a lot of fun."
.. overcoming past injuries:
"The people of Fort Worth have always been there to give me a pat on the back and support me through it all. I would sometimes doubt myself, but they are always there pushing me to get back on the court."
.. managing a busy traveling schedule and staying ahead in classes:
"It can be really tough. It's hard going on the road then coming home again and having to go to study hall and do homework. Our coaches do a great job of managing our schedule. We get to have our own time, and we can do things that we want to do, but they set us up into the direction that we need to be going."
.. his goals for the remainder of the season:
"We want to be the conference champions and to get a NCAA tournament bid."
.. the NBA player he most models himself after:
"I really like Chauncey Billups because he is such an all-around player. He plays point guard and can also play the two and is just a well-rounded player."
.. his enormous shoe collection and the inspiration behind it:
"Nike has done a really good job of making shoes that people love and collecting shoes happens to be my thing."