Splash Page | First Person | Women's Hoops | Men's Hoops | Soccer | Volleyball | Brian Estridge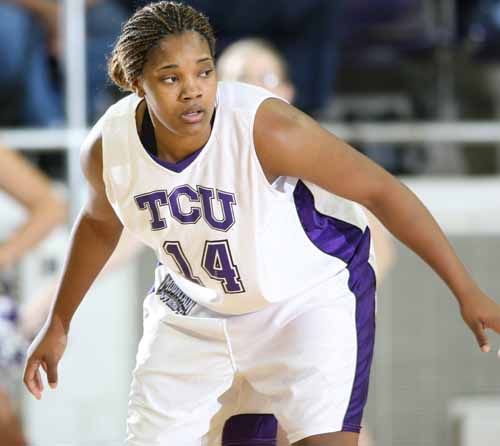 In line for No. 8?
Lady Frogs seniors accept challenge of keeping NCAA Tournament streak alive.

By Mark Wright '07 (MS)
The women's basketball team entered the season team with lofty expectations, but perhaps it's what the team doesn't expect that could be the senior-led Frogs' driving force in 2007-08.
Seniors Adrianne Ross, Moneka Knight, Jenna Lohse, Helen Roden and Lorie Butler-Rayford don't plan to be the program's first senior class in eight years to fail to reach the NCAA tournament.
A year after they had to sweat out whether they would be selected, these seniors said they plan on leaving no doubt the Frogs belong in the bracket.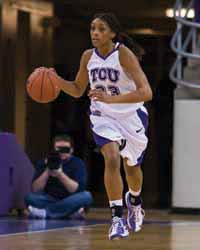 "It was a little bit of a scare last year," Ross said. "We're not going to cross our fingers and wait for our name to pop up on the selection day. We actually want to be confident that we're going."
For that to happen, this group must fill a leadership void left by last year's seniors. Hanna Biernacka and Ashley Davis developed reputations for pushing their teammates to work hard, for speaking up in the huddle when necessary and for making key plays in big games.
"When we lost Sandora Irvin a couple years ago, she led us in scoring and rebounding," Ross said. "And we didn't try to replace her. Every player stepped up and maybe got one or two more rebounds a game and one or two more points. … We just have to do the same thing."
Ross will be the No. 1 option on offense. The 5-8 guard is the reigning Mountain West Co-player of the Year and an honorable mention All-American. She entered the season 666 points shy of Irvin's career scoring record.
With a rugged schedule, including ranked foes LSU, Texas A&M and Cal, the Lady Frogs got out of the gate losing five of their first eight.
But there's no panic, says Knight. Each of the last two Lady Frogs teams was able to recover from losing starts against high-caliber foes and make the NCAAs.
"We've played tough opponents before and had some tough losses, but we know it only helps us once we get into conference play," Knight said.
Coach Jeff Mittie says the streak is an important team goal and keeping it alive is a valuable tradition to pass on from one season's leaders to the next.
"It's up to the seniors to determine what their legacy will be — and what lessons they will impart to the next group," he said. "That kind of pressure can be a strong motivator."
Butler-Rayford agrees. "For seniors, it's their last year and they tend to work harder. We know what the groups that came before us have done. They have given us a good foundation. Now it's up to us to do the same."





Comment at tcumagazine@tcu.edu