Splash Page | First Person | Women's Hoops | Men's Hoops | Soccer | Volleyball | Brian Estridge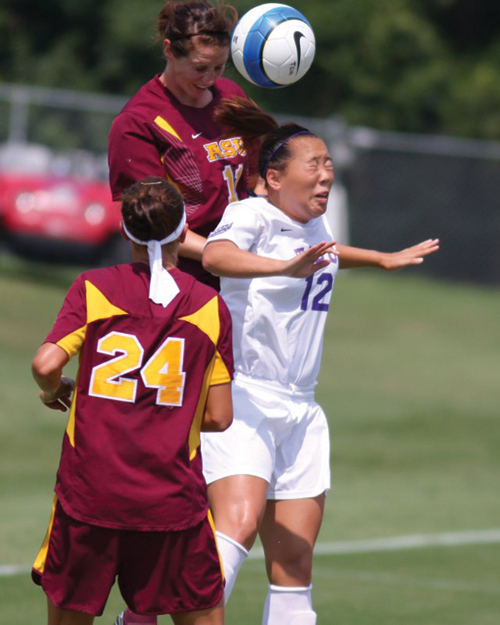 On the verge
Young Frogs emerge as MWC contenders, poised for breakout in '08.

By Rick Mauch
Dan Abdalla's vision is starting to come together. When he first arrived at TCU three years ago after building a power at UNLV, he believed the Lady Frogs could become annual contenders in the Mountain West Conference.
They took the first major step in that direction this season. The Lady Frogs were contenders for the entire MWC season.
True, they lost in the first round of the MWC Tournament, 2-0 to eventual champion BYU, but Abdalla thinks the experience is now in place to make a serious run at the league championship. The roster of this season's 8-11-0 team (3-4-0 in conference) featured only four seniors.
"I was extremely pleased with how we finished in conference," said Abdalla, the second coach in the program's history. "We beat a Top 25 team (3-0 at home over Utah in October).
"It was big for our kids' confidence. We were right in the thick of the race for the conference championship this year."
The win over Utah was the program's first over a Top 25 squad.
It had two more wins than in each of the previous two seasons despite starting eight freshmen and sophomores during the season. Ten of 11 starters come back in 2008, including 92 percent of its scorers.
"We played nine different players on the back line. That's unheard of," Abdalla said. "We lost a lot of tight games this year. I hate to be one to say you learn from losing. You'd like to get different results, but you learn from progress."
TCU was 4-6 in games decided by a single goal this season. Of the losses, three were in overtime and two were in double overtime.
Also, the Lady Frogs were 6-3 at home and 2-8 on the road.
The Lady Frogs' top three scorers were freshman forward Jackie Torda (9 goals, 3 assists), sophomore midfielder Michelle Nguyen (5 goals, 6 assists) and sophomore forward Lizzy Karoly (5 goals, 2 assists).
Karoly and senior midfielder Angie Nickens were named second-team all-conference. In addition, freshman goalkeeper Kelsey Walters became the first Lady Frog ever to be named to the Soccer Buzz online magazine Elite Team of the Week. Karoly also earned Soccer America Team of the Week honors. The duo were also named MWC offensive and defensive players of the week.
"It's a long nine months (until next season)," Abdalla said. "We're all excited and can't ait. We do expect a lot."





Comment at tcumagazine@tcu.edu