Splash Page | First Person | Women's Hoops | Men's Hoops | Soccer | Volleyball | Brian Estridge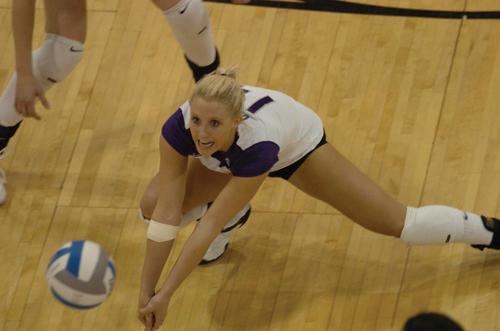 At home on the court
From walk-on to quitter to all-time leader in digs, Calli Corley found her place.

By Rick Waters '95
If there's just one thing Calli Corley gets from looking back on her four seasons at TCU, it's this: She loves volleyball.
It wasn't always so. The high school basketball and track star from Abilene had plenty of athletic talent, probably more than her teammates, but there were times when she just wasn't sure if it was her sport.
"I think I needed to live without volleyball to realize that I couldn't live without volleyball," says Corley, who ended her career in November as the Lady Frogs' all-time leader in digs.
Not bad for a walk-on.
Corley always wanted to attend TCU but not to play volleyball. Unlike many of her TCU teammates that played the sport in high school and at the club level in the offseason, Corley just played it when not involved in hoops or track.
She came to TCU as a regular student. When head coach Prentice Lewis and her staff learned of Corley's ability, they asked her to try and walk on.
"I didn't want to at first," she said. "I just wasn't sure that was how I wanted to spend my first year."
But try out she did, and with her leaping ability and agility, she made the team and saw action in 25 matches, showing lots of promise on the back row.
But something felt not quite right, and Corley quit to focus on her sorority during her sophomore year. "She didn't know what she wanted to do" coach Lewis recalls. "Or if this is where she wanted to be."
Corley thought about transferring. "But I just wasn't ready to say that's it for good."
She went back and begged Lewis to let her walk on again. "I wanted her back, but she needed to prove she wanted to be with us. She had to earn her way back," Lewis said.
Volleyball had started up a B team for the varsity to play against, and Calli found herself taking charge of the practice squad.
Watching Corley, Lewis saw herself — small, scrappy, good communicator, inspirational leader. "You could just see her becoming a fantastic defensive player."
There was no looking back. The next season, Corley became a scholarship athlete for the team and was a full-time starter at the libero position. It was home.
"In volleyball, six girls have to blend, and the thing I like is connecting with them and being a leader to my team,"she said.
Corley needed to lose her place on the team to find her place taking charge of it, Lewis says. "I'm extremely proud of Calli as a stat leader for the program, but she's even better as a leader."





Comment at tcumagazine@tcu.edu