Education | Teaching | Nutrition | Humanities |
Fine Arts | Advertising | Ad/PR | Geology | Honors Convocation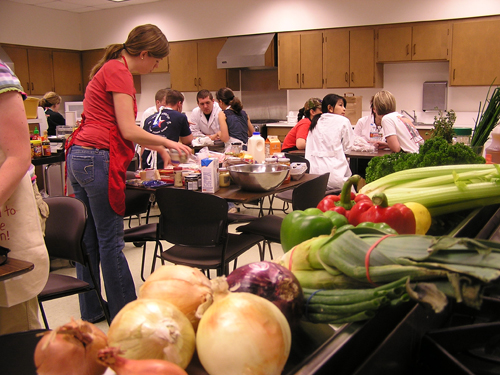 Cooking up a final exam

Grads-to-be gobble up Gourmet Foods nutrition course.

By Rick Waters '95
Take three ingredients: A pound of tenderized round steak, four Yukon gold potatoes and a bag of baby spinach. Then devise and prepare a meal in 90 minutes with whatever's in the pantry.

No recipes. Just your culinary instincts.

Oh, and, it'll be judged by an executive chef and the city's leading food reporter.

That's the final exam in the nutrition course Gourmet Foods, patterned after the Food Network culinary game show "Iron Chef."

"I think it's a truer test of what they'll experience long after they've left this class," says nutrition department chair Anne VanBeber, who has taught the course for seven years but has given the hands-on final the last two. "On any given night, they'll have to prepare a meal based on what's at hand, based on what they know, not on what's in a textbook. And they very well may have special guests to cook for now and then. It's very practical."

The idea behind the challenge is for students, who work in teams of four, to create a plate that appeals to multiple senses. Colors, textures, sizes, shapes, aromas – the wider the variety the better.

Offered only in the spring for seniors about to graduate, the course has room for 24 students and is open to all majors. It's a popular upper-level elective. VanBeber says juniors are already e-mailing her about getting into next year's class. "I told them, 'Write back in August.' "

For nearly four months – all in the classroom kitchen – students focus on meal planning, ingredient selection, kitchen preparation, cooking technique and high-end presentation. Then in the last hour and a half of the semester, it must all come together in a single dish. Call it an exam to die for.

"This class has given me confidence in the kitchen. When we started, I was scared of a chef's knife," admitted advertising major Dylan Taylor-Smith, boiling potatoes for her team's rustic approach.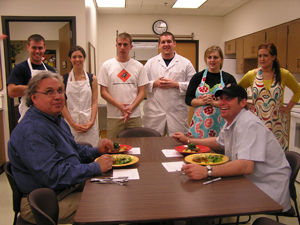 For nutrition major Crystal Sherman, slicing oranges for her group's oriental meal, the class helped her shop more strategically for ingredients. Across the stove, communications major Adrian Salim said the class has helped him overcome a fear of making kitchen crud. "It's okay to mess up. Even the best chefs are still learning as they go," he said.

Teaching non-nutrition majors is a welcome change of pace, says VanBeber. "They bring a different mentality, and they often learn the most," she said.

This year, students plated their dishes for guest judges Grady Spears, co-owner of gourmet hamburger joint Dutch's, and Fort Worth Star-Telegram food writer Bud Kennedy '76.

"It was a tough cut of meat to cook," Spears told the class before announcing the winner. "To be thrown a hunk of meat and some potatoes, you all did a good job."

Ultimately, a team of non-majors (photo below) concocted the top dish: steak pinwheels stuffed with feta cheese, spinach and roasted red peppers; roasted potatoes topped with tomatoes and parmesan cheese and adorned with a garnish of roasted pecans with brown sugar. For dessert, which no other team attempted, the group whipped up a shot of warm chocolate pudding with whipped cream.

"They had the smallest portion, thereby making it look and taste like a higher quality cut of meat," judge Kennedy said.

Their secret? "A little trial and error," confessed winning team captain Candice George, a speech pathology major.

"We tried wine sauce. It didn't work," she said. "But our attempts were small and allowed us to change on the fly. We tenderized the meat a little more than others because we wanted it to be smaller and packed with flavor. We knew the judges would only take a couple of bites."

Grade A morsels, evidentially.


Web extra: Recently graduated Dylan Taylor-Smith '07 shares what she learned in the Gourmet Foods course.
Comment about this story at tcumagazine@tcu.edu