Education | Teaching | Nutrition | Humanities |
Fine Arts | Advertising | Ad/PR | Geology | Honors Convocation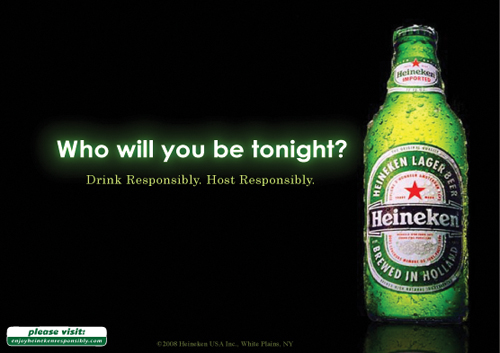 Must-see TV

Advertising creative team wins 1st place in national competition.

By Nancy Bartosek
Do these characters sound familiar: Drunk Dialer, Dances on Tables, Hits on Boss's Wife and Frat Daddy? You might find them soon on YouTube or Facebook - maybe even your TV - now that a team of three advertising students invented these typical party dullards to earn first place in the Heineken USA/AAF Public Service Advertising Competition for college students.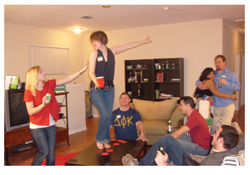 Sponsored by Heineken, the Ad Council and the American Advertising Federation, the annual competition pits students against teams from throughout the U.S. This year 44 student teams participated.
In just a month, advertising students Natalie Clarke, Nick Timmins and Lindsay Moore turned their idea into a comprehensive advertising campaign that so impressed the judges at Heineken USA, that they awarded the students 1st place and $1,000 each. Faculty adviser Mike Wood received $600.
Their job was to create a three-pronged ad campaign (print, radio, new media) that would encourage adults ages 21 to 34 to respect themselves and others by drinking only at an appropriate age and in a responsible manner.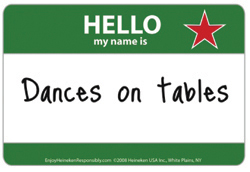 Built on the slogan, "Who will you be tonight? Drink responsibly, Host responsibly," the ads remind drinkers not to be one of the four fictional characters in the campaign.
The team also created two special audience involvement pieces to the campaign, items not required by the competition guidelines. Woods said going the extra mile to include nametags for the designated driver and a magnet with suggestions for responsible drinking, to be distributed in Heineken packaging impressed the judges.
Timmins said the opportunity to do work for a real client seemed almost "surreal."
"The people at Heineken said that this was the first year they got a campaign they felt could be put into print right away," he said. "The experience was really awesome."
Heineken now owns the rights to the campaign so may use some or all of the creative work as they choose.
The Heineken competition was an opportunity for the creative team in the Campaigns Class to practice for the National Student Advertising Competition sponsored by the American Advertising Federation. TCU's 18-member team headed for the nationals in June as a wildcard finalist. Last year the team placed eighth in the national competition.

Television/Web commercial
Radio ad 1
Radio ad 2
Radio ad 3
Print ad 1
Print ad 2
Print ad 3
Print ad 4
Print ad 5
Print ad 6

Comment about this story at tcumagazine@tcu.edu.