Education | Teaching | Nutrition | Humanities |
Fine Arts | Advertising | Ad/PR | Geology | Honors Convocation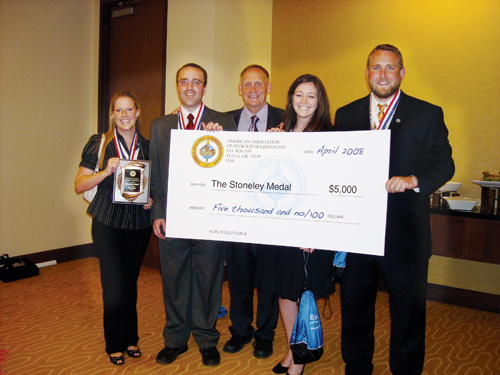 Digging deep

A small cadre of geology students surprises the big dogs at an international competition with a 3rd place win.

By Cathy Frisinger
It was a case of David versus Goliath when a team of geology students from TCU faced off against teams from around the world and walked away heroes.
The American Association of Petroleum Geologists, during its annual convention, held its first "Imperial Barrel" competition for graduate students, with substantial cash prizes for the victorious schools. In January, the teams of five were given data sets that included seismic surveys and "well logs" from areas in the North Sea or offshore Australia and asked to analyze them for their potential as oil-drilling sites. The more than 40 schools were culled to 12 semi-finalists in March, and in April the geology association flew the 12 teams to San Antonio, where the conference was held, for the week.
The TCU team, whose entire program comprises just 10 master's degree students, faced teams from programs with 10 times the number of students, including schools in Colorado, Louisiana, Canada, England, Nigeria, Indonesia and Russia, said geology professor John Breyer. Imperial College in London, for instance, has 120 master's degree students and 20 PhD students, and the University of Oklahoma, which won, has 80 students in its program.
Breyer says the five students on the TCU team - Erin Payne, Brian Atwell, William Hasler, Amy Patterson and Rachael Creel - spent many hours over several months analyzing the data set. "They put in more time on this than on any of their classes."
The effort paid off, with a third-place win and a $5,000 prize for the TCU team.
"Everybody kept going on and on saying how surprising it was that we did so well for such a tiny program," said Breyer. "One Exxon Mobil veteran told me he'd hire anybody on that stage right that moment.

Comment about this story at tcumagazine@tcu.edu.