Education | Teaching | Nutrition | Humanities |
Fine Arts | Advertising | Ad/PR | Geology | Honors Convocation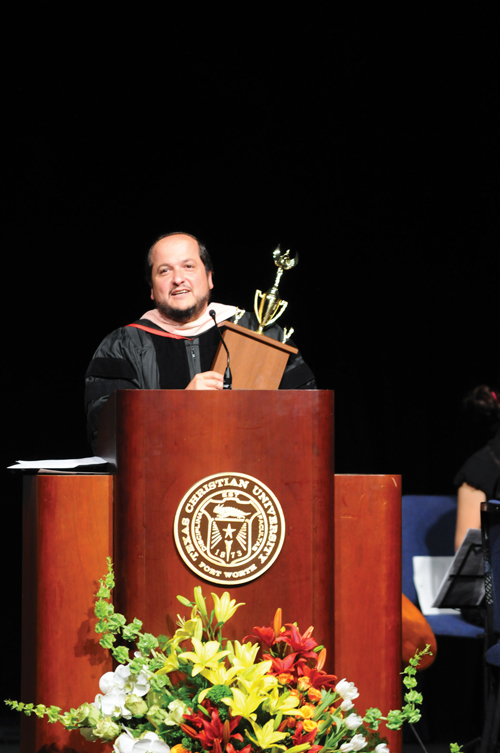 Music to his ears

School of Music's Blaise Ferrandino is named top honors professor as Cello Ensemble performs his new work.

By Rick Waters
Associate music professor Blaise Ferrandino, pictured left, was presented with the 2008 Honors Faculty Recognition Award to a standing ovation at Honors Convocation in April.
Ferrandino, in his 18th year at TCU in music theory and composition, heard his own new work - "Symphony" - performed by the TCU Cello Ensemble, directed by Jesus Castro-Balbi.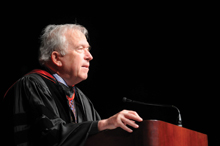 Five days earlier, the ensemble performed the world premiere of the piece (and an additional new work by Dr. Robert Garwell called "Anxieties of the Heart") in Ed Landreth Auditorium. Both works were expressly written for the ensemble, which played the eventÕs processional and recessional.
Simon Blackburn, professor of philosophy at the University of Cambridge, delivered the keynote address on 19th-century German philosopher Friedrich Nietzsche, a maverick thinker who is heralded as an inquiring spirit of religion and culture.
"He was fearless. He pursued his furious campaigns in complete independence, contemptuous of praise and criticism alike," Blackburn said.
Knowledge, he said, results from scientific inquiry and the confluence of political, social, economic and cultural forces, which enable new generations to understand achievements of the past.

Comment about this story at tcumagazine@tcu.edu.