Education | Teaching | Nutrition | Humanities |
Fine Arts | Advertising | Ad/PR | Geology | Honors Convocation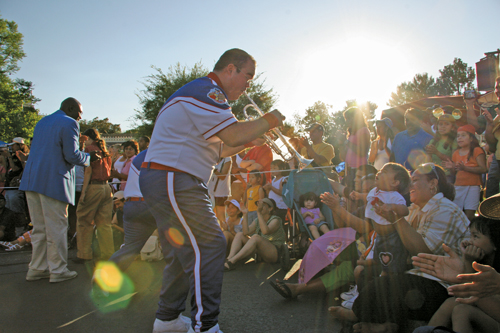 The dream comes true

Horned Frogs toot their horns in the Magic Kingdom.

By Cathy Frisinger
Hey there, hi there, ho there! Some artistic types have their Muse. Others have their Mouse. Over the past three years, four TCU music students have answered the call of The Mouse.
Each year, hundreds of students across the country audition to be part of the Disneyland All-American College All Star Band for 12 weeks during the summer. Some 25 students are selected each year, and for three years running, one of that select number has been a TCU music student. In addition, one TCU student made the Walt Disney World college band.
Cameron Summers '07, (who, incidentally, was a backup musician for the Foo Fighters during this year's Grammy's show), was the first, in 2006, to be selected for the Disneyland college band. Last summer, Micah Bell '07, currently working on a music master's at TCU, performed with the College All Stars, and this summer Andrew Fowler '08 is getting down with Disney in Anaheim, Calif. All three of the young men were selected to play lead trumpet. Alto sax player Kurt Schafer '06 (MM) played with the college band at Disney World in Orlando, Fla., in 2006.
Curt Wilson, director of jazz studies at TCU, says not only is it an honor to be selected for the Disneyland college band, but it's also a wonderful learning experience.
"They have master classes with the great Los Angeles musicians, weekly classes with the musicians who do film scores. It's hard. All of the music has to be memorized. Every one of the students said it stretched them to the limit."
The student musicians work hard, spending long hours the first two weeks learning the music and the moves. The training period ends with an "all-nighter," a wee-hours dress rehearsal that ends around 5 a.m. The College All Stars perform some half a dozen times daily day at the park, and there are special performances at other venues, such as before a ball game at Angel Stadium.
One of the most exciting parts of the experience was getting to record a CD in Studio A of Capitol Records, Bell says. "That's the same room that Pink Floyd's Dark Side of the Moon and The Beatles' White Album were recorded, so it has lots of history."
Fowler, who has known he wanted to make a living as a trumpeter from age 7, says the summer job "will give me an idea of what my life will be like after school as a freelance musician."
Of course, there's time for fun, too. Disney provides the band members with free passes to the park.
"You think you'd actually get tired of the park but you don't. As cheesy as it is, it's Disneyland, and it's wonderful," says Bell.

Comment about this story at tcumagazine@tcu.edu.