Race, age, politics
and purple socks
John McCain's age - not Barack Obama's race or Hillary Clinton's gender - will be the key factor in the presidential race by November, especially when the public and media compare McCain's vigor (or lack of) versus Obama's relative inexperience.
That debate will largely frame November's presidential campaign said three veteran journalists who joined a purple sock-wearing Bob Schieffer '59 for the 2008 TCU Schieffer School of Journalism Symposium in March.
Joining Schieffer for the fourth annual event were former CBS and NBC reporter Roger Mudd, Chicago Sun-Times syndicated columnist and television commentator Robert Novak and USA Today founder Al Neuharth.
With an average age of 77 (and Schieffer bragging that he was the youngest), the four panelists had plenty of experience to draw on during a discussion of politics and the campaign.
An unstable economy and uncertain Iraq will also be significant election factors as well, panelists agreed. As for which vice presidential running mates will fill out both parties' tickets, wide speculation rules. McCain, at 71, will need a younger vice president, "but that won't be very hard," they joked.
But Novak summed up the predictions best: "If you don't like mean, nasty politics, ladies and gentlemen, you ain't seen nothing yet."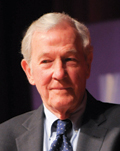 Selected comments from the evening
Roger Mudd
former correspondent
CBS News & NBC News
"I can't imagine Barack Obama really wanting Hillary Clinton on the ticket because Bill Clinton will be living in the White House."

Robert Novak
syndicated columnist
Chicago Sun-Times and Fox News
"Take all the indicators - unpopular president, unpopular war, bad economy - and it points to a Democratic win. But we don't have that kind of cut-and-dried election."
Al Neuharth


founder
USA Today
"The real issue will be McCain's age. I'm 84. I remember when I was 71. At night after 9, you wouldn't want me picking up the red phone. I propose a maximum age of 65."
Bob Schieffer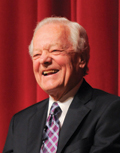 host
CBS' "Face the Nation"
"Up until we got into dodging sniper fire in Bosnia and talk about Rev. Wright, I really thought the campaigns were talking about the right things."
Read more coverage of the Schieffer Symposium from The TCU Magazine.
Listen to the Schieffer Symposium.

New deans take over in business, communication
Owen Homer Erekson '74 was selected in March to be the new John V. Roach Dean of the Neeley School of Business. He began his duties in July.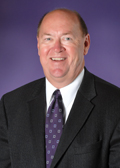 For six years Erekson has been dean of the Bloch School of Business and Public Administration at the University of Missouri-Kansas City, where he was also the Harzfeld Professor of Economics and Business Policy. Prior to that, he was at Miami University in Oxford, Ohio, for 24 years, where he served as associate dean for Academic Affairs, chair of the economics department, director of planning and operations, associate dean for graduate studies and honors coordinator.
Erekson's areas of specialization include corporate and public policy, environmental economics, economics of education finance and business ethics. He holds a B.A. in economics and political science from TCU and a PhD in economics from the University of North Carolina at Chapel Hill.
He has also served on the TCU National Alumni Board.
David Whillock, associate dean of the College of Communication, was promoted to dean in April. He succeeds William Slater, who retired in May. Whillock, who has taught in the Radio-Television-Film department since 1991, developed the college's international programs in London, Italy, Mexico and Chile and its media convergence initiative.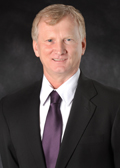 Prior to TCU, Whillock was an assistant professor in the communication department at the University of Alabama-Huntsville. He holds a PhD from the University of Missouri.
He began his career at TCU as an assistant professor and coordinator of the graduate program. He's also served as curator of the Tandy Film Library, chair of the RTVF department and interim dean.
His professional affiliations include serving as a board member for the Lone Star Film Society and as a member of the education board for the American Film Institute/Dallas International Film Festival. He also served on the executive board for the Van Cliburn Foundation.
"I am very pleased with these two appointments, bringing extensive knowledge and experience to these two dean's offices," said Nowell Donovan, provost and vice chancellor for academic affairs. "No doubt they both will continue to enhance their respective colleges' reputations on a national and international level."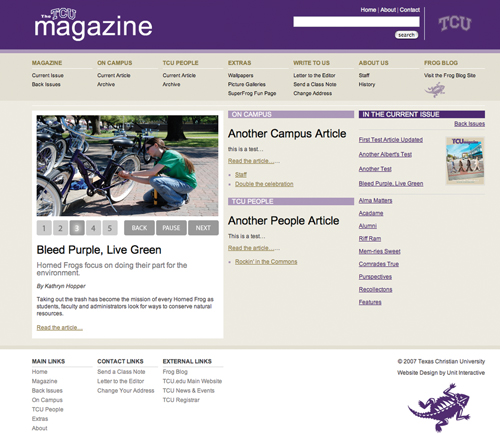 New site for magazine
Ten years after launching its first Web site, The TCU Magazine will roll out a redesigned site this summer. The address remains the same - magazine.tcu.edu.
The magazine's content has been available online since 1998, but now readers will find lots of extra content not found in the print edition, published four times a year.
New features include:
* A new look and easier navigation
* Expanded versions of stories in the magazine
* Web-only stories and interviews
* A comment section on all stories
* Multi-media features and videos
* Wallpapers for your desktop
* Photo galleries
* SuperFrog Fun Pages
All the original features are still there: Send your latest news for Class Notes, write a letter to the editor, comment on a story, update your mailing address or search issues back to 1998. The Frog Blog is improved as well, with easier navigation and open to reader comments.
Visit magazine.tcu.edu this summer and let us know what you think.
Update: The new site is in the final testing phase and will debut very soon.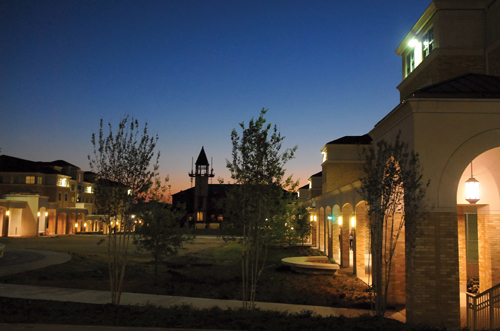 Commons to be complete in August
Four new residence halls have been occupied by students for a semester or more. The refurbished Frog Fountain has been installed and dedicated. Landscaping and sod has replaced a dirt mess in between. The Campus Commons is nearly complete.
Construction crews were still applying brick to the exterior of the Brown-Lupton University Union and finishing the auditorium, outdoor patio areas and the entrance.
Meanwhile, on May 23, the old Student Center was empty and being prepared for demolition. In its place will be the new Clarence and Kerry Scharbauer Hall for the Honors College and the AddRan College of Humanities & Social Sciences, scheduled for completion in 2010.
Offices and services that were housed in the Student Center were moved into temporary quarters for the summer. Affected offices include Student Development Services, Religious and Spiritual Life, Dining Services, Fraternity and Sorority Life, Career Services, Printing Services, Inclusiveness and the ID Card Center. Many of these will move into the Union around Aug. 10.
Created as a part of Vision in Action, the Commons is designed to create an environment rich in personal interaction where intellectual vitality and social engagement intersect; develop an eclectic living environment where students of different cultures and values learn from one another; reclaim the university's history as a residential, pedestrian-friendly campus; and provide expanded facilities for excellent academic programs.
"It's an exciting time in the history of Texas Christian University with the Commons nearing its final stage and the Union being completed," said Don Mills, vice chancellor for Student Affairs. "But it is also a time to remember the memories made and events shared in the Student Center. It played an important role in the life of this institution."

College of Education gets new statue
It's 96 inches tall, weighs more than 1,200 pounds and depicts a blissful little girl on tiptoes atop a globe.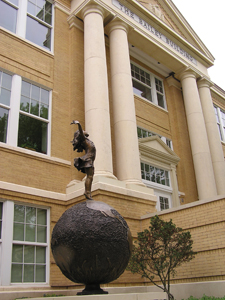 It's the College of Education's new bronze statue, dedicated in April as a permanent symbol of the cause of education. Fittingly, it's called "Teaching to change the world."
The work, sculpted over 8 months by Dallas artist Angela Mia de la Vega, is mounted on a stone platform on the southeast side of the Bailey Building and is meant to inspire future education students.
"This beautiful statue represents what we accomplish in the College of Education," said Sam Dietz, dean of the college. "Our task is to empower, to make teachers and children more able to succeed in a complicated and intertwined world. All education students and alumni will visit the statue, and it will make them smile and understand the heights they can reach."
Donated by the Malcolm and Ann Louden family, the work is dedicated to Malcolm's late parents, H. Malcolm and Olive Gooding Louden, who passed away in 2006 and 2005 respectively.
"I think the statue represents their spirit and courage," said Malcolm Louden '67. "They had great hope for their children and grandchildren and encouraged a dedication to learning."
The work is 100 percent bronze with stainless steel supporting the interior of the globe.

Election 2008 - by the numbers
Hundreds of millions of dollars in contributions. New media from the Internet to cell phone to cable channels. Fundraising innovations. "Horse race" reporting. Welcome to the longest presidential campaign in history. It will be first time since 1961 - and only the third time ever - a sitting senator will take the oath of office in January. And it will be the first time since 1928 that no incumbent president or vice president is in the race.
The historic and unpredictable 2008 election has made for interesting conversation. In March and April, the Alumni Association hosted a traveling lecture series in Houston, Dallas and Fort Worth called "Constructing a Presidential Campaign." More than 300 attended the panel discussions that featured political science professors Jim Riddlesperger, Joanne Green and Adam Schiffer, journalism professor Tommy Thomason and The Dallas Morning News government editor Ryan Rusak '98.
March 12
Date of first primary during 1968 election
January 8
Date of first primary during 2008 election
13
States that held primaries during 1968 election

37
States that held primaries during 2008 election
70
Percent of Americans who get their news from television
90
Percent of campaign contributions that came from individuals
157 million
Dollars spent by Hillary Clinton campaign in March
183 million
Dollars spent by Barack Obama campaign in March
65 million
Dollars spent by John McCain campaign in March

Around Campus
FW Symphony's Harth-Bedoya joins faculty of School of Music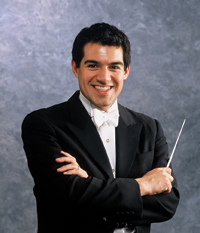 Conductor Miguel Harth-Bedoya, music director of the Fort Worth Symphony Orchestra since 2000, became Distinguished Guest Professor of Conducting in the School of Music in March. Harth-Bedoya will work with students in the graduate and undergraduate conducting program, as well as the orchestral and chamber music studies programs. He will continue his regular schedule with the Fort Worth Symphony Orchestra and as a guest conductor for other orchestras, operas and music festivals worldwide.
"Our faculty and students will gain immensely from his extraordinary talent as a conductor and his knowledge and enthusiasm for Latin American music," said Scott Sullivan, dean of the TCU College of Fine Arts.
A native of Peru, Harth-Bedoya received his bachelor's degree in conducting from the Curtis Institute of Music in Philadelphia and a master's degree in conducting at The Juilliard School in New York City. Upon graduation, he took over as music director of the New York Youth Symphony at Carnegie Hall, while also serving as staff conductor with the New York Philharmonic and a member of the conducting faculty at Juilliard.
"I am so excited to be associated with an institution like TCU," Harth-Bedoya said. "I am looking forward to contributing to the conducting studies program in a more structured way."
YMCA gives inaugural community partner award to university
The YMCA of Metropolitan Fort Worth presented TCU with its inaugural Community Partnership Award in April. The honor recognizes organizations which significantly impact the YMCA and the community. TCU was lauded for the TCU Student-Y, founded in 2003, which has adopted five YMCA branches around the city and provides programming for underprivileged high school students. Other programs earning kudos include The Center for Civic Literacy, Extended Education, Early Childhood Music Program, TCU Leaps, Real World Agency and Athletics. Don Mills, vice chancellor for student affairs, accepted the award. Chancellor Victor J. Boschini Jr. acknowledged the award with a videotaped message.
TCU has more than $800 million impact on city, analysis finds
TCU and Fort Worth have long believed that the university is a significant asset for the city. But TCU's estimated economic impact in its hometown is eye-opening. Based on fiscal year 2007 actuals, the university's operating expenditures was $265.1 million. Add to that $57.4 million in capital construction costs. Factor in a 2.51 multiplier, also used in determining economic impact for defense spending in Fort Worth, and TCU's overall impact is more than $800 million.

Overheard @ TCU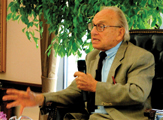 "When the presidents began campaigning, they kept it on a high level, they didn't get personal. You can't go back to the past, but there has to be reform so we can keep it on a higher level - that's my opinion."
- Paul F. Boller, professor of political science and author of Presidential Diversions, on the advent of sitting presidents getting out on the campaign trail in the early 20th century
"Eighty-plus percent of college students in public universities receive some kind of financial assistance. Fifty percent have tuition prices of $2,500 or less. Sixty percent are lower than $4,800. That's not the picture the media is portraying. Important to the success of universities in the 21st century will be communicating why they charge what they charge."
- Terry Hartle, senior vice president, American Council on Education, on government relation issues and higher education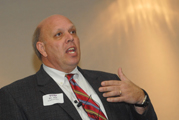 "TCU students are energized by this election and the reason is Barack Obama. Some love him. Some don't like him. But all are following the political process."
- Jim Riddlesperger, professor of political science, on the impact of the race for the White House
"We can take average students and produce great teachers. The importance of teaching
science and math is to improve thinking ability in students."

- George "Pinky" Nelson, former Space Shuttle astronaut, telling a class of education students how science teaching can be improved
"Real change requires real change. We all want change but hardly any of us want the responsibility that change requires."
- J.C. Watts, former District 4 Oklahoma congressman, on the shortcomings of politics and government

Summer 2008 in photos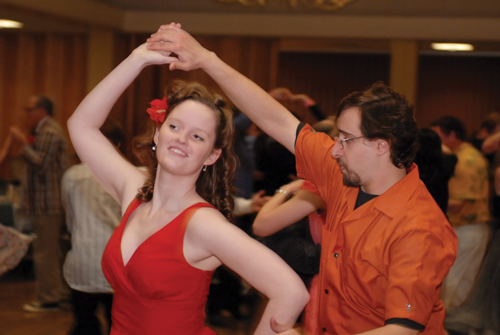 Last dance Mallory Grigg and Greg Friedman '02 were among more than 150, aged 4 to 84, who jumped and jived to the tunes of Red and the Red Hots in April at the last ever Spring Swing in the Student Center, built in 1955. "It was poignant, ironic, sad and sweet, all rolled into one," said Chandler Smith, development director of Fine Arts and event organizer.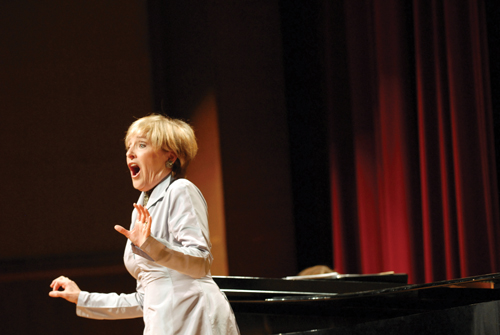 Frederica von Stade Mezzo-soprano opera diva Frederica "Flicka" von Stade delivered a wide array of songs from Debussy to Ravel at the School of Music's fundraiser concert in April. Von Stade was accompanied by Laurana Rice Mitchelmore '61 on the piano.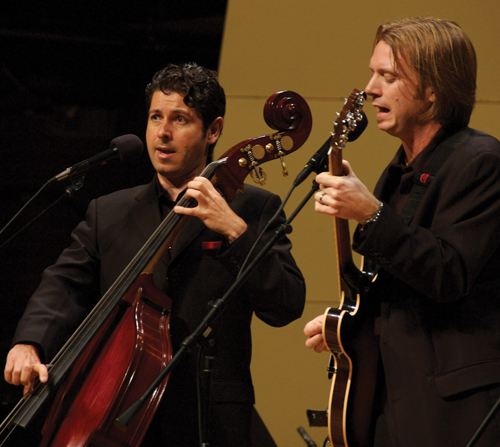 Jazz Fest The nostalgic sound of The Four Freshmen headlined the 31st annual TCU Jazz Festival in late March. The latest incarnation of the popular 1950s vocal group lent their jazz harmonies to original favorites like "It's a Blue World," "Mood Indigo," "Graduation Day" and "Day by Day."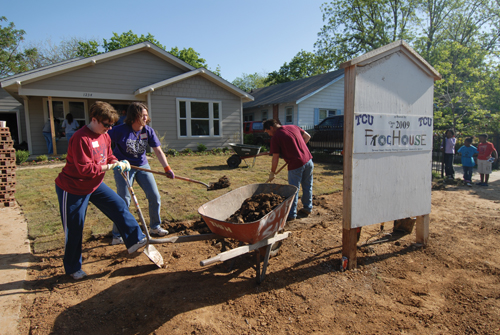 Frog House Alumni, ex-lettermen and faculty work with students from the junior class at 1234 Bewick St., site of the 2007-08 Habitat for Humanity Frog House. Starting with a concrete slab on Feb. 22, the class built the two-bedroom house, completed the roof, painted and laid sod.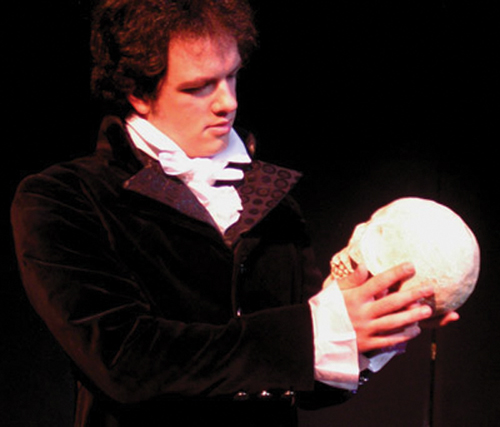 To be or ... Andrew Milbourn starred as the title character in the Theatre department's production of "Hamlet" in the Hays Theatre in mid-April. It was the department's first Shakespearean play on campus in four seasons. Performed in the original text, the play was set in the 1800s and received strong reviews.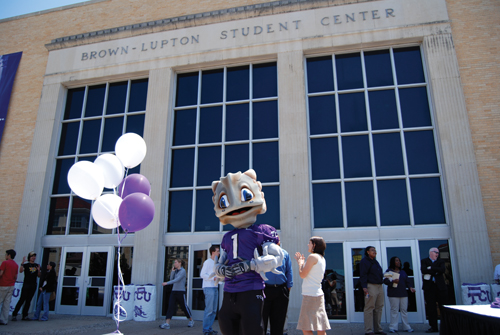 Hello, goodbye May 1 was a day for celebrations - for SuperFrog's 28th birthday and the last hurrah of the Brown-Lupton Student Center. Amid cake, ice cream and burgers, students high-fived their favorite mascot during the lunchtime shindig, where the final days of the Student Center were commemorated in song and T-shirt.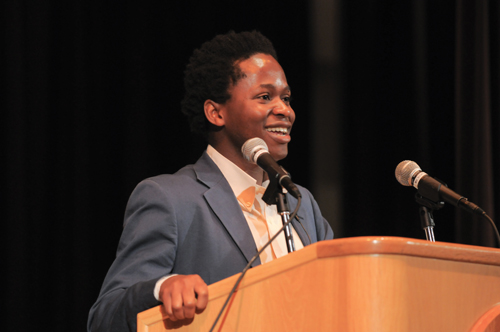 5 questions for ... Ishmael Beah
When he was 11, author Ishmael Beah and millions of his countrymen in Sierra Leone were driven from their homes by civil war. His parents and two brothers died in the attacks. For two years, Beah fled rebels and wandered in a land of violence. At 13, he was picked up by the government army and forced to fight as a child soldier, eventually being rescued by UNICEF and struggling through years of rehabilitation. Now 26, Beah has written A Long Way Home: Memoirs of a Soldier Boy. In April, he gave the keynote address at the Center for Civic Literacy speaker series.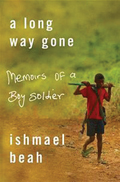 Why did you write this book? To show how the human spirit can descend into hell but also how it can come out of it with support. I struggled with the feeling of wanting constant revenge. In trying to find those who oppressed us, we killed a lot of innocent people. We perpetuated the cycle of violence. When removed from war, the difficult thing is living with the memories. It took eight months of rehabilitation to be able to sleep again, to be able to trust people. I cannot forget what happened in war. I have to learn to live with the memories of what I did and transform my life into a positive.
How would describe your transformation? During war, one thing lost quickly was the ability to exhibit human emotion - grief, sorrow, remorse. I had lost friends, but there was no time to mourn. I had to keep running or it could cost me my life. One challenge after the war is to learn to trust again, to rely on people, to befriend people. Anyone who has recovered from a trauma can tell you that you develop an instinct for what is genuine and what is not. During my rehabilitation, I encountered people who selflessly cared for me, and I began to change my outlook.
Most readers remark at how powerful your narratives are. How did you craft them? My narrative skill is grown from exposure to oral tradition. My culture is embedded in storytelling. It's a memory exercise, a skill. When a story is told orally, it takes listeners to a landscape. Also, Krio is a beautiful language. For example, the translation for "night came suddenly" is "the sky changed sides." It's beautiful.
What do you see in the future for Sierra Leone? That's a conversation the youth of Sierra Leone are having. It has hit rock bottom. The question is how fast can you rebuild. The country needs to develop more factories around its natural resources, like diamond polishing. We need new roads to help get people to jobs. Expanding tourism is possible. We need to get help from the West but not rely on the West.
What are your future plans? I am as confused as any undergraduate. I'm still learning about life. I studied political science in college and I want to write again. I have been asked to write a sequel, but I'm not sure I want to do that. I feel like it might be unfair to write about myself again.

TCU Tomes

The Mother's Guide to Self-Renewal
Renee Peterson Trudeau '88
Balanced Living Press
Trudeau, an Austin-based writer and life coach, became a mother in 2002 and in her new book she writes how she discovered "a startling and disturbing truth about mothers everywhere - how little we cared for ourselves, especially in relation to how much energy we give to our children and how changed and disconnected most of us felt from ourselves after becoming parents." She guides readers through a variety of exercises designed to create better life balance from taking "gratitude walks" to creating a support network of fellow moms.
To purchase: www.reneetrudeau.com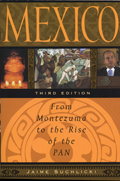 Mexico: From Montezuma
to the Rise of the PAN
Jaime Suchlicki, '67 PhD
Potomac Books
Suchlicki, professor of history at the School of International Studies at the University of Miami, one of the foremost Latin American scholars, tackles the thousand-year history of Mexico in this updated paperback, bringing it all the way up to the election of President Felipe Calder—n. The new edition provides an analysis of recent social, economic and political developments and an analysis of the current state of U.S.-Mexico relations, making it essential reading for those seeking an up-to-date-perspective on neighbor to the South.
To purchase: www.potomacbooks.com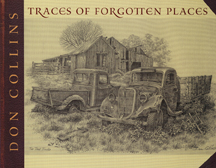 Traces of Forgotten Places
Don Collins
TCU Press

From a Bastrop County barn to a little brick house outside Aledo, Austin artist Don Collins celebrates humble scenes found off Texas back roads. This new paperback collects 70 of his works, which appeared over three decades in calendars issued by the Miller Blueprint Company.
To purchase: 1.800.826.8911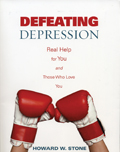 Conversation with
Howard Stone, PhD
Defeating Depression: Real Help for You and Those Who You Love
Augsburg Fortress Press
As an expert on depression, Brite Divinity School faculty member Howard Stone is surprisingly popular at parties. "When people find out I study depression, they start telling me what medication they're on," said Stone, a psychologist, marriage and family therapist and professor emeritus at Brite. It's a big change from when he entered the field almost four decades ago when depression was still largely lived in the shadows. Stone, who has battled depression himself, recently published the book Defeating Depression: Real Help for You and Those Who You Love You to explain the condition and offer specific ways to deal with it.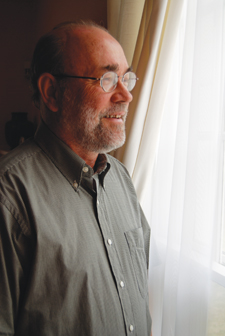 Why did you decide to write this book?
I'd written books specifically for helpers and theologians and edited others for professionals. I wanted to write one that went directly to the person. It took me about two and half times longer to write to a more general audience. You have to work even harder at phrasing so it is clearer. I tried to write it so people with a 10th-grade education would be able to understand it, but I also wanted to write it in a way so I wouldn't dumb it down for readers with master's degrees and PhDs. I wanted a self-help book for people who were fairly smart - one that wouldn't promise things that can't be delivered but sell books.
What should be the first step for people who might be suffering from depression?
First, take the quiz in the book. You may just be dealing with something like stresses at work. Find out if it is depression. The second step would be to see your family physician. There are side effects to certain medications that can act like depression. There can also be physiological causes of depression. In my practice as a counselor, I can think of one case when a person had cancer and they were coming to me for depression. In another case, someone had a brain tumor. They were acting depressed, but there was a physiological cause.
What is the most important thing you've learned through your own battle with depression and in your research?
The big change for me occurred for me when I was able to see depression from both sides - both as a clinician and also as someone who was depressed. You don't need to have experienced depression to be a good therapist or to be a good friend, but you certainly do gain some insight from sitting in the other chair. That compelled me to do a lot more research on melancholy and is why I've spent the last 30 to 40 years studying the topic.
The book is available at major booksellers.
To read more of this interview, go to magazine.tcu.edu.