Splash Page
|
Alumni profile
| Notables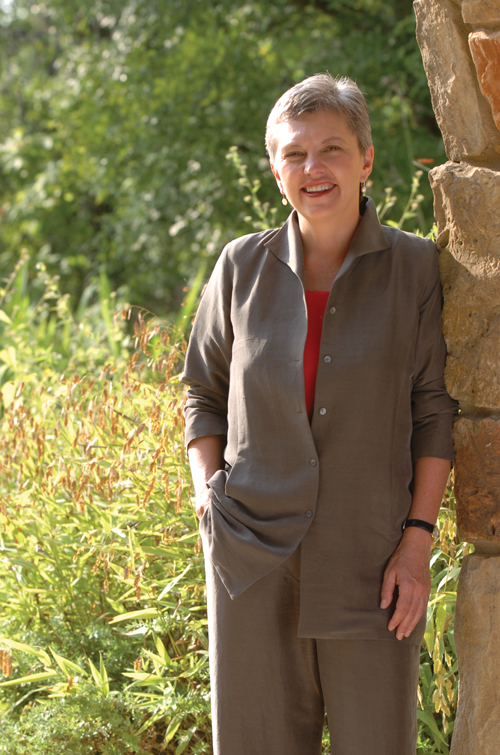 Natural resource
Susan Rieff '78 worked to protect our environment long before it came in vogue.

By Cathy Frisinger
You've been driving a hybrid since 2006, switched all your light bulbs to compact fluorescents the year before and have been composting yard scraps for over a decade.
But you're still a Johnny-come-lately to environmentalism compared with Susan Rieff '78, who's been helping to shape environmental policy both nationally and in Texas for more than a quarter of a century.
In October, the Nature Conservancy honored Rieff with its Lifetime Achievement Award, an award it presents only when someone truly merits the high honor.
The conservation organization recognized such a person in Rieff, who has spent the better part of three decades helping to preserve natural resources and improve the quality of our air and water while serving in top positions for agencies that include the Interior Department, the U.S. Senate, the Texas Department of Agriculture, Texas Parks and Wildlife and Gov. Ann Richards' office.
Rieff's interest in environmental concerns dates back to high school. "I had a wonderful biology teacher who hadn't been out of college very long and he was interested in environmental issues. It was about 1970 and it was the first Earth Day, and he passed that along to us."
It's no coincidence that Rieff, who grew up in Arkansas, ended up at TCU. There were only a couple of universities that offered programs in environmental sciences when she was applying to colleges in 1973, and TCU, which awarded its first degrees in environmental sciences that year, was one of them.
While at TCU, Rieff worked with professor Leo Newland - who founded, then directed the environmental sciences program for many years - on an invasive clam that was causing problems in canals and fresh-water aquatic systems. "The university had gotten this big grant and we went out to California to work in the research lab in Monterey. We spent several weeks going into irrigation canals and looking for incidences of these clams," recalls Rieff.
Subsequently, her work turned more toward policy than research. She earned a master of public policy degree from the University of Texas at Austin's LBJ School of Public Affairs then worked as a staff member for Sen. Dale Bumpers of Arkansas, focusing on conservation and environmental-protection issues.
"I worked for Sen. Bumpers when Jim Watt was secretary of the Interior (he was such a terror on protecting the resources of the Department), and Sen. Bumpers was his chief antagonist," says Rieff. "We worked to hold off some of the initiatives of the Reagan administration, such as stopping Secretary Watt from giving away federal coal resources at very low prices."
Rieff held that U.S. Senate staff position in Washington for five years in the early '80s. She returned to Texas in 1985 to head a new environmental division called Resource Protection at the Texas Parks and Wildlife Department. That agency did a lot of water pollution investigations. Next stop was as Assistant Commissioner of Agriculture for the Texas Department of Agriculture, where she was in charge of pesticide regulation and encouraging production of organic foods. Then she began a stint as environmental policy director for Gov. Ann Richards, a position she held throughout Richards' four-year term.
"We passed some wonderful legislation on cleaning the waters and protecting estuaries along the coast when she was in office, and became the first state to get in line with the new Federal Clean Air Act. That was an exciting time," says Rieff.
When Richards left office, Rieff returned to Washington, working as deputy chief of staff for Interior Secretary Bruce Babbitt from 1995-1998, during the Clinton administration.
In her down time, Rieff is an avid kayaker and outdoors woman. Her work has afforded her opportunities to visit remote areas that few people see, such as the Copper River in Alaska. She floated down the river with a group of about a dozen. They saw only three other boats during the several-days trip, which was delightful, she says. Being in potential danger of a grizzly bear attack wasn't quite as delightful.
"I had to get over my fear of sleeping on grizzly bear tracks. We did that every night," she recalls. "Not only had no one brought anything that might protect us from bears, but we didn't even have any radios or any way to communicate if we did get hurt. But almost every day we saw grizzly bear tracks. That'll keep you sleeping light."
When a work-related trip took her to the bottom of the Grand Canyon, she nearly stepped on on a rattlesnake. "I had been to the Grand Canyon before, but had never seen it from the river and experienced the power of the river. It was a life-changing trip."
While Rieff is extremely proud of the environmental policy work she did for various governmental agencies, she says the new set of environmental issues facing the country and the world are far more daunting.
"This new generation of environmental issues, climate change plus biodiversity, is sweeping and requires global solutions. I am encouraged by the level of environmental awareness among the public. I am not yet optimistic about our country's and world's ability to come together on the kinds of actions that are necessary to deal with these problems," she says.
"It's a tremendously interesting time to be working on issues related to the environment. It is almost overwhelming. I am encouraged by public awareness, and a lot of states are taking action by themselves, not waiting for the federal government. Texas is not one of them."
Rieff's current position is director of the Lady Bird Johnson Wildflower Center in Austin, which displays plants native to the Central Texas Hill Country. One of her accomplishments at the Wildflower Center was establishing the center as a research unit of the University of Texas at Austin, which occurred in 2006.
"It helps us to stay afloat and raises our visibility. It's also given us access to all kinds of resources, such as the university web site and now we are able to take advantage of the university's computing power. There's a fun interactive resource with thousands of plant images that can be downloaded," she says. The Wildflower Center is now also collaborating on things like studies of the impact of climate change on plants, and is part of a study looking at the potential for native grasses to sequester carbon.
"I've always felt that the background that I got at TCU, which was a multidisciplinary approach, was ahead of its time and has certainly served me well."
Two other Horned Frogs are hard at work for the Wildflower Center: Mary Jeannine Tinsley '74, a scientist at the center, and Philip Hawkins '02, the center's webmaster.
Rieff says her work has never felt like work - it is her passion. But now and then she takes time to stop and smell the roses. But not purple ones, as there aren't any at the center. She does, however, favor one with a TCU-hue.
"I'm a sucker for purple coneflowers. They're so dramatic," she says.

Comment at tcumagazine@tcu.edu.