From our readers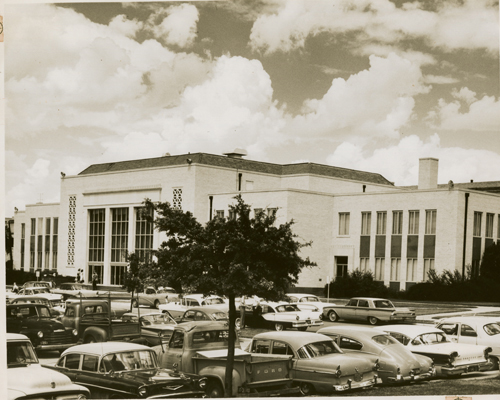 Farewell to the Student Center
I read with interest your article on the history and evolution of the Brown-Lupton Student Center in my latest copy of The TCU Magazine. The thought of its impending destruction is not being greeted with joy in my household. I met my wife of 33 years on the steps of the student center (more specifically, the half wall that separated the sidewalk from what I guess you would call the portico). In September of 1971, as a new freshman, I was sitting on the wall reading a copy of the Fort Worth Star-Telegram when a girl walked up and asked if she could read the part of the paper that I was through with. Some brief conversation followed and we remained friends while she acquired two different boyfriends and a fiance, but I hung in there. We got married the fall of my senior year.
I have taken our children there and showed them the spot where their parents met and we all regret that this place will soon disappear.
Charles Nettles '75, husband of Cindy Boucher Nettles '74 and father of Casey Nettles '05
I was sorry to read that Brown-Lupton Student Union is to be demolished. That's where (my husband) Don and I began. We were in Estus Polk's English Romantic Poets night class in the spring - my last semester - so he played Cupid. He said, "Mr. Vann, look at Miss Warden sitting behind you." Don asked me, at the break, to go to the Union for coffee. When we got there, I asked him if I could have an ice cream cone instead.
Dolores Warden Vann '57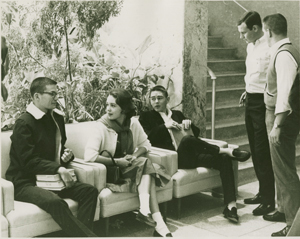 I saw the Student Center when it was new. As a result, there were many bugs present. Figuratively speaking, of course. I was a sophomore in '55 and being from Abilene, we tried to strongly influence the activities of TCU. Since I was on the Student Council along with some of my fellow Abilenians, we did not like the way we were being treated. So we managed "to close the place down for a while." How long I don't remember. But the food did get better. Since it was the newest building on campus, we were very proud of it and we wanted it to serve good food. We actually loved the "new" place. It saddens me to realize that it is to be torn down in June.
Mackie Newton '57
When I attended TCU from 1966-70, the Student Center was the living heart of the University. My freshman year the main cafeteria in the "old" Student Center was (in)famous for its chili mac (which caused many to spend the night in the Infirmary). Most of us avoided the cafeteria and spent our time in the snack bar. I was a novice bridge player and joined the cadre that played there at all hours. My sophomore year, the Student Center was a construction zone, but still where it was "happening" (it was air-conditioned). After the expansion was complete we moved our perpetual card game to the basement. There was a large TV lounge on the first floor. When "All My Children" debuted, lots of students (girls AND boys) spent their lunch hour watching the antics of teenager Erica Kane and crew. Most of us did not have TVs in our rooms and, besides, it was air-conditioned in the Student Center. On Friday nights there were often movie screenings, and that meant cheap dates, complete with popcorn and relatively innocent hand holding and cuddling. There were occasional dances on Saturday nights as well - no popcorn, but more opportunities for cuddling. On Sundays, the only meal served in the cafeteria was noon dinner and the snack bar was closed. Most of us ate at the Merry-Go-Round on Berry Street or the TCU Drugstore, and waited for the snack bar to reopen for Monday breakfast. When a big test was coming up, a small nest of crammers would gather around one of the far end tables and try to help each other study. Thinking of those days over 40 years ago and of the wonderful friends, some of whom have passed away, brings a smile to my face and a tear to my eye.
Patty Kenneday Cady '70
You know you are getting old when they start tearing down buildings at your university! The dorms being upgraded never bothered me but I hate to see the Student Center go. I remember that on bid day the fraternity boys would line the stairs of the Student Center as girls were picking up their bids.They would try to find out who was pledging what sorority as they girls raced down the stairs to go to their new sorority. The Student Center hosted Friday night movies on a large projection screen in the ballroom. My freshman year they were showing "The Exorcist," and sitting in the ballroom with a bunch of college kids turned the movie into a comedy! Cheerleader tryouts were held on the steps of the Student Center every spring. I was Addy the Frog for two years from 1976-1978. I still remember doing the TCU fight song on a kazoo as I did the routine that's still done today.
Gretchen Gazlay Biery '78

Defending athletics marketing
I must take issue with some of the content of a letter last issue ripping TCU Athletics. While the letter writer was correct that the athletics department must help shape the fan experience, encourage participation and ultimately put butts in seats, he was off-base in saying our facilities are not on par with the product on the field. I see new scoreboards and buildings at multiple venues. Seems we're keeping up with the Joneses! Yes, the football stadium needs updating, but nearly every other facility has been upgraded. It's next in line, isn't it? As for coaches' salaries, I have no idea what they are or how the letter writer would know. Salaries aren't our business anyway. That's between the coaches themselves and [Athletics Director] Danny Morrison. I'm no expert on marketing, but it seems like TCU is making an effort. I saw some new advertising out this spring about football. Its effectiveness can be debated -Êthe pictures of the players were striking, but I don't know what "Pigskins are in bloom" means. My point is that it is unfair to intimate that the marketing department is doing nothing. It's up to us Frogs. We need every student, every alum and every TCU fan in North Texas to be at games this fall - not just tailgating, but inside the stadium cheering the Frogs. Let's go Frogs!
Alan Watkins, TCU fan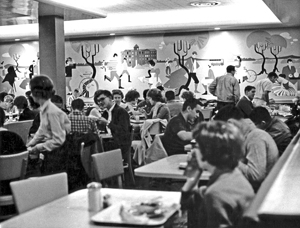 Is that you?

I believe I am the person sitting at a table with two other guys next to the pillar. I'm the person whose face can be seen. The person in the checked shirt may be Bill Naylor, but that's a real guess.
The notion that the mural depicts "the history of TCU, from its founding in 1873 to the present," is a joke. The picture on Page 74 gives a better perspective; it was a fanciful 1950s-style collage that included the old AddRan building from the Waco days but otherwise just cute odds and ends.
We all knew Linda Kaye, even then.
Michael Wiseman '66
First, I must say I was startled when I came upon the photo on Pages 54-55 in the last issue, thinking, "They've still got that turn-of-the-century mural on the walls?" I was there from '61 through '65. I ate in that cafeteria (or the hamburger joint next door) three times a day for at least three years. (It was required for all dormitory students.) If you look just under the bicycle tire on the right, between a standing man with glasses and one in a white shirt putting his tray on the table, there is a guy in a sweater and white shirt who, I am about 85 percent sure, is Charles ("Charlie") Dreyfus. He wore the same thing every day. He was on a student activities film committee at the time I was chairman. Another member was John Gaston, who taught at TCU a few years ago but now lives in Dallas.
James M. "Mike" Martin '65

Diversify

As an alum of TCU, I have been VERY disappointed with the magazine's lack of diversity portrayal. If I were to judge TCU based solely on this marketing tool, I would think it's a white-only school, with an exception made for sports. Get your act together TCU - and enroll a proper representation of the world we live in. If you do, one would never guess.
Tricia Senft '89

Oncology nursing
Congratulations to Dr. Suzy Lockwood and the TCU College of Nursing on the development of the Center for Oncology Education and Research. What a wonderful opportunity for undergraduate and graduate TCU nursing students to make a difference in the lives of patients with cancer. I graduated from TCU's Harris College of Nursing in 1996 and was the only graduate that year (out of 51) who intended to work in an adult oncology setting. I have spent every moment of my 12-year career working with cancer patients and their families - and have found it to be incredibly rewarding. I would have loved the opportunity to learn more about this specialty while at TCU. My master's degree is in Oncology Nursing and I love my current role as the hematopoietic stem cell transplant clinical nurse specialist at the Seattle Cancer Care Alliance. I wish you every success as you launch this center.
Mihkai Wickline MN, RN, AOCN, CNS '96

12 Mighty Orphans
I am very disappointed that I have not seen any reference in your magazine to the popular book by Jim Dent, 12 Mighty Orphans. Perhaps I overlooked it. A retired TCU Professor, Dr. H. Miller Moseley, figures prominently in this story of the Masonic Home in Fort Worth. Dr. Moseley is a TCU graduate and was professor of physics from 1950-1990. He was named to the All-State All-Decade High School Football Team and was certainly the most wonderful classroom teacher I ever had. Dr. Moseley is an icon to the physics students who knew him and impressed us all with the depth of his knowledge and his lucid explanations of graduate-level physics. I am very proud to have been his doctoral student.
Richard Fleming '72 (PhD)
Editor's note: Thanks for the tip, Richard. The book is available at the TCU bookstore or through major booksellers.

Gun safety
I am writing to ask if someone will please remind the young beauties whose pictures are proudly shown on Pages 46-47 of your spring issue of The TCU Magazine, that guns are always loaded.
I'm sure they have been taught gun safety, but perhaps the euphoria of having their photos in a significant magazine influenced their judgment in forgetting gun safety rules. You never point a weapon at an object that you don't intend to shoot. Period. One of the ladies has her rifle pointing at the head of the one to her left. Another has hers pointing to her own upper body. All guns should be handled as if they are loaded, at all times. Many people have died or been injured by a careless person who later said; "I didn't know the gun was loaded." Forgive me if I am out of line in writing you, but as a policeman in Fort Worth in the early to mid-'50s, I cringed when I first looked at the photo.
John Flinn '52
Editor's note: Rifle coach Karen Monez says that the team reviews gun safety and care at the beginning of every season.

A war worth winning
It was a hot and dusty afternoon as I sat in our hospital break room joking with two Iraqi women. They were medical students from a nearby Iraqi medical school and were joined by about 25 young Iraqi men. You look at this image, Iraqi med students excited and thirsty for knowledge from the American medical staff, and these women were excited to see me, another woman, in charge of an Emergency Department and working in front of my male peers. This is what the American public doesn't see and this is exactly what the article "War Stories" in the Spring issue of The TCU Magazine doesn't portray.
The War on Terrorism is a long, hard road, I agree. I am serving here as the ER nurse for a Forward Surgical Team, and head nurse of our small little ER for 15 months, and yes, it is long. But this war is bigger then us. You said in your article that most students carry on with their daily lives and don't even notice that it exists, and probably most Americans feel that way. But if anyone stopped and thought for one moment about that September morning over five years ago, you wouldn't forget.
Remember the hole that we all felt, how vulnerable and yet how strong as a nation. Not just because I am in the Army and live and breathe the strength and pride of this country everyday, but because we are all so blessed to live here! I just recently witnessed one of my soldiers take an oath and say the Pledge of Allegiance for the very first time as an American citizen. Here is a girl whose family left the dictatorship of Cuba when she was 10 years old and now she is serving the nation that has served her, has helped her, and she raised that right hand with amazing pride.
I agree that one loss is too many, that every soldier wounded, injured and killed is horrible. I take care of them, I feel their pain. But, this war is also about re-building a country torn apart. Americans are training, guiding and supporting the Iraqis as they attempt to build water/energy plants, increase and sustain their medical care, improve their education system, social and governmental structures. Just recently I witnessed Iraqi doctors working with Italian medical staff to heal hundreds of Iraqi children with cleft palates. Our medics are teaching Iraqi Army medics to perform basic first aid and medical care and providing jobs for weary fathers desperate to feed their families.
I think that every soldier here in Iraq wants to see this country succeed. It gives purpose to why we are here. Sure we have to fight the bad guys, but that is only half the battle. I think those who died don't want to see us tearing down the very people who are trying to build up this country. They fight and die for each other, for their brother/sister, but they also work hard to succeed at a mission that is far bigger and more complex than they are. It is about touching human lives where they need it most, and that is what Americans choose not to see. But, that is OK. We, the entire United States Military, will still be here, doing our job each day so that the public can forget about the War on Terror. Perhaps that is the real reason we are here.
Capt. Rosie Birkendahl Bennett '02
745th Forward Surgical Team, Tallil, Iraq

Comment at tcumagazine@tcu.edu