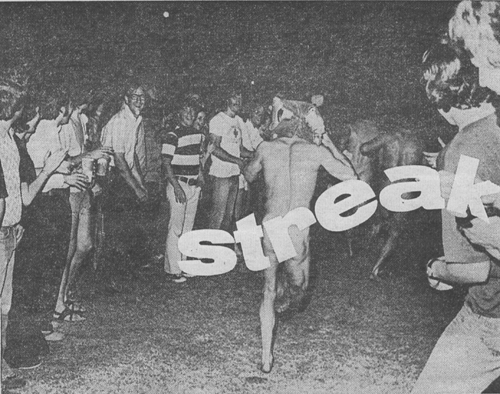 Controversies, rallies & protests
In March and April, TCU and Brite Divinity School found themselves in the middle of a flap tied to the 2008 Democratic presidential nomination. Brite was to present its Black Church Leader Award to retired pastor Rev. Jeremiah Wright of Chicago. But controversy ensued after Wright, former pastor to presidential candidate Barack Obama, made some questionable comments just a week prior. The event was moved off campus and the award presented privately to Wright the following month. The whole ordeal made national news. But such hullabaloo is nothing new to us Horned Frogs. Here's a smattering of TCU "to-dos" through the years.

By Rick Waters '95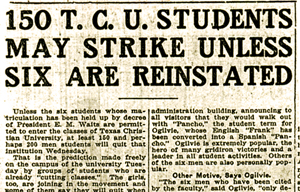 1919 One night in September, a group of six popular upperclassmen, led by senior Frank Ogilvie, who was president of the student body, a varsity lettermen and editor of the Horned Frog, allegedly drug a group of students, including "one cripple boy," from their residences, stole their clothes and flogged them with belt buckles. The tormentors also attempted to coerce the young men, some of them Brite College of the Bible students, to use vulgar language. They were given back their night robes and told to find their way back home. Four victims were compelled to leave the institution and dozens of freshmen complained they felt intimidated by threats of hazing. TCU subsequently denied admission to Ogilvie and kicked him out of Clark Hall. Ogilvie protested, claiming that he was only one of scores of upperclassmen who hazed the "fish" to wear green caps but did not hurt anyone. The football team halted practices until the matter was settled. The board upheld the suspension and dismissed five others: orator Richard Bailey and football stars Leo "Dutch" Meyer, Henry "Heinie" Prinzing, Herschel Upton and Troy Haire, four of the varsity's 11 starters. More than 150 students boycotted classes threatened to quit the school, going so far as to pack their belongings and stacking their trunks in front of Clark Hall, drawing the attention of the Fort Worth Star-Telegram and Fort Worth Record. Even the freshmen class signed a petition asking President Edward McShane Waits give the boys a second chance. Waits, who had received numerous letters of support from area Christian Church ministers, parents of enrolled students and administrators at other universities, stood firm. The matter would go before a local judge, who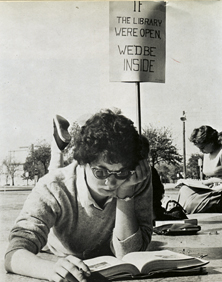 granted a temporary injunction while asking Waits to explain TCU's position. Meanwhile, members of the alumni association took the students' side. By the end of the week, the boys agreed to drop their case if they were allowed to enter other institutions. Ogilvie and Upton enrolled in University of Texas at Austin. Meyer and Prinzing went to Baylor, although Meyer returned to TCU a year later. Football practice would resume with nine new boys turning out to try out for the vacancies, and students dropped their "strike" and returned to class.
1963 A few dozen students picked a sunny, warm Sunday in February to make their final plea to have TCU open the library on the Lord's day. They lugged out books and staged a "sit out" on the lawn in front of the Mary Couts Burnett Library. "If the library was open, we'd be inside," some signs read. For months, administrators had said it was too expensive to keep the library open on Sundays and that not enough students would use it. But after the demonstration, the library policy was changed. The students won.
1969 The Vietnam War Moratorium made a bold appearance at TCU. Following a national call, TCU's moratorium included reading the names of American soldiers, an information booth in the Student Center, a liturgy service and suspension of regular classes by some professors in favor of discussions on the war. Local news media turned out to film the reading of the war dead.
1970 Frog Fountain was a subject of protest before it was even started. Designed and built with funds from a donor from San Antonio, the fountain was criticized by students as a waste of money and space. Such donations should go to scholarships, students argued, and the space should be used for parking. But the donors' wishes were upheld and the fountain was built. As soon as the circular base was installed, it became the site of sit-in protests, which made the local news.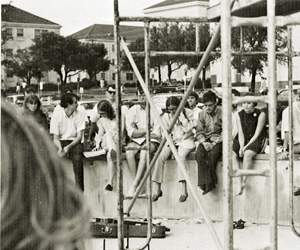 1971 In September, Father Gayland Pool, leader of the campus religious group Canterbury, reserved the Student Center Ballroom for a guest speaker in October. A day later, Pool thought it wise to inform Libby Proffer, dean of students, that the speaker was well-known draft resister David Harris. When the administration got wind of the event, it voted that Harris could not speak because "he was a law-breaker" and "would not be welcome." The denial created a snowball of reactions. The American Civil Liberties Union started a petition urging TCU to let Harris speak. A second petition was circulated among faculty. The Student House of Representatives unanimously passed a bill opposing the administrators' directive. The student body then voted 994 to 171 on a referendum suggesting that the denial be reversed. The Faculty Senate passed a resolution urging the House and administration to revisit the policy on speaker selection and approval. Two weeks after the imbroglio began, Chancellor James Moudy reversed the decision, convinced that Harris would not advocate breaking laws. But the controversy had alerted Harris' parole board, which halted the proceedings because Harris had not informed them at least 30 days in advance. Harris was allowed to attend a private dinner party at Pool's home, attended by a handful of students and faculty.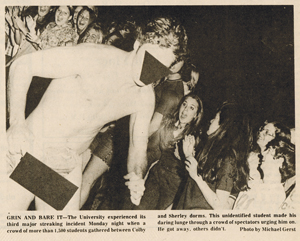 1974 A streaking craze came to TCU in late February and March, ultimately prompting an official university policy on the practice. It began on Feb. 24 when one sophomore and three freshmen students - all males - took a jaunt around campus in the nude. (They were eventually caught, charged and made to sign statements of guilt.) But the trend was just beginning. Four days later, a crowd gathered near Frog Fountain and began screaming and blowing whistles. The noise brought a larger crowd, and it was only a matter of time before a few willing disrobed and made an unclothed dash around the quad. The pandemonium continued until 2 a.m. and spun off at least two panty raids and a series of bottle rocket launches. Campus police counted at least 11 streakers. The following Monday, Libby Proffer, dean of students, admonished the student body saying the activity was not adult behavior. "We simply can't condone it," she told the TCU Daily Skiff. "I don't care what they are doing at other schools." That night, the streakers struck again. With an estimated 450 co-eds watching from Colby and Sherley residence halls, a group of about 20 students - three of them women - made naked runs across campus to cheers and chants. The Skiff reported that the crowd would swell to about 1,500 near midnight. The revelry lasted until 3 a.m. with two streakers even hopping on the backs of motorcycles and zooming around campus. The next morning Proffer spoke again: "I cannot look at this in he same category as swallowing goldfish or stuffing telephone booths. If you take off your clothes in the community, you will have a charge brought against you." That same day, Don Dowdey of the House of Representatives proposed a resolution in jest to conduct the first annual "Libby Proffer Behavior Modification Streak" at 11 p.m. March 19 at Frog Fountain. It passed 20 to 13 with seven abstensions. A real resolution protesting Proffer's investigative hearings was referred to committee. The Skiff joined the fray the next day with an editorial calling for "the fad to die," now that TCU had had its fun. With the Star-Telegram making inquiries, Proffer met with other administrators the following week and drafted an official university policy on streaking and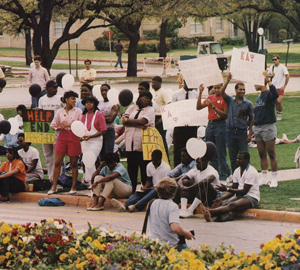 subsequent punishment. Already identified streakers were off the hook, but future perpotrators would get displinary probation and subject to Fort Worth city laws. Twenty-three days after the first incident occurred, the policy was signed by Proffer, acting chancellor Howard Wible and a host of student leaders.
1986 South Africa's system of aparthied was national news. During Ministers' Week, about 16 TCU students carried banners and handed out pamphlets in the parking lot of University Christian Church publicizing TCU's nonconformity with a 1983 resolution adopted by the Christian Church that urged "all institutions, regions and congregations of the Christian Church to establish by 1985 a process for divestment in South Africa." In an interview with Image, Chancellor William Tucker said that "[The church] cannot direct or mandate [investment policy] even to a congregation, not to mention to an institution." He further explained that the endowment's purpose is to undergird and generate income for the university and its community, not to promote political or social causes, "no matter how noble they may be." Later in the spring, Students for a Democratic South Africa was formed as an official organization urging TCU's divestment in the nation. Members staged a peaceful rally in front of the Student Center in March. A month later, the group erected a shanty in front of Rebert Carr Chapel, claiming that the administration would no longer discuss the issue. But not all students agreed. The TCU Daily Skiff penned an editorial against divestment, and the House of Representatives passed a resolution supporting Tucker's position of not politicizing the endowment.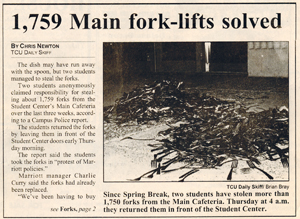 1994 Two students of Milton-Daniel Hall dumped exactly 1,759 forks stolen from the Main cafeteria by the front entrance of the Brown-Lupton Student Center. An accompanying letter read: "I genuinely hope that running out of forks has taught you a valuable lesson. ... To make sure something like this never happens again, please, please lower the price of the food, and for crying out loud, make it taste better!!" The letter was signed by Jeff and Mike. The event was panned by Texas Monthly in its annual Bum Steer Awards.
What controversies, rallies or protests do you remember? E-mail your memories of the ruckuses you recall to tcumagazine@tcu.edu, or snail mail them to TCU Box 298940, Fort Worth, TX 76129. Or call 817.257.5059.
Comment at tcumagazine@tcu.edu.