A day of tribute
A night of celebration
Gala kicks off public phase of The Campaign for TCU.

By Rick Waters '95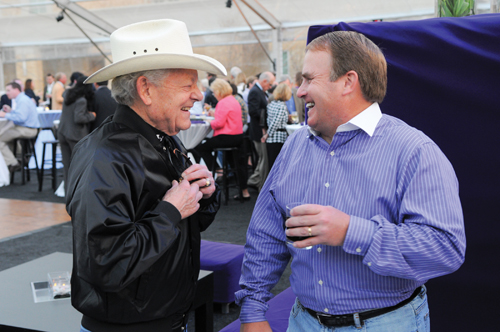 It was a purple-splashed festival for the eyes and ears, an evening showcasing the very best of TCU: the precision of the Symphony Orchestra, the harmonies of the Concert Chorale, the hipness of the Jazz Ensemble, the playfulness of the Steel Drum Band and the pride of the Marching Band. Long-standing traditions were honored. Possibilities of the future imagined.
And, of course, there was Bob Schieffer '59, the venerable newsman, one of TCU's greatest Horned Frogs, who doubled as emcee and entertainer for the evening, graciously guiding a crowd of more than 900 through an April evening of conversation, music and video before shedding his suit and purple tie for a TCU football jersey, boots and blue jeans to jam with his Washington, D.C., band, Honky Tonk Confidential.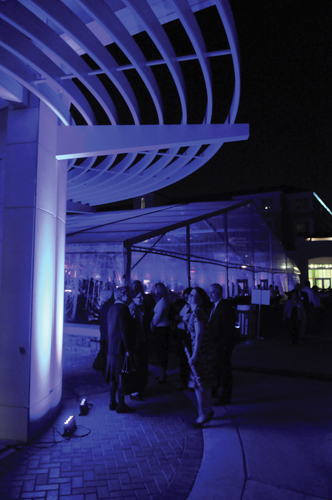 It was a night to pull out all the stops. After all, this was the kickoff of the public phase of The Campaign for TCU, the $250 million fundraising effort to help the university achieve its goal of creating a world-class, values-centered university experience. More than $155 million has been raised during the leadership phase to bolster scholarships and faculty support, improve academic programs and facilities, and buttress the annual fund. TCU hopes alumni, friends of the university, parents, trustees, foundations and others will contribute another $95 million by the campaign's end in 2012.
But make no mistake. This was a night for celebration, and when TCU parties, it goes all the way: a 100,000-cubic-foot covered tent, a 3-foot-tall edible replica of the new Brown-Lupton University Union (center, left page) decorated in fondant, an ice sculpture of the Sadler Hall columns and dramatic lighting of the Campus Commons and Frog Fountain, courtesy of a senior lighting class.
Yet Schieffer and his band were the evening's highlight. Joined by football coach Gary Patterson on "Smalltown Saturday Night" and "Your Mama Don't Dance," the self-described beer-joint band brought the house - er, tent - down with the Schieffer-written "Fort Worth-Dallas." (Read the lyrics here.) One thing is clear: One sings about that which one loves, and in Bob's book, not much else tops his hometown and alma mater.

Comment at tcumagazine@tcu.edu.