More in academe
Artistic journey | Frog entrepreneurs | Belief in the Constitution | Mapping the future | Hear here | Home for discovery | Fulbright scholars | Where in the world | Rating the ratings

Command performance
Playing at Carnegie Hall never loses its allure for artists, even for six of TCU's world-renown musicians. In March, two faculty trios took the stage of the famed venue's Weill Recital Hall to present world premieres of two works commissioned by the TCU School of Music. Here are their recollections of the performance.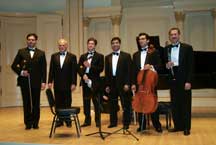 Misha Galaganov
viola
"We grew as an ensemble with the challenge and opportunity to play at a venue as respected as Carnegie Hall. It is really an honor to play there. It certainly brings out one's best as an artist. Secondly, our commissioned work by Eric Ewazen was received exceptionally well at Carnegie and at TCU. We all believe that it will become one of the major pieces for this instrumentation, which is not the typical piano trio. It was a delight to play."
Jose Feghali
piano
"It's an honor to play there and a lot of responsibility as an artist. The history of the hall, the respect every musician has for it, what it represents -- all make it an honor to perform there."
Curt Thompson
violin
"I thoroughly enjoyed performing at Carnegie's Weill Recital Hall with my colleagues. It was an unforgettable experience for each of us, and a splendid night for TCU. Our commissioned work by Samuel Zyman, 'Search,' was a huge success both in New York and in Fort Worth. Technically demanding, the piece melded virtuosity and sensitivity in a unique and compelling manner. Preparatory sessions with the composer at Juilliard and Carnegie enhanced our delivery of this exciting composition. Our second selection, the 'Ravel Piano Trio,' finished the concert with a bang. I offer my heartfelt thanks to Richard Gipson for making all of this possible."
Jesus Castro-Balbi
cello
"Playing at Carnegie Hall remains a very special event in the life of an artist. However, what made the evening of March 1 memorable was more than the venue. Firstly, it was sharing music with my esteemed colleagues. Secondly, the repertoire presented, including the new works by Samuel Zyman and Eric Ewazen, was a great inspiration. Every detail was minutely prepared by School of Music Director Richard Gipson and graduate student Elisa Williams. The hall was filled, and I was particularly delighted to see our own Chancellor Boschini and other members of the administration in attendance in spite of terrible weather. This truly was a wonderful experience!"
Gary Whitman
clarinet
"We had a wonderful audience. The chancellor was there, as was Dean [Scott] Sullivan, many of our faculty colleagues, several alumni who live in the New York City area and a lot of personal friends. There were even some current students of ours who are auditioning at Juilliard. I'll never forget the standing ovation and reaction from the audience as we finished the piece. Composer Eric Ewazen told us afterwards that we must have a future performance recorded."
John Owings
piano
"The performance was very exciting. There was a lot of energy and enthusiasm when we played. It was a perfect culmination to our trip to New York. I find that when I perform and prepare for a performance, especially one as grand as Carnegie Hall, I truly relate to what the students are going through as they prepare. It's not just listening and giving advice about the technical aspects of how a piece should sound, but it allows me to communicate the mental process of preparing and what to focus on."

Comment at tcumagazine@tcu.edu.