More in academe
Artistic journey | Command performance | Frog entrepreneurs | Belief in the Constitution | Mapping the future | Hear here | Home for discovery | Fulbright scholars | Where in the world

Rating the TV ratings
Do you know a TV-PG from a TV-14? Or a TV-Y from a TV-Y7? Television viewers have seen ratings for the small screen since the mid-1990s, but how accurate are they? Students in RTVF professor Joel Timmer's new course "Sex & Violence on TV" turned on the tube and analyzed the ratings. Here's what they had to say.
Christin Jeffrey
RTVF senior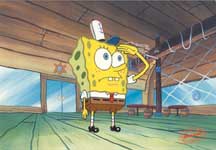 "Sponge Bob Square Pants" gets a rating of TV-Y. According to this rating, there should be nothing inappropriate for children of any age. In this episode, Sponge Bob and his friend Patrick entice their boss, Mr. Crab, to play a board game with them. The game is about finding hidden treasure. Eventually, Mr. Crab gets them to go on a real treasure hunt. They run into a few obstacles while on their hunt but ultimately find the big X and dig up an old treasure. Overall, I think this program was quite innocent and appropriately rated. The only part of the show that may have caused a few jitters for young children was when a dead pirate came out of his ghost ship and took the treasure away from the hunters. It scared Sponge Bob and Patrick, so little kids could be frightened. The scary part contained a lot of humor, which helped offset the perhaps frightening experience.
Dan Betsill
RTVF senior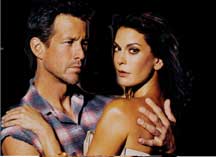 An episode of "Desperate Housewives" in March was rated TV-PG. Along with this rating, the show also had the content labels D for suggestive dialogue and L for coarse language, both of which are acceptable in a TV PG-rated program. In an opening montage describing scandals on Wisteria Lane, a cable man offers his customer free porn if he'll slip him an extra $20. Also in the montage, an old man comes out onto his front porch and fires a shotgun in the air while screaming at people to get off his lawn. While this segment was short and no one was hurt, I would have to say that a man shooting at people would be considered violence, yet no V content label was given. Another label was left off -- S for sexual situations. The episode's opening scene involved a woman, dressed in revealing lingerie, getting arrested for soliciting sex to a police officer in her bedroom. Also, there was a great deal of suggestive dialogue throughout that included talk about faking orgasms. Overall, the show's rating is accurate, but content labels are missing.
Aileen McDermott
RTVF senior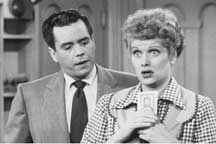 "I Love Lucy," a classic sitcom from the 1950s, is an example of a rating that worked. The show has a TV G rating, which means, as described by the television rating system, that most parents would find this program suitable for all ages and that it contains little or no violence, no strong language and little or no sexual dialogue or situations. The episode "The Dancing Star" met all the guidelines. There wasn't any inappropriate language; the worst insult uttered was calling someone "Mortimer Snitch." There was some lying and scheming on Lucy's part, but there are no guidelines that warn against condoning dishonesty and scheming for the sake of comedy. If this were rated back in the 1950s, I think it would have received a stronger rating, due to it being an adult comedy. Women were wearing bathing suits and showing a lot of skin. It probably would have been inappropriate back then, but it is now considered a show that all ages can watch.
Holly Head
RTVF senior

In the television program "Newlyweds: Nick & Jessica," TV-PG does not mean this program is for children. The show documents what life is like for celebrity pop stars Nick Lechey and Jessica Simpson. The cameras follow them everywhere and document how crazy their life is, and how crazy they are for each other. While the show itself is cutesy and the main characters are non-threatening (for reality television), the show has many elements that challenge its universal PG rating. "Newlyweds" has scenes that are not accurately rated and are inappropriate for children. This show is clearly intended for a young adult audience and may have been underrated to appeal to a greater base. The show constantly has words bleeped out, usually the f-word, but you can still tell what the words are as characters mouth them. As a parent, I would not consider a program that had the f-word appropriate for children or a PG rating. Another element unsuitable for children are scenes of scantily clad women in suggestive situations. A typical PG rating allows for some suggestiveness, but most would agree that strippers are not appropriate for a PG audience. Successive episodes depict live stripteases, women entertaining at the Playboy Mansion and Nick judging a stripping contest. The show also has very suggestive language. Jessica teases Nick about his wanting to "get laid." Nick also makes jokes that their married life should entail "having more sex." Jessica jokes that if Nick ever cheated on her, she would shoot his male anatomy off with the couple's new gun. While a PG rating is not accurate for "Newlyweds," a TV-14 rating is too severe considering there are no "intense sexual situations" and the coarse language is bleeped out. Another rating between the two should be established.
Daniel Coleman
RTVF senior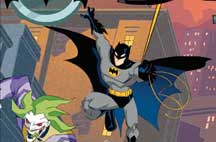 "The Batman," a cartoon program, was labeled with a rating of TV-Y7 and a descriptor of fantasy violence. There was little actual fighting, and good deal of the conflict was presented as dialogue. What I think makes "The Batman" an entertaining and appropriate children's show is the nature of Batman himself. Bruce Wayne's transformation to Batman came as a result of his parents being murdered when he was a boy. As a result, he is very opposed to murder. All the crime fighting he engages in is to capture criminals, not to kill them. Batman never uses a gun. In the episode I watched, Batman pulls a large blade from his utility belt when the Joker attacks him. Rather than striking him with it, Batman uses it to disarm the Joker. It's a very fine line between violent action and non-violent action, and I believe right intent is the key to discerning the difference. I believe the rating and the content descriptor are accurate.
Chris Pelphrey
RTVF senior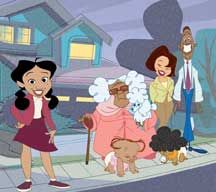 I analyzed an animated kids program called "The Proud Family" on the Toon Disney channel. The show received a television rating of TV-G, meaning it was appropriate for all ages. This episode may be an exception. It begins with a group of kids, 8 to 12 years old, watching a kung fu movie starring kids of the same age who are fighting ninjas with the help of an older man. Although some of the ninjas in the film have big swords and knives, the kids manage to defeat them with quick moves. The friends walk out of the movie theater imitating the kicks and punches they've just seen and talk about learning to fight. Nearby there's a karate school, and the kids walk inside to sign up. By the end of the episode, they are breaking boards and fighting each other with smiles on their faces. The theme of the episode is redeeming, however. Karate is an art that seeks to unify the body, mind and spirit, not just teach you how to fight. The cartoon is obviously intended for young children, but it contains a lot of violence that is not suitable for all audiences. The G rating is intended for very little violence, which is not the case here. However, the violence depicted is neither graphic nor intense. The characters are smiling and having fun, but they are doing so while communicating that violence is fun. That this episode should have been rated TV-Y-FV or TV-PG because of the fantasy-type violence.


TV-Y
All Children
This program is designed to be appropriate for all children. Whether animated or live-action, the themes and elements in this program are specifically designed for a very young audience, including children from ages 2-6. This program is not expected to frighten younger children.
TV-Y7
Directed to Older Children
Designed for children age 7 and above. It may be more appropriate for children who have acquired the developmental skills needed to distinguish between make-believe and reality. Themes and elements in this program may include mild fantasy violence or comedic violence, or may frighten children under the age of 7.
TV-Y7-FV
Directed to Older Children Fantasy Violence
For those programs where fantasy violence may be more intense or more combative than other programs in this category, such programs will be designated TV-Y7-FV.
TV-G
General Audience
Most parents would find this program suitable for all ages. Although this rating does not signify a program designed specifically for children, most parents may let younger children watch this program unattended. It contains little or no violence, no strong language and little or no sexual dialogue or situations.
TV-PG
Parental Guidance Suggested
This program contains material that parents may find unsuitable for younger children. The theme may call for parental guidance and/or the program contains one or more of the following: moderate violence (V), some sexual situations (S), infrequent coarse language (L), or some suggestive dialogue (D).
TV-14
Parents Strongly Cautioned
This program contains some material that many parents would find unsuitable for children under 14 years of age. Parents are strongly urged to exercise greater care in monitoring this program and are cautioned against letting children under the age of 14 watch unattended. This program contains one or more of the following: intense violence (V), intense sexual situations (S), strong coarse language (L), or intensely suggestive dialogue (D).
TV-MA
Mature Audience Only
This program is specifically designed to be viewed by adults and therefore may be unsuitable for children under 17. This program contains one or more of the following: graphic violence (V), explicit sexual activity (S), or crude indecent language (L).

Comment at tcumagazine@tcu.edu.