More in academe
Artistic journey | Command performance | Frog entrepreneurs | Belief in the Constitution | Hear here | Home for discovery | Fulbright scholars | Where in the world | Rating the ratings

Mapping the future
You've probably never seen a mapping system this complicated before. But you definitely have seen the results.
By Jaime Walker Blanton '02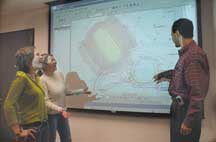 Mapping technology used by the military to track hazardous materials, by the Census Bureau to illustrate population density, and by geologists, environmentalists, planners and economists for myriad solutions has a new home at TCU with the establishment of the Center for GIS and Remote Sensing.
Teaching computer mapping is not new at TCU. There have been courses since 1981. But geographic information systems (GIS) technology, which links satellite images and location information with layers of other data, has significantly advanced.
So, too, has the demand for employees who understand how it works, which is what spurred the university to refurbish the lab with 12 new computers and develop the center's offerings.
"These technologies offer computer-generated visual representations of vast amounts data and can clearly illustrate the relationships between data sets," said Ranjan Muttiah, assistant professor of geology and GIS laboratory director. "We want our students to have experience that makes them competitive and marketable in the workforce."
Not only does the center offer graduate and undergraduate students hands-on experience with the software, but they can apply their knowledge to real-life research. Maps that illustrate temperature fluctuation around the Fort Worth Zoo or data analysis for the Botanical Research Institute of Texas on vanilla plant density in the Amazon Basin are some of the projects students are working helping with. These new skills could have long-term geological, environmental and economic impact.
"One of the goals of the center is to establish TCU as a place where teaching and research combine to provide students with unique opportunities to use the latest technology in innovative ways," Muttiah said.

Comment at tcumagazine@tcu.edu.