More in academe
Artistic journey | Command performance | Belief in the Constitution | Mapping the future | Hear here | Home for discovery | Fulbright scholars | Where in the world | Rating the ratings

DJ Web hits top of chart at Tulane
Horned Frog entrepreneurs develop award-winning business plan.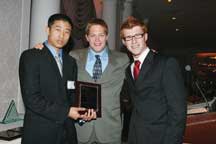 Flipping through the Yellow Pages for the perfect disc jockey may soon be scratched off party planners' to-do lists thanks to three TCU entrepreneurs.
DJ Web, an online disc jockey service being developed by Mike Miller '05, Jason Ruth '05 and Justin "Red" Sanders '04, won a Tulane University business plan competition this spring. The venture, which links DJs with prospective customers, was a class project in the Technology and Entrepreneurship class last fall.
The team took first place out of 20 entries and earned the fledgling business $1,000, free advertising, business development software and admission to an entrepreneurial training program.
The next step is due diligence, said team leader Sanders, who started his own DJ company at age 12 and now runs Red Productions, LLC, and DJ Web in the Tech Fort Worth Incubator building. The incubator is a Fort Worth initiative to grow technology businesses.
"The original team is not all together in the same office," Sanders said, adding that two other Horned Frogs -- Evan Matthews '04 and sophomore Jake Madison -- have joined the DJ Web trio. "But we're all still throwing ideas against the wall and seeing what sticks."
After the competition, Sanders took the winning business plan on an information-gathering trip to the country's recording capital, Los Angeles, where record-label people and other advisers steered the idea in a different direction. New competitors have surfaced, too, but the doors are still wide open and the list of potential investors is long.
Louis Stripling, assistant director of the Neeley Entrepreneurship Program and the team's coach, said the students learned some lessons along the way.
"Equally important to winning the competition were the comments from several judges who said that this plan represented a real opportunity and will likely secure funding to make the company a reality. That's why you create business plans -- not just to win a competition, but to create a company."
Sanders and the DJ Web team are seeking feedback. For a customer survey, e-mail djweb@redproductions.tv.

Comment at tcumagazine@tcu.edu.