First Person | Baseball | Volleyball | Soccer | Brian Estridge

Back-up plan
Another No. 2 helps the Frogs in a pinch.
By Mark Wright
The storyline has become as formulaic as a soap opera script: TCU's starting quarterback is sidelined by an injury. Things seem bleak. But the inexperienced backup comes in and saves the day.
The familiar scenario repeated itself in the season opener at Baylor. Trailing 7-0 and with senior starting quarterback Jeff Ballard suffering from a migraine, the Frogs broke the huddle to start the third quarter with redshirt freshman Marcus Jackson under center.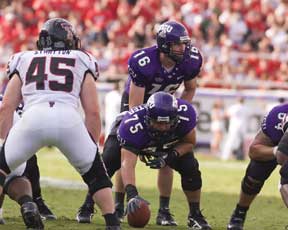 You know the rest. The Frogs and their backup quarterback didn't panic. Instead, Jackson, who had never taken a snap in a game, played like a veteran, throwing for two touchdowns and leading TCU to a 17-7 victory.
"All I know is a freshman came in and played," coach Gary Patterson said. "The thing I was excited about was the way the whole offense stepped forward."
Patterson has notched 10 or more W's in three of his first five seasons, and each time, a backup quarterback has taken over for an injured starter and led the team down the stretch.

Although Patterson is counting on Ballard (who returned to practice two days after the Baylor game) to end the injury streak, Jackson's first-game heroics reassured Patterson that all is not lost if history once again repeats itself.
"I think we have two quarterbacks who can step in the huddle and have confidence," Patterson said.
Quarterbacks coach Dick Winder, whom Patterson calls the best backup quarterback coach in the nation, expects his quarterbacks to prepare each week as if they're going to play. During practice, the Frogs run two huddles — meaning the backup receives as much work as the starter. And the third- and fourth-string QBs get their share of reps, too.
Winder coaches quarterbacks "like linebackers," Ballard said. His vocal and demanding style makes practices a grind. There are no favorites. Games, by comparison, seem easy.
"I think you treat them all the same," Winder said. "You've got a starter, but they understand injuries have happened so many times in the past that at any time you may be on the field."
Ask Patterson, Winder or offensive coordinator Mike Schultz what they want their quarterbacks to do on the field and they'll tell you the same thing: Manage the game. It's a vague term, but one that the quarterbacks understand completely. They are expected to keep mistakes to a minimum, take advantage of what the defense gives them and use the tempo of the game as a weapon.
"It's just doing what the play asks for and not doing anything beyond that," Ballard said.
"The key is wins," Patterson said. "That's still the only stat that makes any difference."