First Person | Football | Volleyball | Soccer | Brian Estridge

Beyond Regionals
Three titles in three years is impressive, but Schlossnagle looks for more.
By Mark Wright
Perched in the dugout at Lupton Stadium on a September afternoon, TCU baseball coach Jim Schlossnagle reflected on a 2006 season that ended in much the same fashion as the previous two.
On the positive side, Schlossnagle said he feels the Horned Frogs proved they could be a consistent NCAA tournament-caliber team. Despites some struggles early, the team finished 39-23, won the Mountain West Conference regular-season and tournament titles and earned a spot in the NCAA Regionals for the third straight season.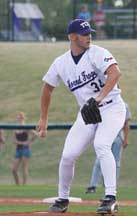 That consistency has the coach, who was an assistant on the 2001 Tulane team that advanced to the College World Series, believing that TCU can someday contend for a national title.
"You've just got to figure over time —if we can be that consistent — the more NCAA tournaments you're a part of the better chance you have to win one," Schlossnagle said.
But the flip side — and frustrating part for Schlossnagle — is that, when it comes to Regionals, the Frogs have been there, done that.
After pulling off a 6-5 victory over Oklahoma in TCU's first game in the NCAA Regionals in Norman, Okla., the Horned Frogs dropped the next two, to Wichita State, 18-8, and to the Sooners, 15-6, ending the season in the Regional round for the third time in as many years. The Frogs have never advanced to Super Regionals or the College World Series.
"We don't look down at (conference) championships ever," Schlossnagle said. "They're too hard and don't happen all the time. We're in a string of three in a row and that's a great accomplishment, but I think our guys have higher goals that just going to Regionals.
"When you do that a couple times, you want to raise the bar. We didn't play our best baseball for back-to-back days. Unfortunately, that's what I remember — not playing well against Wichita State and Oklahoma."
Although Schlossnagle isn't dwelling on the past season, he's eager for the next one to arrive. His first practice with the 2007 squad arrives Oct. 10.
"I'm kind of champing at the bit," he said.