First Person | Football | Baseball | Soccer | Brian Estridge

The right mix
Team chemistry lifts Lady Frogs to fastest start in program history.
By Rick Waters '95
Anna Vaughn is a Spanish and political science double major. Teammate Calli Corley is studying international business.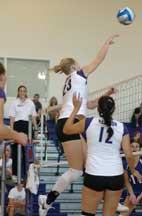 But visit volleyball practice one September afternoon and these senior captains only want to talk about chemistry — team chemistry.
"The team makeup is really different this year," said Vaughn, who leads the team with 221 kills through 14 games. "It's a mix of energy and good communication."
The team has clicked early, Corley says, because the team has taken cues from Vaughn, Agi Nemeth and her — the three seniors.
"We just know how to play with each other and feed off each other," she said. "Everyone knows the role they play and we're all pitching in to do what it takes to win."
And win they have — as no TCU team has before to begin a season.
The Lady Frogs raced to a 10-1 start, and after rallying in five sets, took their first Mountain West Conference game to sit at 12-2. It's the best mark to start a season in the program's history. Head coach Prentice Lewis likes what she see so far and thinks this team, by the end of the season, could be the best she's had in five seasons at TCU.
"This team is athletic and talented," she said. "They're similar to the 23-win team we had two years ago. Their skill level gives us a chance to accomplish similar things."
But they are young, too. Eight of the team's 14 players are freshmen or sophomores and are still learning Lewis's system.
"What I have really enjoyed about this team so far is how coachable they are," Lewis said. "There is no negativity. Every day they come to practice and want to work on getting better."
Lewis hopes that effort lifts the squad to the top tier of the Mountain West with powerhouses BYU, Utah and Colorado State.
If TCU can get in the mix of the top three or four teams in the MWC, it should been in good shape to make the NCAA Tournament, Lewis estimates.
"I like our chances, Corley says. "I think we've got a lot of confidence right now, and we're going to play better going through the Mountain West a second time. We'll surprise some people. I'll take our chances with our team.
"We're in it together."

Comment at tcumagazine@tcu.edu.