First Person | Football| Baseball | Volleyball | Soccer

Coached up for NFL life
By Brian Estridge
On a recent trip out of town, I made it a point to check in on one of my favorite Frogs of the current era — Anthony Alabi '04, who is splitting time between left and right tackle on the offensive line for Nick Saban's Miami Dolphins.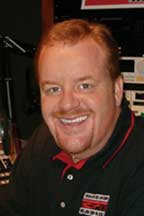 I am proud to report that Anthony has adjusted fine to the South Florida culture. And the transition — both on and off the field — was made easier by his experience at TCU.
When I asked about changes from college football to the NFL, he was quick to point out the similarities over the differences. He said it was similar because of two things: the manner in which the Horned Frog coaches prepared him and the words poured into him every day from the head coach.
Gary Patterson reminded Anthony on a daily basis to be prepared because everyone will face adversity sometime, but those with perseverance will succeed. Those words have helped him fight through the daily unknowns in the NFL — the threat of being cut, traded, not playing.
But Alabi is not above taking chances, again because of Coach P's words. He has accepted Gary's challenge not to cling to the bottom of the tree. Why? Because the sweetest fruit is out on the limbs. Take a chance and you reap the greatest reward.
As our dinner wound down, Anthony left me with this thought, and it's one that I believed would make all Horned Frogs proud: "The NFL reveals your character. It amplifies your strengths and weaknesses," he said. "But if you have had good direction in your life, then you walk in with a foundation that will give you a chance to succeed.
"Luckily, TCU gave me that. In fact, TCU polished me up."
I concur. And Anthony's not alone.
Brian Estridge is the play-by-play voice of the Horned Frogs. Write to Brian at b.estridge@tcu.edu.