First Person | Football | Baseball | Volleyball | Brian Estridge

Youthful vigor
Exponential growth in attendance, winning attitude has women's soccer program on the rise.
By Rick Waters '95
Dan Abdalla has to talk to his team before practice. It's not a hand-holding love fest, but his pre-practice pep talks (sometimes stern scoldings) go a long way toward molding the kind of team he wants.
"I almost have to — half the team is freshmen," he said.
It's true. Ten of the 21 squad members are first-year players. Five, and sometimes six, are in the starting lineup.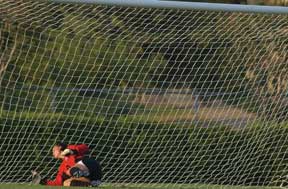 Abdalla's okay with that. It's his team of the future.
But the squad he has now, with six seniors as "our anchor," should be able to sneak up on the rest of the Mountain West, he said.
"We have a nice balance. Our experienced players give a nice support base for the young talent we have as well," said Abdalla, in his second year as head coach. "We keep getting better, and by the time we start conference play in October, we'll be clicking."
In the meantime, seniors like Karissa Hill are helping push the team in the right direction.
"We're reaching out to them. We want them to have confidence," said Hill, who has a goal and an assist this season. "We communicate, sometimes reinforce what Coach Abdalla's expectations are: Jog on the field, shirts tucked, That way, he's not yelling about the little things and we can focus on the important things."
So far, the Lady Frogs, youth and all, have responded. At 4-4 after eight games, they're showing a good grasp of Abdalla's possession-style attack. An early September game against No. 1-ranked Notre Dame was a scoreless tie until late in the second half, which told Abdalla that his team is not far from where he wants it.
"We're adjusting to the speed and physicality of the game," he said.
To help drive home the point, Abdalla took the whole team to the theater to see "Invincible," the inspirational football movie about a barkeeper walking onto the Philadelphia Eagles.
"That was great for our chemistry. If we enjoy each other off the field, we will have better communication on it," Hill said.
Fan interest in the program is growing too. Last season and this year several players on the team have been "adopted" by local youth soccer teams. The Frogs attend games and speak at practices, passing on tips and encouragement.
In turn, the youngsters show up at TCU games and cheer on their mentors. Attendance has grown to more than 1,300, second-best in the league, and season tickets have gone from about 10 last year to more than 400 in 2006.
Comment at tcumagazine@tcu.edu.