Study Abroad | Business | Liberal Arts | Writing Center
| Science/Engineering | Briefs | Object Lesson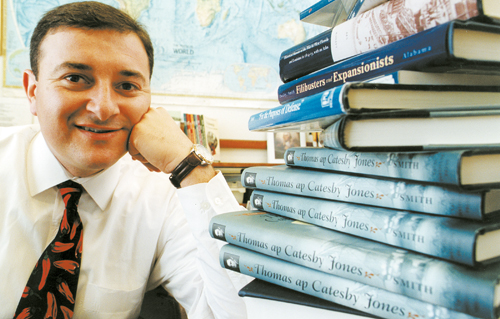 Local history

Gene Smith is selected as new Curator of History for Fort Worth Museum of History.

By Rachel Stowe Master '91
When the Fort Worth Museum of Science and History launched a national search for a new curator of history, it found the ideal candidate just a few miles away.
Interestingly, the candidate didn't even apply. In fact, Gene Allen Smith, professor of history and director of TCU's Center for Texas Studies, had sent one of his former students to apply for the job. But the museum wanted the professor.
"To be effective in the museum environment, you need to have both the academic credentials and the right kind of personality and people skills because we're all about public interpretation of history here," said Charlie Walter, the museum's chief operating officer, noting that museum officials had crossed paths with Smith on several occasions through the years. "Then the president here, Van Romans, said, 'We need to go talk to Gene Smith.' We realized there was someone here right in our back yard who had great qualifications."
Those qualifications include being well connected.
"Through his work at the Center for Texas Studies at TCU, he's already made wonderful crossroads and connections throughout the community, throughout the state," Walter said.
Smith's new curator role is a joint appointment, meaning he will continue his full-time employment at TCU. As curator of history, Smith is charged with formulating the museum's history message. With a collection of 43,000-plus cultural artifacts, the museum has plenty of stories to tell. For decades, the FWMSH has enjoyed a national reputation for its science, but the history side had somewhat languished, Smith acknowledged.
"My goal is to bring the history up on par with the science," he said. Smith has been busy getting people in the community involved so they will consider it "their museum."
"I want to really explore Fort Worth's history and share that with the community. We're not going to tell the same well-worn stories about Hell's Half Acre," Smith said.
Since Smith's April appointment, the museum has been in "temporary mode," sharing exhibit space at the National Cowgirl Museum and Hall of Fame while its new facility is under construction.
The new museum space will include an energy gallery that can help tell Fort Worth's oil and gas story, as well as a new center for the cattle raisers. That leaves more options for the stories to be told through FWMSH's new Fort Worth history gallery.
"It gives us the opportunity to move into things that haven't really been explored by the community. For example, the first exhibition that we're dealing with is going to explore streetcars in Fort Worth," he said.
As soon as the new facility gets a temporary certificate of occupancy, planning morphs into installation, which Smith looks forward to.
"I'm trained as an academic historian," he said. "It's a very different world where you actually have these artifacts in your hand and you get to see them up close and you get to feel the texture of them and you get to gain a better understanding of why that particular artifact is important to a community or to a group of people."

Contact Smith at g.smith@tcu.edu.
For information, go to fwmuseum.org.
Comment about this story at tcumagazine@tcu.edu.