Study Abroad | Business | Liberal Arts | Writing Center
| Science/Engineering | Briefs | Object Lesson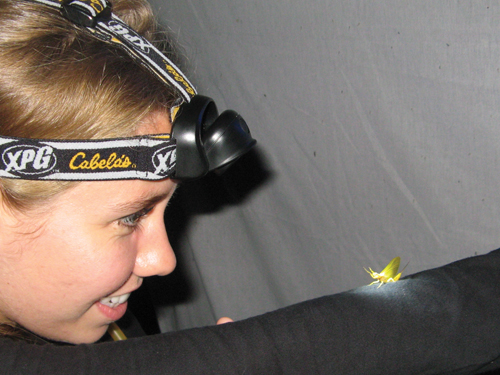 Academe Briefs

Wetland Envirodiversity class studies at Fort Worth Nature Center
In September, 13 students in the Wetland Envirodiversity class were at the Fort Worth Nature Center and Refuge counting and identifying bugs they lured in with a sheet and black lights. The class is based on the theory of immersion learning and is a field-intensive course that teaches students how to study and describe the diversity of wetland habitats. During the weekend field trips they look at soils, hydrology, vegetation structure, landforms, and participate in collecting both invertebrate and plant specimens. The data collected is both qualitative and quantitative and is recorded in field journals and compared to relational databases. For nearly two days the group mucked around in the marsh wetlands, woodland and open meadow habitats and streambeds collecting data.



Students can now earn certificate in International Studies
TCU's Center for International Studies is offering a new certificate program designed to connect students to the global community.
To earn the certificate, students must complete an intercultural seminar course, study abroad for a minimum of three weeks and complete either a major or minor in a foreign language or nine credit hours from a list of selected courses.
The criteria for the certificate includes three areas: knowledge, skills and application, and interactive perspectives.
When students begin the program, they will submit an essay detailing what they hope to gain. Throughout their experiences, students will keep a journal to reflect on their learning, which will help them write their final essay at the end of the certificate program.

Neeley Top 20 for Hispanics
For the second year in a row, Hispanic Business Inc. has chosen the Neeley School of Business as one of the 2008 Best Business Schools for Hispanics. It moved from No. 20 to No. 16 in this year's ranking. Since 2004, Neeley has funded more than $210,000 in scholarships to members of the National Society of Hispanic MBAs (NSHMBA), including three annual scholarships in 2008, two for $20,000 and one for $15,000. More than 90 percent of full-time Neeley MBA students receive scholarship or graduate assistant awards.

Grant aids the arts
The Department of Education awarded the TCU art and art history department $95,000 of a $941,570 federal grant to work with FWISD art teachers in summer workshops. The initiative, titled Project HQ-ARTS (High Quality Arts Research and Teaching Standards), will engage Fort Worth school district arts educators and other instructional staff in a high-quality professional development program in music, dance, drama, and visual arts. The other partners working with FWISD are the Arts Council of Fort Worth and Tarrant County, Performing Arts Fort Worth, Casa Mañana, Fort Worth Opera, the Fort Worth Symphony and Imagination Celebration. Forty additional arts organizations from across the Fort Worth arts community are also working to make this effort a success.

Dance professor named Fulbright
Senior Specialist Susan Douglas Roberts, associate professor of modern dance in the School for Classical & Contemporary Dance at TCU, has been selected for a Fulbright Senior Specialists project in Taiwan for the Fall 2008 semester. She will be at Taipei National University of the Arts, working on choreography, technique and improvisation with MFA graduate dance candidates.

Comment about this story at tcumagazine@tcu.edu.