Study Abroad | Business | Liberal Arts | Writing Center
| Science/Engineering | Briefs | Object Lesson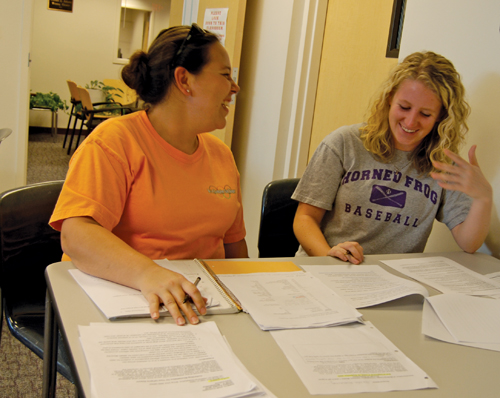 20 years of active verbs

TCU Writing Center helps perfect prose for perfect papers.

By Kathryn Hopper
The great American sportswriter Red Smith once quipped: "There's nothing to writing. All you do is sit down at a typewriter and open a vein."
But before considering such drastic measures, TCU students, faculty and even alumni should consider an alternative -- the William L. Adams Center for Writing.
The center opened in 1988 after Adams, former chief executive officer of Union Pacific, pledged $240,000 to improving the writing skills of future generations. The center was named after him in 1993.
"He firmly believed the ability to write was essential for success in business and he loved writing," said his son Glen Adams, who spoke at the center's recent 20th anniversary celebration.
The center's team of professors, writing professionals and peer tutors continue that mission, helping thousands of students each year to perfect their prose on everything from memos to book manuscripts.
"We see it more as a teaching, not a proofreading service," said Steve Sherwood '04 (PhD), director of the center since 2002. "Our tutors are teaching how to be a better writer, not just helping students finish papers."
From 1988 to 2002, the center's consultants provided an average of 3,500 tutorials a year, but in recent years that number has almost doubled. In the last academic year the center conducted 5,801 tutorials -- with English, business and nursing majors logging the most requests for writing help.
Sherwood said the main focus of the center is helping undergraduate students, who accounted for 81 percent of tutorials. In 2006, the center expanded its mission by creating the graduate writing center and last year, graduate students comprised 15 percent of tutorials. Faculty, staff and alumni made up the remaining 4 percent.
"We do everything from helping craft a business memo to going over a book written by a faculty member," Sherwood said. "We've even helped aspiring novelists. One of the best experiences I've had working here was working with a sophomore who had written a 4,000-page fantasy novel. I mainly advised on what to cut and, by the time we finished, she had a pretty good novel."
Even alumni can get a bit of help polishing resumes and essays for business, law or medical school admissions.
The center's staff includes peer writing consultants, students recommended by professors for their writing prowess.
"I thought it would be drudge work like marking up spelling and grammar," said Kelli Trapnell, a sophomore writing major. "But it's much more than that, it's about people. I've gained a whole new respect for teachers. It's such a great experience to see people grow, to impart knowledge to someone else."
The center also offers online help dubbed OWL for Online Writing Lab that's accessible through the center's Web site but Sherwood recommends a face-to-face consultation if possible.
He said the best part of the job is helping students become better writers. One example, he said, was a student who was trying to publish a paper, but the writing was disjointed. Sherwood said he worked to improve her skills and suddenly everything clicked.
"Those are the moments we live for," he said. "When someone has a breakthrough like that it's extremely rewarding."

For information, visit wrt.tcu.edu or call (817) 257-7221.
Comment about this story at tcumagazine@tcu.edu.