First Person | Men's Basketball | Women's Basketball | Swimming & Diving | Women's Tennis | Brian Estridge

Old-fashioned way to win
By Brian Estridge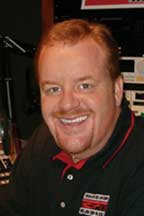 Remember when Bo Jackson and Deion Sanders played two sports in the same year? I'll always remember Deion taking a helicopter after his baseball game in Cincinnati to a football game in Atlanta. Two-sport stars are way too rare these days. Maybe LeBron or Tiger could pick up a new gig?
When it comes to two-sport coaches, TCU has its own claim to fame. The Horned Frogs boast the only college athletics program in the country that has the same guy running two sports — women's basketball and football.
OK, put your jaw back into place. I'm only kidding. But when thinking about how to best characterize the philosophy and intensity of our women's basketball head coach, Jeff Mittie, I couldn't help but refer to my notebook on Gary Patterson.
- Tireless worker . . . check.
- Demanding . . . check.
- Focused . . . check.
- Would do anything for his players . . . check.
Sounds like the make-up of a successful football coach, which he is. But it's also a checklist that applies perfectly to Coach Mittie, he of the six consecutive NCAA Tournament appearances. The Horned Frogs are now a mainstay in the Top 25 and are always well-prepared on the court. Like Patterson, Mittie's star is rising on the national skyline.
The great news for TCU is that both men are in their coaching primes with long roads ahead. Believe me, recruits are paying attention. Mittie and Patterson talk about winning national championships and no one chuckles any longer. They've put TCU on the map for the right reasons using an old-fashioned formula for success.
Brian Estridge is the play-by-play voice of the Horned Frogs. Write to Brian at b.estridge@tcu.edu.