First Person | Men's Basketball | Women's Basketball | Swimming & Diving | Women's Tennis | Brian Estridge

The power of two
Lady Frog tandem reaches national championship match in Indoors.
By Rick Waters '95
The brunette is an outgoing senior, who lives to laugh and features a monster backhand. The blonde is a easy-going sophomore, who isn't afraid to speak her mind and has a solid all-round game.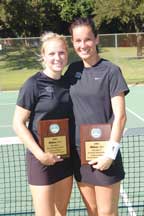 Supportive, honest and willing to listen, a doubles tandem is only as good as its ability to communicate.
The Lady Frogs' top pair has that aced, and that gives them confidence to beat anyone in the country.
This fall, senior Ana Cetnik and sophomore Anna Sydorska nearly were unbeatable, making program history by reaching the championship match of the 2006 ITA National Indoor Doubles Championship in early November.
The impressive run that concluded with national runners-up honors and a No. 24 ranking got rolling with doubles titles at the Baylor Invitational in August and Wilson/ITA Southwest Regional Championship in August and an outstanding 11-2 record.
"I am really proud of Ana and Anna. They had a great attitude the entire fall and played with lots of enthusiasm and passion," said coach Jefferson Hammond.
Cetnik and Sydorska, who had never played together as a pair until this season but are neighbors at their apartment complex, say they trust one another completely. "My mistake is her mistake and her good shot is my good shot," said Sydorska, who enjoyed doubles success with Helena Besovic last year.
"As the fall went forward, we developed a bond and just clicked. It's like we had a mentality that we weren't going to lose no matter who we were matched against," Cetnik added.
The duo used an aggressive attack to take control of matches early, never trailing until the finals. Along the way they knocked off the top-seeded pair in the first round and the No. 8 duo in the quarterfinals.
"A mentality of winning is so important in tennis," Hammond said. "They went into nationals with such confidence and they just kept playing at a high level. I think they both understand how special it is to have success at such a high level. They accepted the responsibility to be the best, and it paid off. It's a great honor for them and a great honor for TCU."
Comment at tcumagazine@tcu.edu.