First Person | Men's Basketball | Women's Basketball | Swimming & Diving | Women's Tennis | Brian Estridge

An inside presence
"Old School" Kevin Langford gives the Frogs a legit player in the paint.
By Rick Waters
In Japanese, Sudoku, that mind-numbing but thoroughly addictive logic puzzle in which every column, every row and every 3-by-3 grid must contain the digits 1 to 9, means "single number" and sophomore Kevin Langford is totally hooked.
"It keeps my mind working. I just like looking for patterns and different combinations," he said. "It's a lot like chess. You have to anticipate and look a couple of moves ahead."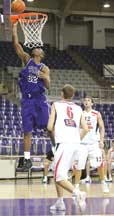 Cerebral. Mild-mannered. Almost workmanlike. "Old School" just begins to describe Langford, but that's what teammates have nicknamed him anyway.
"He's almost like [San Antonio Spurs star] Tim Duncan that way," says his coach Neil Dougherty. "His game is ball fakes, head-and-shoulder fakes, footwork, fundamentals. It's definitely below the rim. Not the raw jump-out-of-the-gym style you see from other players."
Not that anyone is complaining. At 6-foot-9, Langford is the Frogs' "single number," the consistent inside presence the program has never really had under Dougherty.
"He can score. He can pass. He runs the floor. He can move without the ball. We want him to touch the ball as much as possible because good things happen when the ball is in his hands," says roommate and teammate Brent Hackett. "Coach likes to think of him as another skill player who plays in the paint."
The Frogs are lucky to have him because he never really wanted to play here initially. As a star at North Crowley, Langford got attention from schools like Stanford and Virginia before settling on California.
"I just wanted to get out of Texas and try something different. It's not like I didn't like my mother or something, but I just had to get out of here," Langford said.
But he found himself out of sorts. The fit at Cal he thought he had didn't materialize, and he opted to transfer after his freshman season.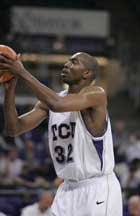 "I visited TCU over spring break and basically they made me feel needed, not just wanted," Langford said, flashing his Magic Johnson-esque toothy grin. "And it was home. It was time for me to come back to what was familiar."
It didn't hurt that older brother Keith, a Dougherty recruit from his days at Kansas, wholly endorsed the move.
Last season, Langford sat out as all transfers must but found ways to improve his game. Hitting the weightroom for the first time in his life, he added 15 pounds of muscle and built up stamina, strength and quickness for the brute realities of playing in the paint.
This season, Langford is among team leaders in scoring and rebounding, and giving the Frogs more options on offense, Dougherty says.
"You can definitely tell that we're a different TCU team with his presence around the basket."
Comment at tcumagazine@tcu.edu.